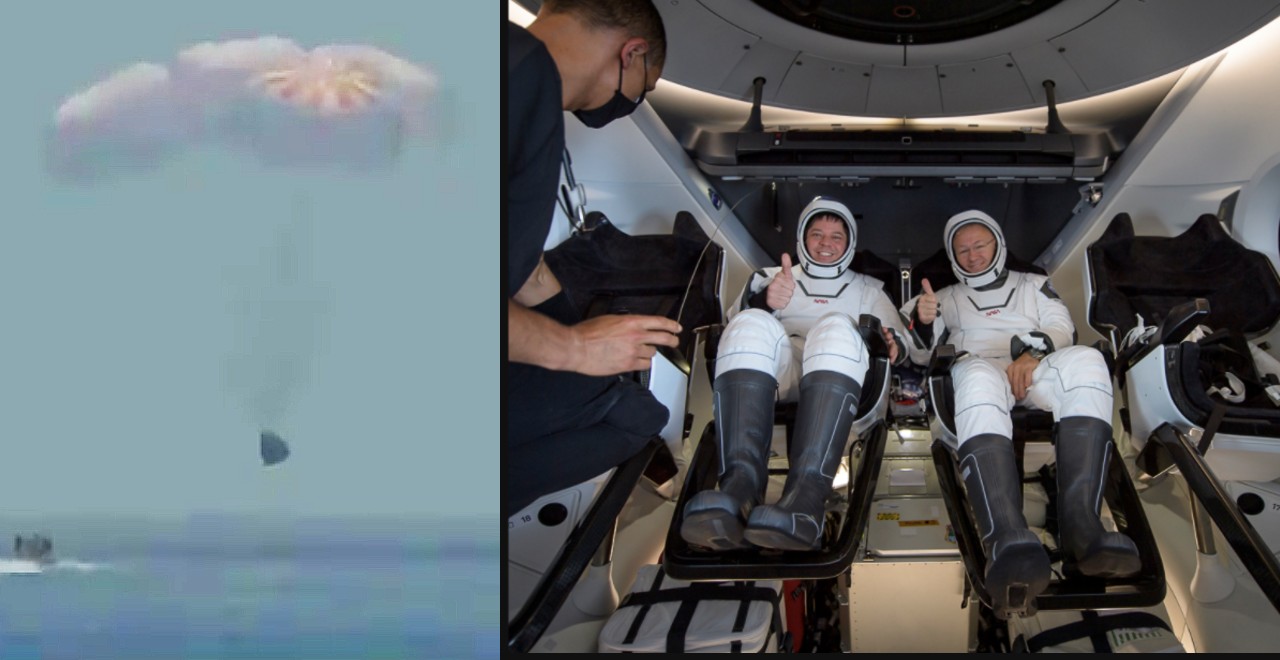 Credit: Twitter/NASA
If ever there was a time to take a vacation from Earth, now would be ideal. For nearly two months, astronauts and dads Robert L. Behnken and Douglas G. Hurley have been soaking up the atmosphere in the International Space station after being the first astronauts in history to travel to space in a commercially-built capsule. NASA hired both Boeing and SpaceX to build spacecrafts that can transport astronauts between Earth and the International space station, and SpaceX's first mission was a success.
Not only was SpaceX's Crew Dragon capsule the first privately-built capsule NASA sent to orbit, but it was the first time since 1975 that any American space crew had utilized a water landing, otherwise known as a splashdown. NASA and SpaceX staff weren't the only ones counting down the minutes until the Dragon Endeavour's return.
"I'm happy you went into space, but I'm even happier that you're coming back home," Hurley's son Jack told him early Sunday morning.
"Wake up, wake up, wake up, wake up, Daddy, wake up! Don't worry, you can sleep in tomorrow. Hurry home so we can go get my dog!" Behnken's son Theo exclaimed, which just goes to show that if you promise your kid a dog, even going to space for a while isn't going to make them forget.
"Thanks for flying @SpaceX."

📍 Current Location: Planet Earth

A 2:48pm ET, @AstroBehnken and @Astro_Doug splashed down, marking the first splashdown of an American crew spacecraft in 45 years. #LaunchAmerica pic.twitter.com/zO3KlNwxU3

— NASA (@NASA) August 2, 2020
On Sunday, after a 21-hour voyage from the International Space Station, the two Astronaut dads splashed down safely in the Gulf of Mexico. The landing went mostly as planned, with the capsule deploying four large parachutes to slow its descent to 15 miles per hour for landing. There was a small delay caused by toxic nitrogen tetroxide fumes around the exterior of the capsule, which was caused by one of the spacecraft's fuels – fortunately, the crew was able to clean the fuel tanks without much trouble. The capsule was pulled from the water by a crane and set down on a boat nearby where staff was waiting to help the astronauts out of the spacecraft.
.@NASA astronauts @AstroBehnken and @Astro_Doug smile and give a thumbs up after the @SpaceX Crew Dragon Endeavour's hatch was opened. https://t.co/5x8PATizvy pic.twitter.com/j1Iz9ikGPa

— NASA HQ PHOTO (@nasahqphoto) August 2, 2020
NASA Administrator Jim Bridenstine was thrilled by the success of the mission. He explained that the Crew Dragon endeavor signified "a new era of human spaceflight where NASA is no longer the purchaser, owner and operator of all the hardware. We are going to be a customer, one customer of many customers in a very robust commercial marketplace for human spaceflight to low Earth orbit."
That's one small step for dads, one giant leap for dadkind.