As adults, it's easy to get caught going through the motions day after day, week after week, without taking a moment just to breathe. Sometimes we feel like we've seen all there is to see and just want to drudge through our never-ending to-do lists.
Kids, on the other hand, are constantly experiencing new things as they live, grow, and mature. They have a drive to explore and understand the world around them, but often need a little encouragement from the most important people in their lives: their parents.
This is why Aaron Sheldon began his "Small Steps Are Giant Leaps" project with his son.
"Our job as parents is to act as their mission control and co-pilot to make sure they can explore as much of their new world as possible," Aaron writes.
The idea for the project came to Aaron one day when he and his son were riding the bus. Despite being a remarkably common (and often dreaded) occurrence for most people, the 3-year-old was utterly fascinated by it.
Later that week, while brainstorming ways to face one's fears of the doctor's office, Aaron and his son settled on dressing up like an astronaut since astronauts are about as brave as they come.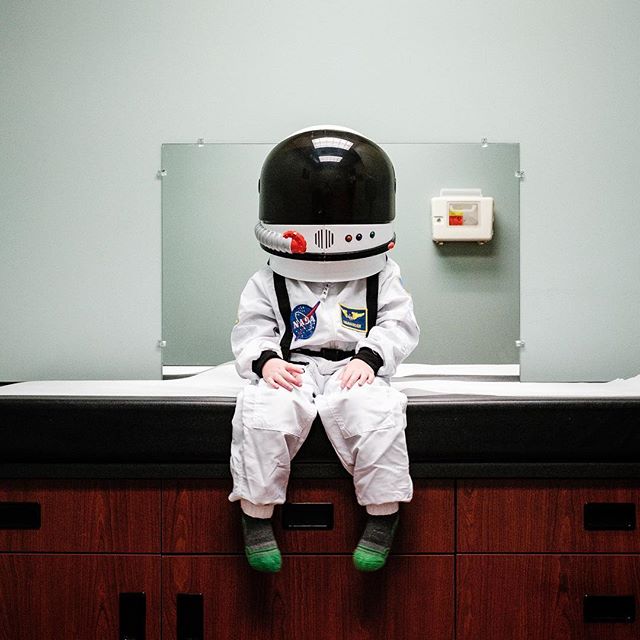 Ever since that day, Aaron has been documenting all of his little astronaut's journeys, whether he's exploring a fancy hotel, taking a dip in the city pool, or taking another exhilarating ride on the bus.
He hopes the photos remind parents to engage this world with their children, encouraging them to explore new frontiers rather than wishing they would just pipe down or grow up, because, let's be honest, growing up isn't all it's cracked up to be.
Can't get enough of the little astronaut pics? Check out Aaron's website to see where they are headed today!