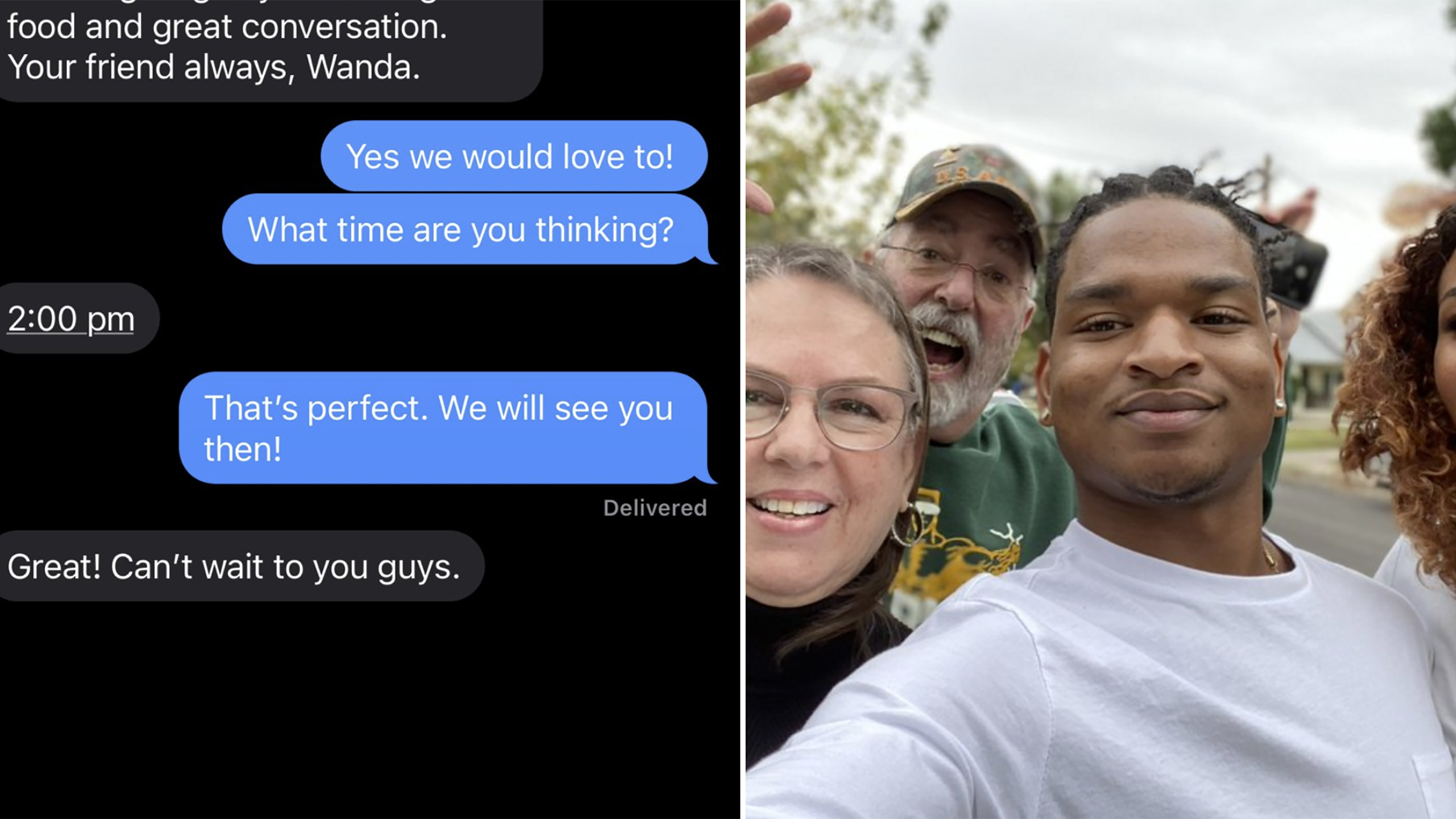 Credit: Twitter/Jamalhinton12
Six years ago, an accidental text started a new holiday tradition, and, perhaps more importantly, birthed one of social media's happiest stories. And now, after over a half-decade, the story is being turned into a movie.
It was Thanksgiving 2015, and Jamal Hinton received a text inviting him to Thanksgiving dinner. Only it wasn't meant for him, it was meant for someone else's grandson. Despite the mix-up, Jamal jokingly asked this grandma, Wanda Dench, he was still welcome, and not only did he get a yes, he actually took the stranger up on it.
6 years later, Jamal and Wanda are far from strangers, they're good friends who share Thanksgiving together every year, with Jamal's girlfriend and family joining Wanda and her husband, who passed from COVID in 2020.
Many on the internet, including us at The Dad, are familiar with this story, and now many more will get a chance to get caught up in it once it lands on Netflix.
Thanksgiving 2021 pic.twitter.com/2Ff3PpvvVY

— Jamal Hinton (@Jamalhinton12) November 25, 2021
Variety reported that Netflix is adapting Jamal and Wanda's story into a movie for their streaming platform.
"We are excited to share our story with the world. We hope it inspires more people to reach out and make connections that they wouldn't ordinarily make," Dench and Hinton said in a joint statement. "We are so blessed to find a genuine friendship brought together by God from a mistaken text message."
The movie doesn't yet have a cast, a director, or a release date, but it does have a screenwriter, Abdul Williams ("The Bobby Brown Story"), and a title, "The Thanksgiving Text".
Regardless of when it comes out, something tells me my wife is going to make me watch as soon as it does.