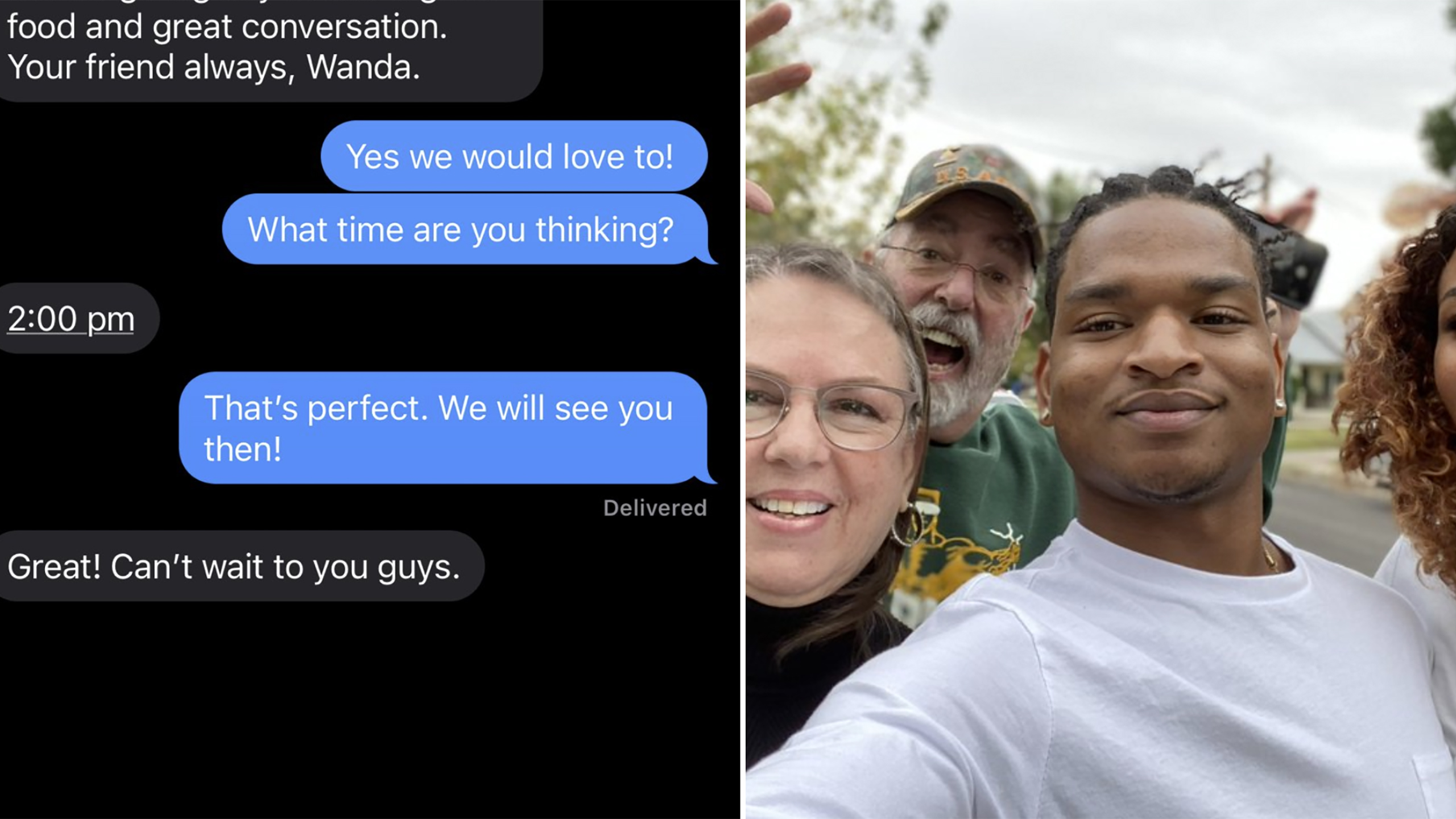 Credit: Twitter/Jamalhinton12
Thanksgiving is the time of year when we slow down and consider everything we're grateful for. These days, with everything that's going on, that's not always easy. That's why it's great when you find something that can be counted on to make you smile, and to remind you that despite our differences, we're all human beings looking for connection.
6 years ago, a simple wrong number text birthed a tradition that does just that, and now every Thanksgiving the internet is reminded of the good in people.
17-yr-old Jamal Hinton was just sitting around living his life when he got a text from a stranger inviting him to Thanksgiving dinner. He had no idea who this Wanda Dench person was, other than knowing that he wasn't her grandson, to whom she was apparently intending to send the message, but he shot his shot just the same.
"You not my grandma," the then-high-school senior responded. "Can I still get a plate though?"
"Of course you can. That's what grandmas do… feed everyone."
Jamal took her up on the offer, kicking off a friendship with Wanda and her husband included Jamal's girlfriend coming along for double dates with the older couple, and has kept the young man visiting every Thanksgiving for more than half a decade. They even met up last year , during the height of the pandemic, after Wanda's husband Lonnie had passed from the virus. And they're meeting again this holiday.
Jamal tweeted out an update this week, once again reminding everyone that people are people.
We are all set for year 6! 🦃 pic.twitter.com/wEQioizWGd

— Jamal Hinton (@Jamalhinton12) November 14, 2021
As he told the New York Times in 2020, "After meeting her the first time I just knew, she's another person, age is really just a number. It doesn't matter, you can be friends with anybody, you can be family with anybody."
See? The world isn't always a terrible hellhole.