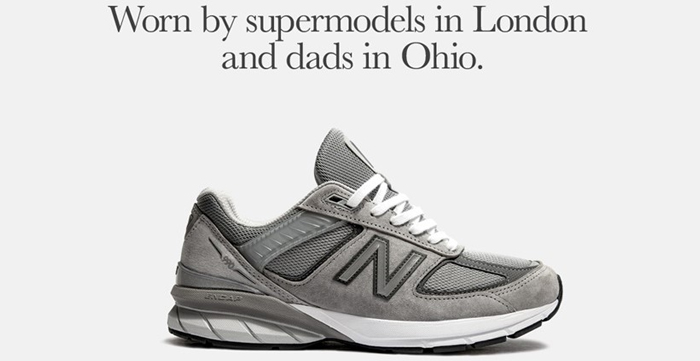 Credit: New Balance
There's a pretty decent chance you have a pair of New Balance sneakers sitting by your front door.
Not only are they damn comfortable, but the simple style – or lack thereof – has been a staple of dads around the world since first busting onto the scene back in 1982. Fast forward to 2018 when 'dad fashion' made waves as one of the years biggest trends and it seemed like any clunky white sneaker was considered a hip 'dad shoe.'
In 2019 New Balance wants to remind you where it all began.
Now in its fifth iteration, the classic New Balance 990 has recently been updated with a new ad campaign to boot.
The ads, which all feature a side view of the 990v5, are as simple and classic as the shoe itself. The flagship tagline 'Worn by supermodels in London and dads in Ohio' is a "personalized" street-level campaign – so there's a good chance you'll see it in your neck of the woods giving props to dads in your state or city.
Bask in the glory of the sneaker's grey hues and shiny, reflective elements as you take in the Apple-esque ads reminiscent of the company's original campaign for the brand.
Much like the dads who wear them, the company says the shoe is "the perfect combination of cushioning and stability."
Additionally, the iconic 990 is proudly made in the US and features a pretty awesome looking metal flag emblem on the tongue – just in case any dads were still on the fence.
Ok… now the kicker: The New Balance 990v5 isn't cheap.
A pair of the new sueded, updated kicks will set you back $174.99 on New Balance's site, so you might not want to mow the lawn in them.
To put that into perspective, that's roughly 2.5x the retail cost of New Balance's 608v5, the shoes I currently have sitting by my front door.
While the price is steep, there are certainly plenty of dads who still buy Corvettes and they're great looking shoes.
Maybe just think of these as the mid-life crisis sneakers you never knew you needed, or ones you can pair with a tuxedo when going to a formal event.