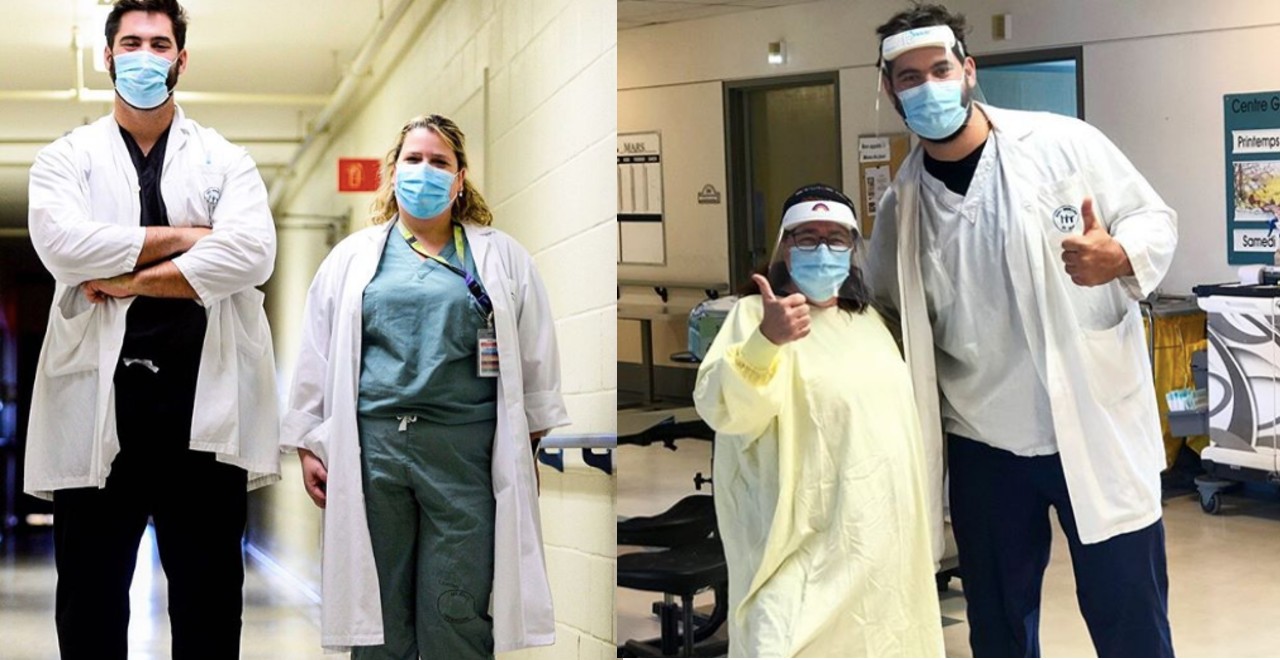 Credit: Instagram/LaurentDuvernayTardif
As the NFL continues its preparation for the upcoming season, the league has had its first high profile opt-out. The defending Super Bowl champion Kansas City Chiefs will be without a starting offensive lineman, as Laurent Duvernay-Tardif said he won't be playing this season. But his reason for not playing is pretty strong, as Duvernay-Tardif is skipping the season so he can stay on the frontlines of fighting the COVID-19 pandemic.
Duvernay-Tardif has a medical degree and has been working at a Montreal hospital during the offseason. The right guard will be turning down his $2 million salary to instead help care for those affected by the coronavirus. In his statement, he called it one of the most difficult decisions he's ever made, but that he had to follow his convictions.
"Being at the frontline during this offseason has given me a different perspective on this pandemic and the stress it puts on individuals and our healthcare system," he wrote. "I cannot allow myself to potentially transmit the virus in our communities simply to play the sport that I love. If I am to take risks, I will do it caring for patients."
My decision regarding the 2020 NFL season pic.twitter.com/jrY3nZfNWO

— Laurent D. Tardif (@LaurentDTardif) July 25, 2020
His team supported his decision 100 percent. Head coach Andy Reid told reporters he was a huge LDT fan.
"We're all blessed to have doctors in our lives. They're givers; they not takers. They're givers, and they're healers, so they want the best for you," Reid said. "So Larry has that quality, and you're seeing it to the utmost here. I just think it's tremendous dedication to his profession, what his future's gonna be, and mainly to the people that he gets to help."
Reid said he knows Duvernay-Tardif will be one of the best doctors ever after his football career. Teammate and Super Bowl MVP Patrick Mahomes said everyone on the team supports the decision.
"Everybody that I spoke to, everybody respects the decision 100 percent," said Mahomes. "Larry's a guy who loves football, but he also loves his other passions, and being a doctor is extremely important, especially at this time we're at in this world…He's seen it first hand, and he understands that he needs to be in that place now and we're going to respect it and give him as much support as we can."
Chiefs guard, Dr. Laurent Duvernay-Tardif, becomes the 1st NFL player to opt out of 2020 season.

He'll continue his work on the front lines fighting COVID-19. Full profile below ⤵️ https://t.co/eLMFSOHRMU

— Sports Illustrated (@SInow) July 25, 2020
It's a selfless move from a player to turn down millions to instead help his community through the worst pandemic in a century, and it's just as awesome to see the overwhelming support from his teammates.