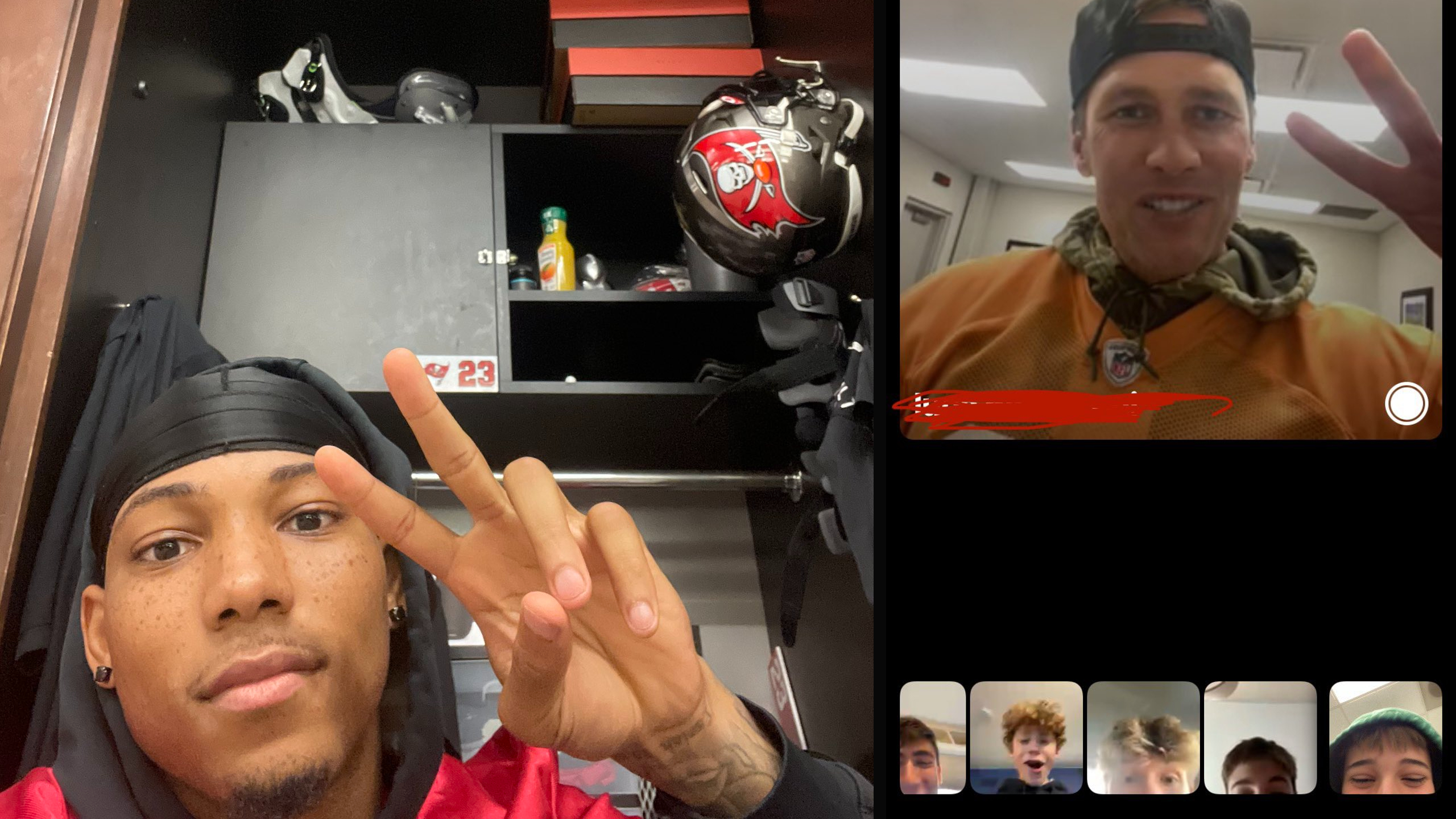 Credit: Twitter/pjwhalen16
Wrong-number text messages are the genesis for some great stories. One of the best ever involves a family's new Thanksgiving tradition. I was part of one that involved sending 3,000 cookies to a soldier. Point is, great things can come from messing up a phone number. That's the lesson one high school basketball team learned this month as a group-text ended up with a FaceTime call with an NFL team and superstar QB Tom Brady.
Notre Dame Preparatory freshmen boys' basketball players started a group text to talk about team business, as high school kids do. One number got typed in wrong, so another Michigan person was included in the texts about high school basketball. The chaos that followed was shared by one of the dads on social media.
The person accidentally included on the text was Sean Murphy-Bunting, a cornerback for the Tampa Bay Buccaneers. The Super Bowl champ revealed the news in the coolest "do you know who I am?" message when he sent a selfie of himself sitting in front of his locker.
A wild thing happened this AM that I had to share. My son's basketball team at @NDPMA_Athletics starts up a group chat. When entering phone numbers they screw up one digit for one of their teammates. This random guy replies to the group "did you mean to add me to this group?"…

— P. Jason Whalen (@pjwhalen16) November 24, 2021
The kids were floored and, predictably, did not believe it. So Murphy-Bunting played along, in an effort to make the kids' day. To prove himself, he Face-Timed the team.
"All I hear is my son laughing his ass off," the dad shared," in total disbelief at what is going on."
He gave the phone to Leonard Fournette and the star running back took them around the locker room, getting other Bucs to shout out the kids. They "met" Rob Gronkowski and Mike Evans, and then Fournette even kept the team on the phone for 10 minutes for Tom Brady to get out of a meeting and say hey to the high school team.
The kids lost their mind when Brady said "what's up fellas?" Murphy-Bunting ended the half-hour call by telling the kids to "ball out this season."
Fournette stays on FaceTime for a good 10 minutes while @TomBrady finishes up a meeting. The boys are absolutely losing it during this. After some time passes he pops up on the screen and says "What's up fellas?!?!" The boys lose their minds… pic.twitter.com/JBwTtsKrRg

— P. Jason Whalen (@pjwhalen16) November 24, 2021
What an incredibly cool thing for the players to do. Brady later told ESPN he didn't know who it was, just that Fournette asked him to say hi, and that he would've loved something like that as a high school kid. The dad who shared the story said he was impressed the team went the extra effort to give the kids a special story.
I can't believe they took the time to entertain Colin and his teammates. I'm sure they had a good time laughing at the fact that the SuperBowl champs got randomly added to a freshman basketball team group chat. 😂

— P. Jason Whalen (@pjwhalen16) November 24, 2021
Sometimes pro athletes and other huge celebrities can seem so far removed from our normal daily lives. Pretty cool to remember we all get tagged into a group chat we don't need to be in. Just awesome that the Tampa Bay Bucs had the good humor to enjoy the mixup and make a younger team's day.