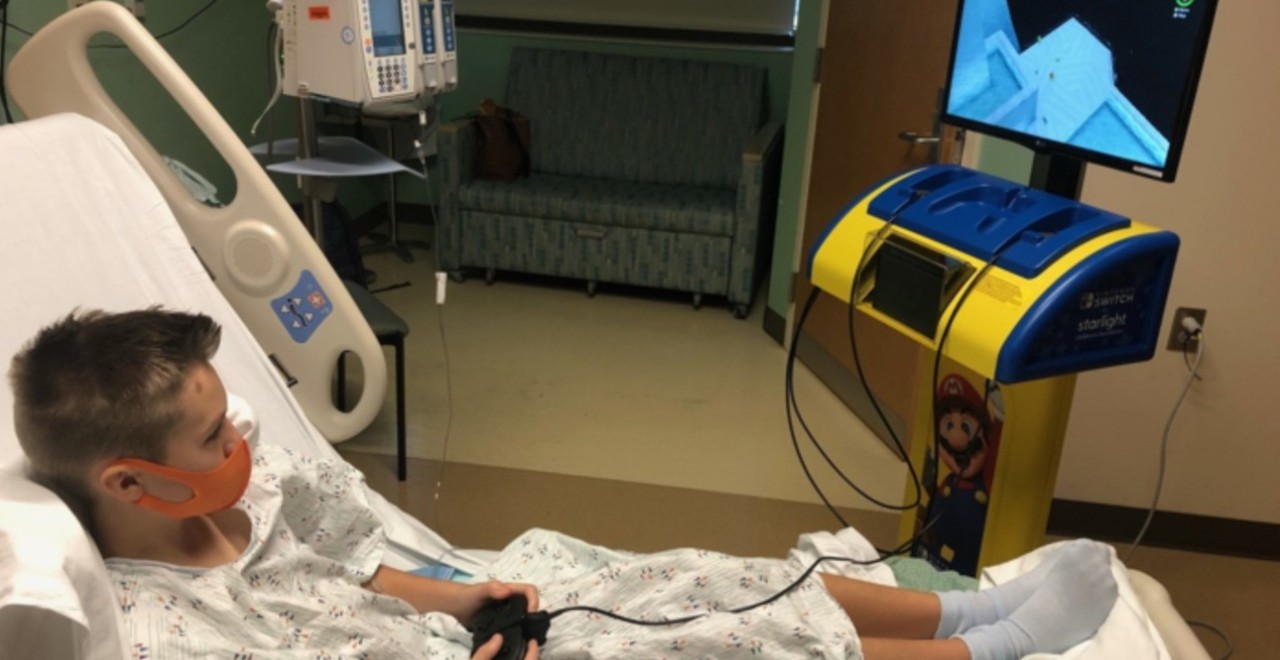 Credit: Starlight
A hospital stay for your kid is one of the toughest things a parent can experience. It can be an especially scary thing for kids, but one thing that can brighten their spirits? Video games. And that's why Nintendo and the Starlight Children's Foundation collaborated to develop hospital safe consoles, which are now rolling out (literally) in hospitals across the nation.
I don't have to sell you on the popularity (and health benefits!) of gaming, it's not 1991. Gaming is not only huge for kids (duh), but it's also socially acceptable now for adults to still be into gaming. We should know, as we have one of the coolest gaming communities around. And that's why the Starlight Nintendo Switch Gaming Station is so cool.
2020 has been a challenging year for so many, especially hospitalized kids. But we are so excited that our Starlight Nintendo Gaming stations are providing ways for hospital staff to safely sanitize and bring mobile entertainment to their patients!https://t.co/kww6B77Yjm

— starlightUS (@StarlightUS) December 21, 2020
It's a modified version of the Switch to be easily disinfected and cleaned and to be mobile enough to quickly move to different rooms. The gaming station comes pre-loaded with 25 games, including all the hits (Breath of the Wild, Minecraft, Pokemon/Super Mario/etc, etc), and Starlight said in a statement on its website that the latest collaboration between the Children's Foundation dedicated to bringing joy to seriously ill children and gaming giant Nintendo, has been a huge success.
"Gaming delivers happiness to kids stuck in the hospital by providing entertainment and much-needed distraction from stressful situations. It can even provide emotional support, resulting in reduced anxiety and improved mood," the foundation said.
The Starlight and Nintendo collaboration is an awesome one to see as a parent because you know how much you and your kids need that mental break during a hospital stay. It's a brief sense of normalcy to be able to lose yourself in a game. Props to the two on the latest creation and on a partnership that's brought nearly 8,000 gaming stations to hospitals.