Tyson Is Here To Help You "Say It With Nuggets" This Valentine's Day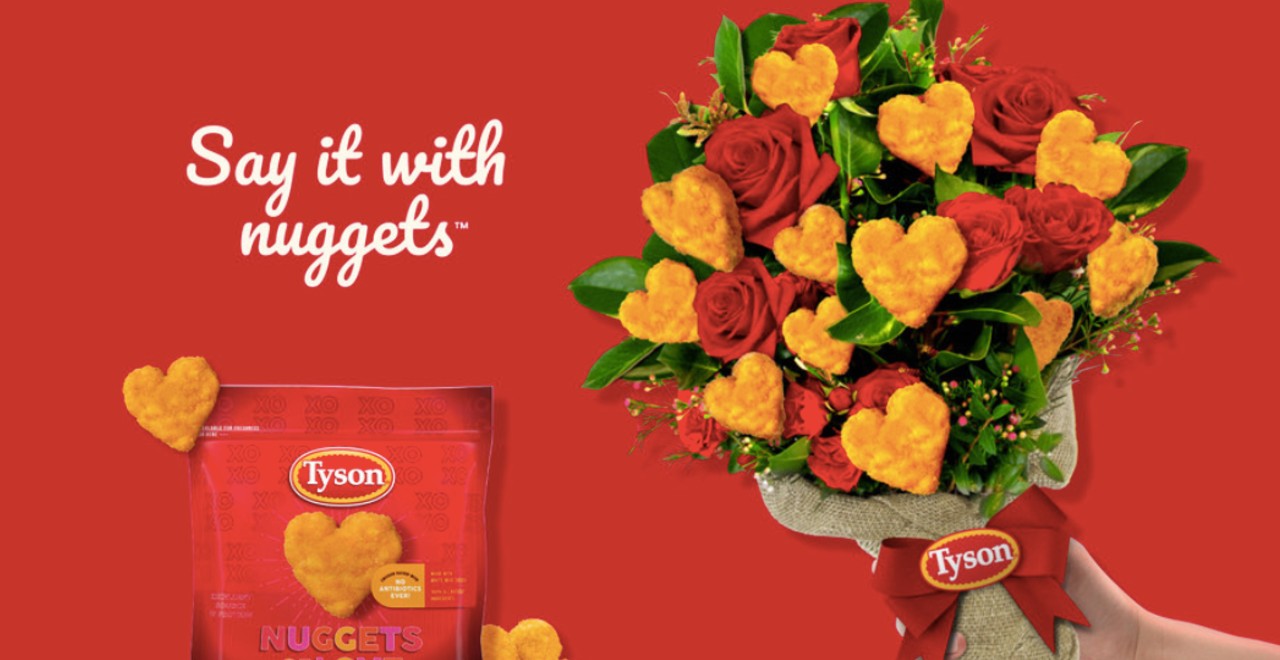 Love is in the air this Valentine's Day season, and so is the comforting smell of fresh-out-of-the-oven chicken nuggets. Making the person you love feel special on the most romantic day of the year isn't easy, but fortunately, Tyson is stepping up to help. If your Valentine's love language happens to be meat (get your head out of the gutter), Tyson is dropping the greatest gift of all time at your feet.
Tyson's "Nuggets of Love" are no ordinary nuggets – these love-filled bites are made of 100% all-white-meat chicken, and they're shaped like adorable little hearts to remind you that romance isn't dead. Though these lovely nuggets won't be sold in stores, you can enter for a chance to win your very own 27-ounce bag by crafting your finest chicken nugget bouquet and sharing it to Instagram or Twitter. Make sure you're following Tyson's official account, and include the #NuggetBouquetContest hashtag as well as the @TysonBrand tag in your post.
One grand prize winner will score five bags of these lovable chicken nuggets, a year's supply of regular (non-romantic) chicken nuggets, and a $5,000 staycation. An additional 150 winners will secure their very own bag of Tyson's limited-edition Nuggets of Love.
If you happen to be one of Tyson's lucky winners or plan on presenting your nugget bouquet to that special someone, Hallmark, unfortunately, doesn't make any relevant cards – but we've got your back when it comes to delivering the perfect line. Try one of these if you're stuck for inspiration.
-"I don't wa-nugget too sappy, but I love you with all my heart."
-"Meating you was the best thing that ever happened to me."
-"You make me feel like the cluckiest man in the world."
For more information, visit Tyson's website -but even if you don't win the actual contest, there is really no way to lose when you have a chicken nugget bouquet.