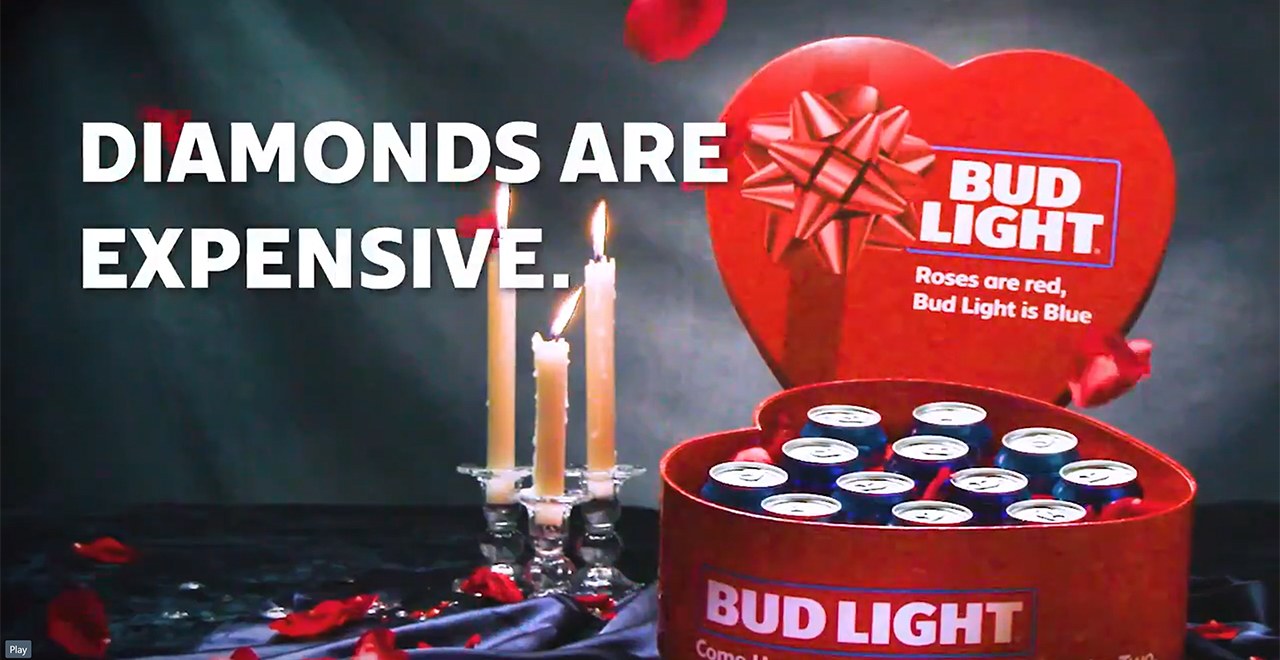 Credit: Twitter/budlight
ALERT! ALERT! Valentine's Day is approaching! Get your asses in gear!
It's still about 5 days away, so you've got some time, but not much. Plus, after a year of pandemic hell, the typical flowers and chocolates might not do the trick. You may need to up your game with candy-flavored mac and cheese and some LEGO flowers?
But f you really want to show your love, Budweiser is here to help, in the form of some heart-shaped beer. Or, at least, a heart-shaped box.
The brewery is ramping up the romance this Valentine's Day with a heart-shaped 12-pack of Bud Light, because, as the box says: Roses are red, Bud Light is blue…
The Bud Light Heart Shaped Beer Box.The perfect gift for the one you love…or just the one who loves beer. Available now. https://t.co/7QFDjZimQO pic.twitter.com/Rl9OR2dHBM

— Bud Light (@budlight) February 6, 2020
The catch is that the heart-shaped box doesn't come with any actual beer. Hey, wait! I've got a new complaint. NO BEER? There's no beer? And it costs how much to reach beer nirvana?
That's right, it's just a corrugated-cardboard box shaped like a heart that you can put your previously purchased 12 cans of beer inside of, and it'll cost you 25 big ones.
The other catch is that your better half might not see the romance in a collection of light beers that cost you at least twice as much as they should have, but that's not for us to decide.
Follow your heart and go with God and if things backfire then at least you'll have a 12-pack of Bud Light with which to wash down your heartbreak and brainstorm a new plan.