'The Nutty Professor' Is Getting Another (Yes, Another) Reboot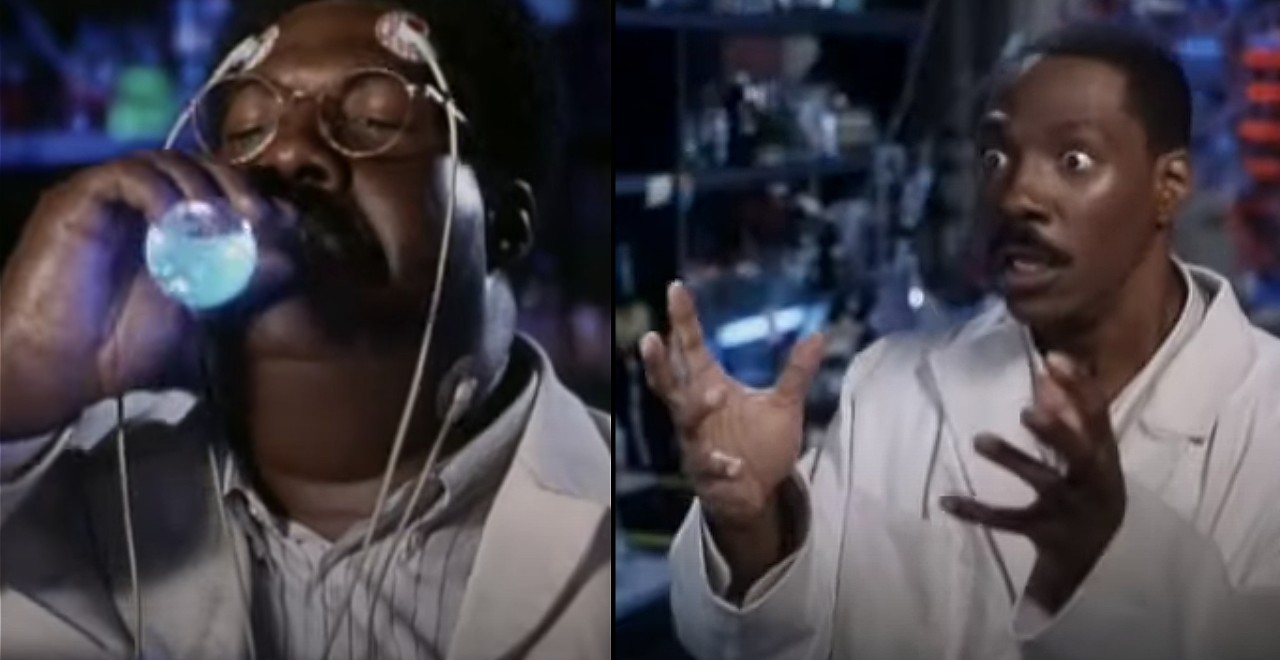 Is there such a thing as "reboot season?" Because for better or for worse, it feels like we're in it. Every other movie and TV show announcement seems to be yet another remake of a classic and depending on the circumstances, those announcements can bring anything from excitement to intense dread. We're getting a reboot of the classic '80s true crime show, Unsolved Mysteries, which is very welcome considering the explosion in true crime-related media. The dramatic hour-long Fresh Prince reboot, well, we have some questions. Up next in line for a reboot is Eddy Murphy's 1996 comedy, The Nutty Professor.
The Nutty Professor followed the extra smart and extra-large scientist Sherman Klump, played by Murphy himself (in total, Murphy plays seven characters in the film, which is both bizarre and impressive). In an effort to win the affection of chemistry student Carla Purty (Jada Pinkett), the desperate professor tests a weight loss solution he created in his lab. The solution works…ish. Klump sheds the extra weight, but gains an arrogant and obnoxious second personality who goes by the name of "Buddy Love." The Nutty Professor that we know and love is based off of a movie with the same name, a 1963 film starring Jerry Lewis. Now, the film is getting its second reboot.
Project X Entertainment, the same studio working to reboot the Scream franchise, is turning its attention to this classic comedy. James Vanderbilt, William Sherak, and Paul Neinstein have signed on to work on the reboot, and the studio is working in-house to assemble a creative team. The writer and director have not yet been chosen (or if they have, their names have yet to be released), and no cast information is available. Vanderbilt has high hopes for the re-reboot, aiming to match or beat the 1996 version's $273m worldwide box office earnings.
Though James Vanderbilt is known for writing hits like Zodiac, The Amazing Spider-Man, and White House Down, Vanderbilt says he will only be filling the role of producer for The Nutty Professor reboot. Will Eddy Murphy reprise any of his seven roles from his 1996 classic? Will our favorite quirky scientist finally realize the benefit of sticking to FDA-approved drugs? Only time will tell.