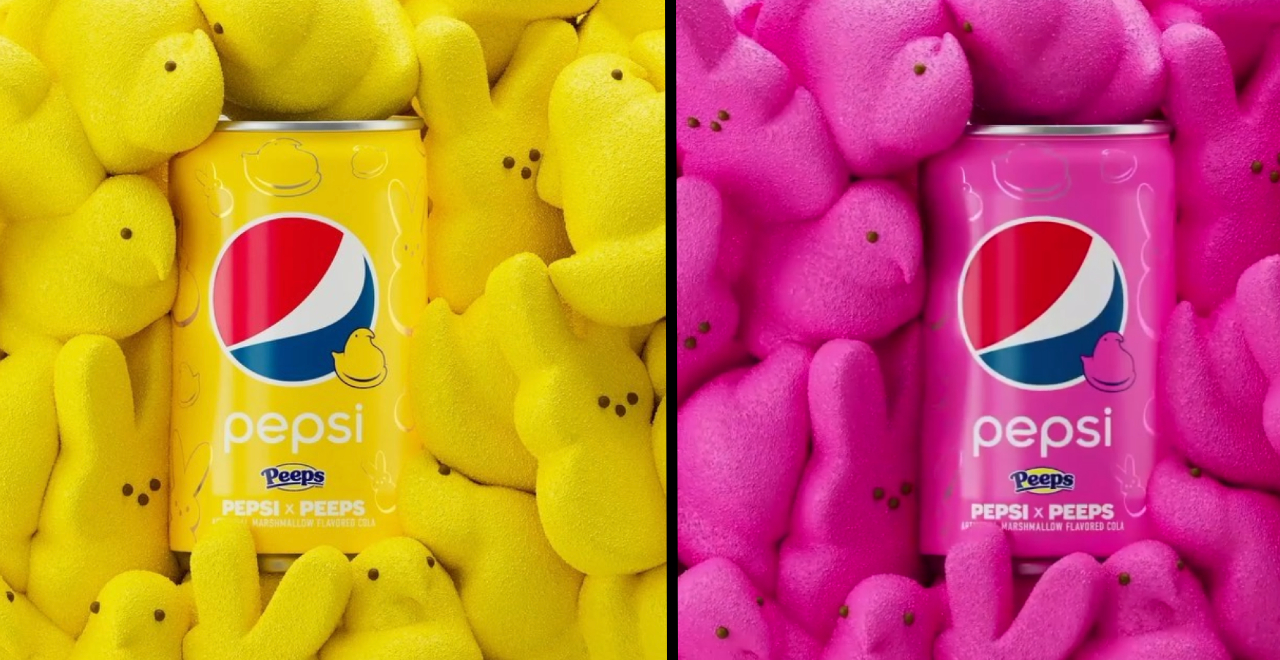 Credit: Instagram/Pepsi
Spring is here, and now maybe the most "spring" gimmick of all time, a brand new marshmallow soda from Pepsi. And not just any marshmallow, it's a collab with the GOAT of decorative Easter candy, as Pepsi is releasing a Peeps flavored cola. That's right, for some reason, we are getting a Pepsi x Peeps flavor.
Not only are we getting the limited edition cola, but much like Peeps themselves, we're getting it in different colors. The sweet Peeps soda will come in yellow, pink, and blue mini cans. Perfect for Easter baskets!
We're "More Than OK" with our newest #PEPSIxPEEPS flavor. Take a photo of you & your PEEPS candy enjoying spring tagging @pepsi w/ #HangingWithMyPEEPS + #PepsiSweepstakes for a chance to win our cans.

RULES: https://t.co/VLRKt7WPPr pic.twitter.com/pqx1CeALuv

— Pepsi (@pepsi) March 25, 2021
"After what has been a very difficult year, many consumers are looking for new things to smile about," a Pepsi spokesman said in a statement. "We know our consumers love our limited product drops, and we believe that PEPSI x PEEPS will deliver an iconic and delicious pairing that has the potential to become a fan favorite."
View this post on Instagram
How can you beat an iconic and delicious pairing? Honestly, it doesn't sound bad. Cola is sweet, marshmallow is sweet, it could work. It's like coffee-flavored Coke, it's an intriguing combo. Throw in a cute can and you can do a lot worse for a novelty drop.
It's also got some major FOMO potential, as it's only available through a Twitter contest. You can grab the limited-edition flava by using the #HangingwithmyPeeps and #PepsiSweepstakes hashtags to show how you celebrate spring. Pepsi will pick 3,000 winners, and then you can pretend the soda is the greatest thing ever just to make all your friends jealous.