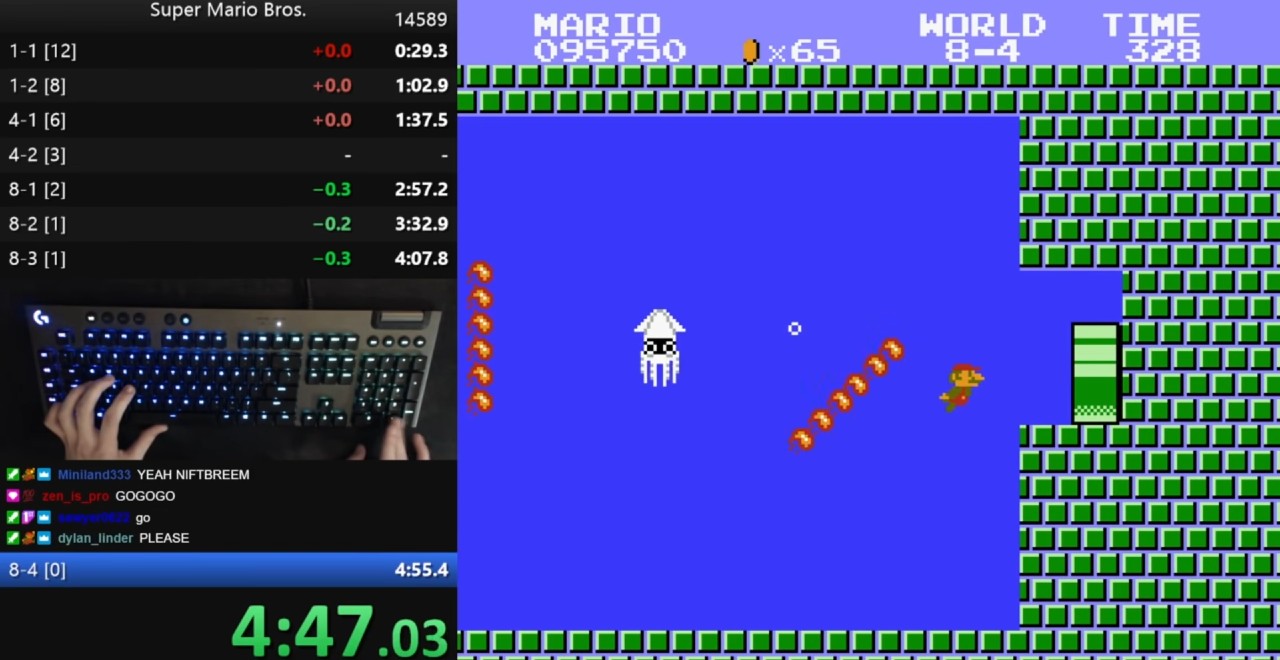 Credit: Youtube/Niftski
The original Super Mario Bros. is notoriously difficult, and I feel like anyone who can complete the game deserves some kind of medal.  You can imagine my shock then while watching Niftski's new world record speedrun that clocks in at 4 minutes and 54 seconds.  This is some next-level Mario Bros. gameplay.
Before we get to that run though, we need to go back to September 25th, 2018.  This was the day streamer Kosmic achieved the (previously) "perfect" Super Mario Bros. speedrun world record with a time of 4:55.913, which had only ever been achieved during a tool-assisted run.  These tool-assisted runs are special programs that allow creators to play perfectly, giving them an idea of just how far they can potentially push a game to its limits.  As experts continued to tinker with different speedrun methods, there were tool-assisted runs that would end up clocking in at under 4:55, but what Kosmic had done was as perfect as humanly possible.  Could anyone achieve a better time than his?  How do you improve on perfection?
It wouldn't be until April 7th, 2021 that streamer Niftski would blow everyone's minds.  He pulled off a perfect run like no other, just barely sneaking in by milliseconds and setting a new world record of 4:54.948.  I don't even want to know how many attempts it took to reach this point, but watching this will leave your palms sweaty.  Each jump over an enemy is so close to ending Niftski's run, it physically pains me to watch.  As he inches closer towards the end, the chat starts to go absolutely berserk and once he knocks Bowser into the lava for the last time, the sheer joy from Niftski's voice tells you all that hard work has paid off.
"IT HAS FINALLY BEEN DONE! THE 55 BARRIER IS NO LONGER. Huge thanks to everyone who has supported me on this journey. This was my 2nd run ever on this pace into 8-4, so I am blessed to say I finished it out. This is a time I can be proud of for the rest of my life. Also, I don't plan on stopping here! ;)"
I have a hard enough time jumping on Goomba's properly, so Niftski's speedrun is a sight to behold, with each movement being executed with precision.  What's also interesting is Niftski uses a keyboard to play.  The original NES controller is pretty uncomfortable by today's standards, but I couldn't imagine using anything other than that.  I guess if you are going to be playing Mario Bros. as much as these guys do though, comfort is key.
Now, I guess we'll just have to wait and see if anyone can beat this new record.  Will we be waiting weeks or years to find out?  I hope for Niftski's sake it's a very long time.