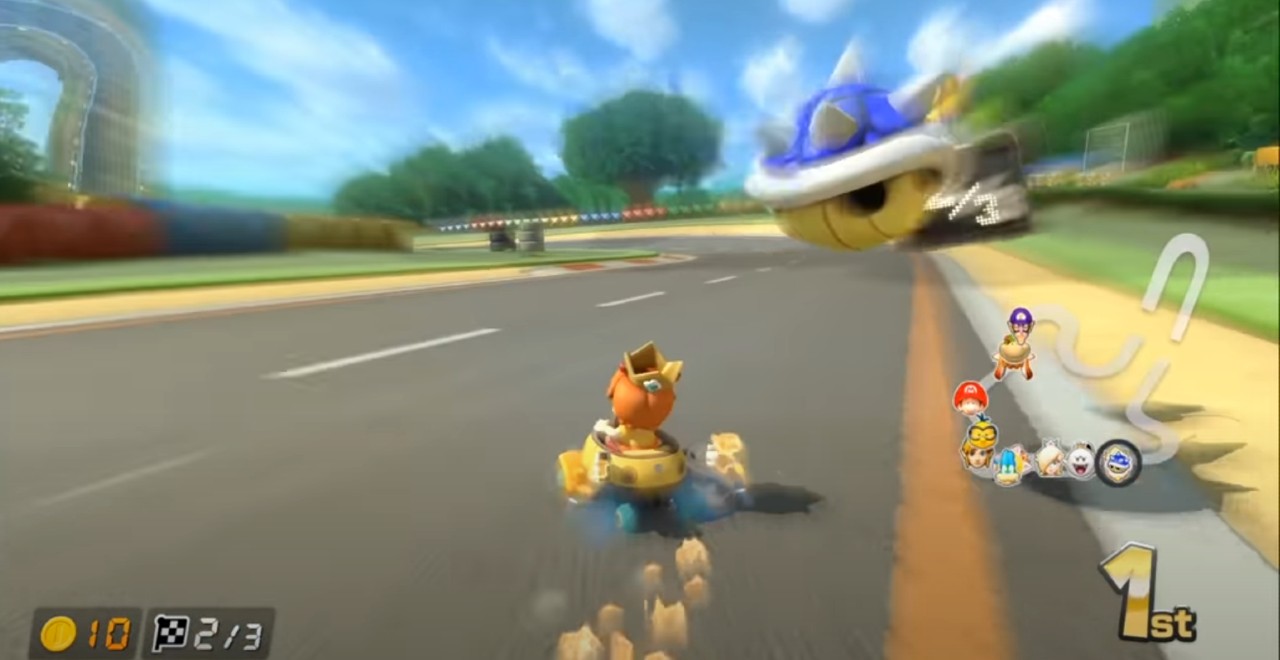 Credit: YouTube/Skilloz
The video game speedrun community has always fascinated me.  I love watching games like The Legend of Zelda: Ocarina of Time or Super Mario 64 being pushed to the limits and finished in lightning-fast times.  My favorite type of speedruns though are the obscure ones like "Nipple %" (How fast can you get enough coins to put Mario into just his boxer shorts in Super Mario Odyssey).  These types catch my attention simply because of how hilarious they are, and this new Mario Kart speedrun challenge "Blue Yourself" definitely falls into the latter category.
The rules are simple enough: get a blue shell and blast yourself in single-player mode as quickly as possible.  Also, it doesn't count if the computer hits you with a blue shell.  This requires a ton of luck and timing on the player's part because you need to get the items to unlock at the exact moment and in the exact order.  You're not going to get a blue shell while you're in first place, so you need to stay back a bit, but you will need to eventually get in first place to pull it off.  It sounds impossible, but speedrunners are Blue-ing themselves on a regular basis (can't believe I said that).
On Thursday, a brand-new world record was established by Skilloz, who blue himself in a mere 39 seconds (yep, can't believe I said that either).  He would end up shaving seconds off that time and the new world record "Blue Yourself %" is currently 37 seconds.
When you're watching the video, you can hear him explaining what he's doing to achieve this specific type of run.  The level of detail and science that goes into this entire thing is bananas, but if you really want to confuse yourself, you can read down below how the process is broken down by Skilloz on Reddit.
"The items you get depend how far away you are from first place. Knowing this, I sandbag at the start to get a good chance of getting a Star. Then I rush to the next set of items and I'm at the point where getting Triple Mushrooms is also a pretty decent chance. These aren't too terribly difficult to get if you're able to correctly position yourself.
The toughest part is getting the Blue Shell. There's no real way to manipulate it. You can only get a Blue Shell if you're at least 2000 units behind first place. Since that's the closest you can be, it's about a 5% chance of receiving a Blue Shell. You can also only get a Blue Shell once 30 seconds have passed in game.
So when I hesitate in front of those item boxes, I'm waiting on those two things: the first-place CPU to get at least 2000 units ahead of me and 30 seconds of in-game time [to pass]. A member in our community, GsFlint, found that these two conditions can basically line up with each other at the same [time] in Mario Circuit."
I mean, that's really cool and all, but Tobias from Arrested Development had it figured out a long time ago.  Just sayin'.