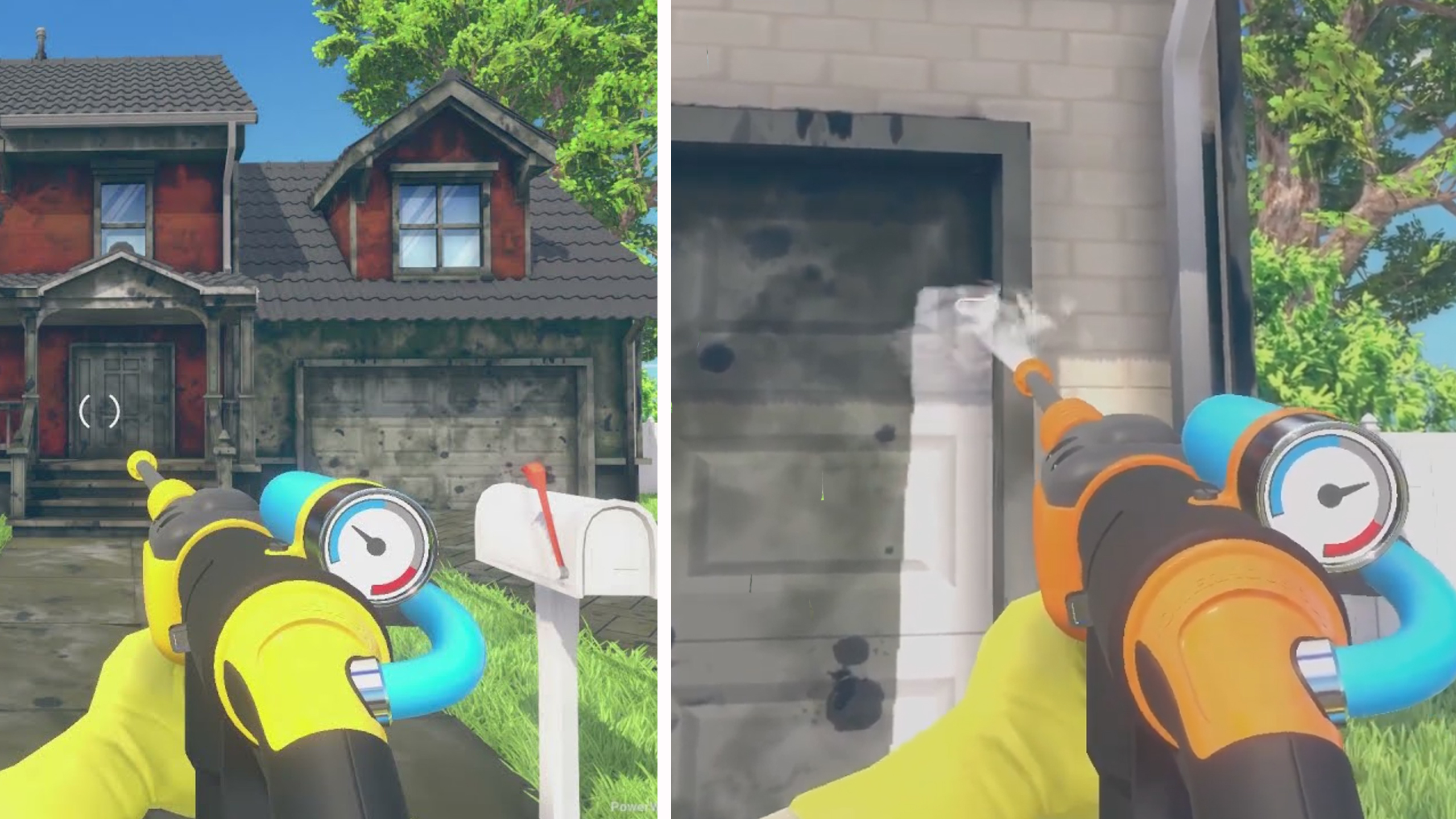 Credit: Youtube/Upcoming Games
I'd like to think this is what DOOM Guy does on his days off when he's not fighting hordes of demons in the realms of the underworld.
Releasing on Steam this summer, developer FuturLab's PowerWash Simulator is the perfect companion game to go along with the highly anticipated dad "Game of the Year", Lawn Mowing Simulator.  Don't believe me?  Feel free to check out all that satisfying, power-washing gameplay in the trailer below.
The official game description reads:
"Let the soothing sounds of high-pressure water wash away your worries. Fire up your powerwasher and blast away every speck of dirt and grime you can find. Release the Pressure, with PowerWash Simulator."
That sounds nice, doesn't it?  If you're curious as to how it plays, there's currently a free demo available to try out.  In the demo, you only have access to a house and a playground to clean, but you can equip different nozzles to your power washer for up-close or far-off precision cleaning.  One of the nice features of this game too is that you don't have to hold your mouse button down constantly to spray.  You can just toggle it to spray automatically, making for a truly relaxing experience.  You might even fall asleep if you play that way for too long.
While the demo is limited in terms of what you can do, the full release will feature an expanded career mode.  You'll be responsible for your own power-washing business which if successful, will allow you to unlock new tools and upgrades to use.  After you've completed the campaign, there are challenge modes (with leaderboards), and even a multiplayer mode where you can create a multiplayer lobby for up to six friends to join.  Nothing like kicking back with the dudes and power washing the neighborhood in style.  That's what I'm talking about!
PowerWash Simulator doesn't currently have a set release date yet, but rumor is it will be available by the end of June 2021.  If you are interested, you can add it to your wishlist over on Steam.  Honestly, I think multiplayer could be a riot and the gameplay looks super satisfying.  If only when you did your real-life household chores did a nice shiny logo pop-up, telling you that you've completed it and done a great job with a little "ding" sound.  When I do any chores, there's no "ding" sound and my kids just make a mess again.  That's no fun.