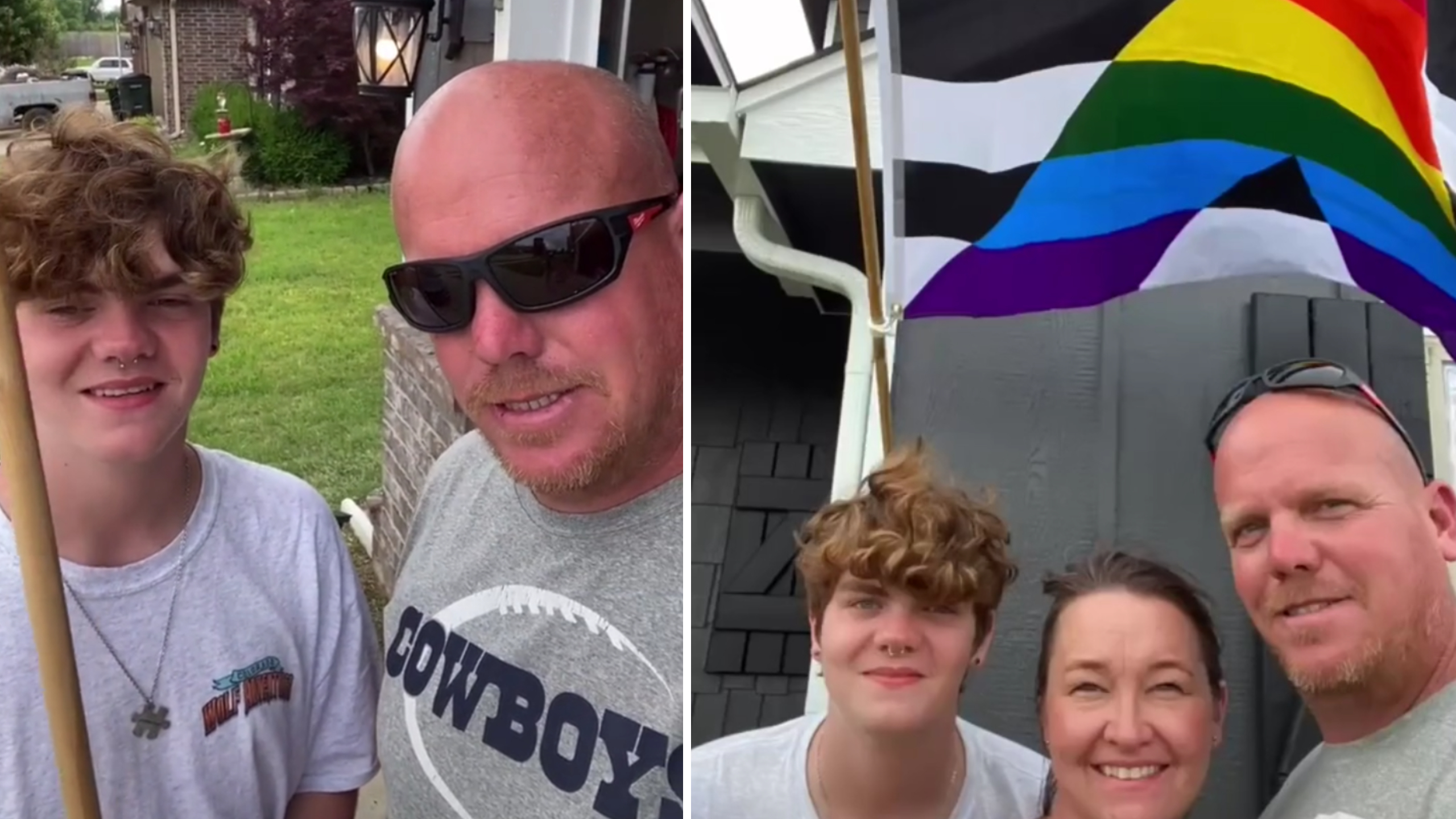 Credit: TikTok/wyattearptulsa
A dad made the ultimate show of support to his gay son by raising a Pride flag at their home, despite living in a part of the country where that's not a super popular move. John Wyatt posted a video on Tik Tok of him with his 15-year-old son Caden raising the ally flag.
It starts with the dad saying "we are fixing to shock Oklahoma" and then his son raises the flag while Lady Gaga's "Born This Way" plays in the background. He captioned it "Happy Pride Month to y'all, especially to my son. Love you Caden!" and hashtagged it with #prouddad, among others.
The video got more than 2 million views on Tik Tok. They went with the Ally Pride Flag, which is slightly different from the traditional Pride flag, after doing research about what would be most appropriate for them to fly for their son.
Caden told Buzzfeed he knew he was lucky to have such supportive parents since not all LGTBQ kids do. His father said he's not trying to cause controversy, just show love to his kid.
"We're letting people know it's a safe place," John said to Buzzfeed. "I'm not trying to cause any controversy in the neighborhood, but maybe there's some person out there who will see that flag and smile and feel safe."
He said he got a lot of positive comments from the LGBTQ community saying they wish their parents were that supportive. He said he's told them all if they ever need someone to talk to, he would be there for them, and if they were local, his home would be open for a meal. And if they need a "dad hug" John will be there with open arms.
It's a great way to celebrate Pride Month, but it also shows just how much views are changing and how important acceptance is. Here's what it comes down to, an enduring truth about parenthood that seems to get learned over and over, just love your kids. Love your kids no matter what, and show that love to them however you can.