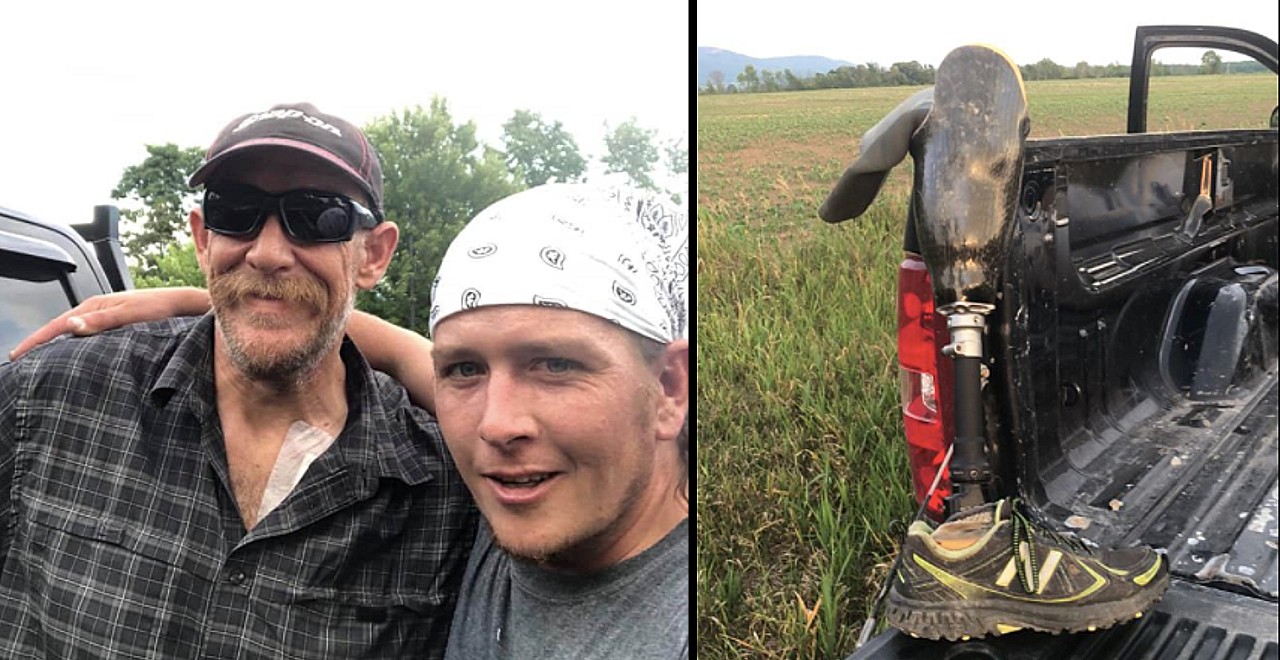 Credit: Facebook/Chris Marckres
There's a lot to think about (read: worry about) when going skydiving. Is your parachute going to open, or did you somehow accidentally grab a random backpack instead? Did you eat too much beforehand? Are all of your limbs going to stay attached while you're flailing around in free fall? For most of us, maybe that last one is nothing more than a flash of irrational panic as your brain scans through every horrible possibility while coming to terms with the fact that you're about to jump out of a moving plane. But for Chris Marckres of Vermont, being a double amputee meant that he was just slightly more likely than the rest of us to lose track of a limb mid-air. Unfortunately, that's exactly what happened during his very first jump last Saturday.
Marckres was tandem skydiving, which means he was safely strapped to an instructor to ensure that his first jump went (mostly) as planned. Even the most experienced instructor probably wouldn't have imagined that one of Chris's prosthetic legs would have detached during the jump – in fact, Chris himself didn't even realize that his leg was missing until he landed.
Prosthetics are expensive and take time to replace, so with fading hope, Chris put out a social media post explaining his peculiar predicament in the hopes that someone might stumble upon his missing leg. In a shocking turn of events, a farmer named Joe Marszalkowski messaged Chris with some incredible news – the missing leg had been found, New Balance sneaker and all.
In a Facebook post, Chris shared his good fortune. The post read, "Just got a message from Joe Marszalkowski that he found my leg. 9500 foot drop and it's 100% intact. I can not even begin thank everyone enough that has been involved with the search. You all have shown me there are still so many good people. Thank you all again, especially Joe."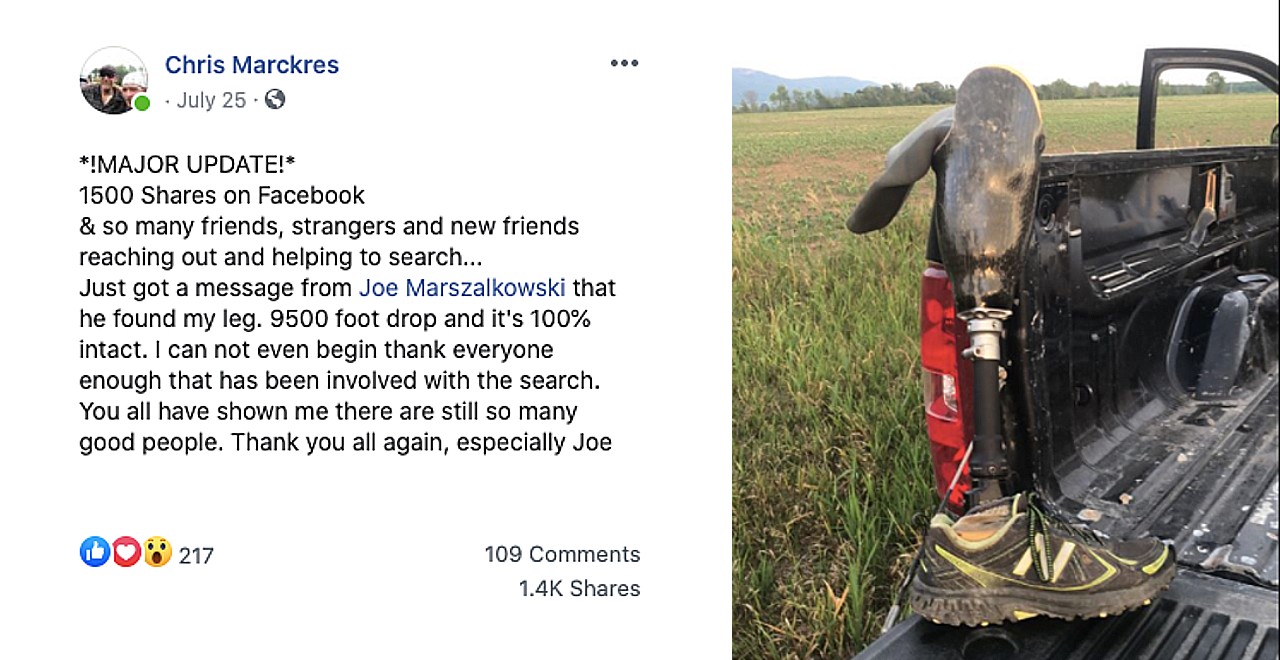 Nobody was more surprised than Chris that, against all odds, his leg had been safely recovered. "About the time Joe messaged me saying he had located my prosthetic, I had been coming to terms with the fact it was most likely not going to be found," Chris told The Dad. "I was beyond excited to have it returned, and equally surprised it wasn't damaged at all."
After seeing Chris's post on Facebook, Joe discovered the lonely leg in his soybean field. Fortunately, he had diligently kept an eye out – had any machine come in contact with it, the leg surely would have been destroyed.
This experience hasn't turned Chris off of skydiving. In fact, he told The Dad that he anticipates completing more jumps in the future. And if anything like this ever happens again, the people on social media are always willing to lend a hand – or in this case, a leg.