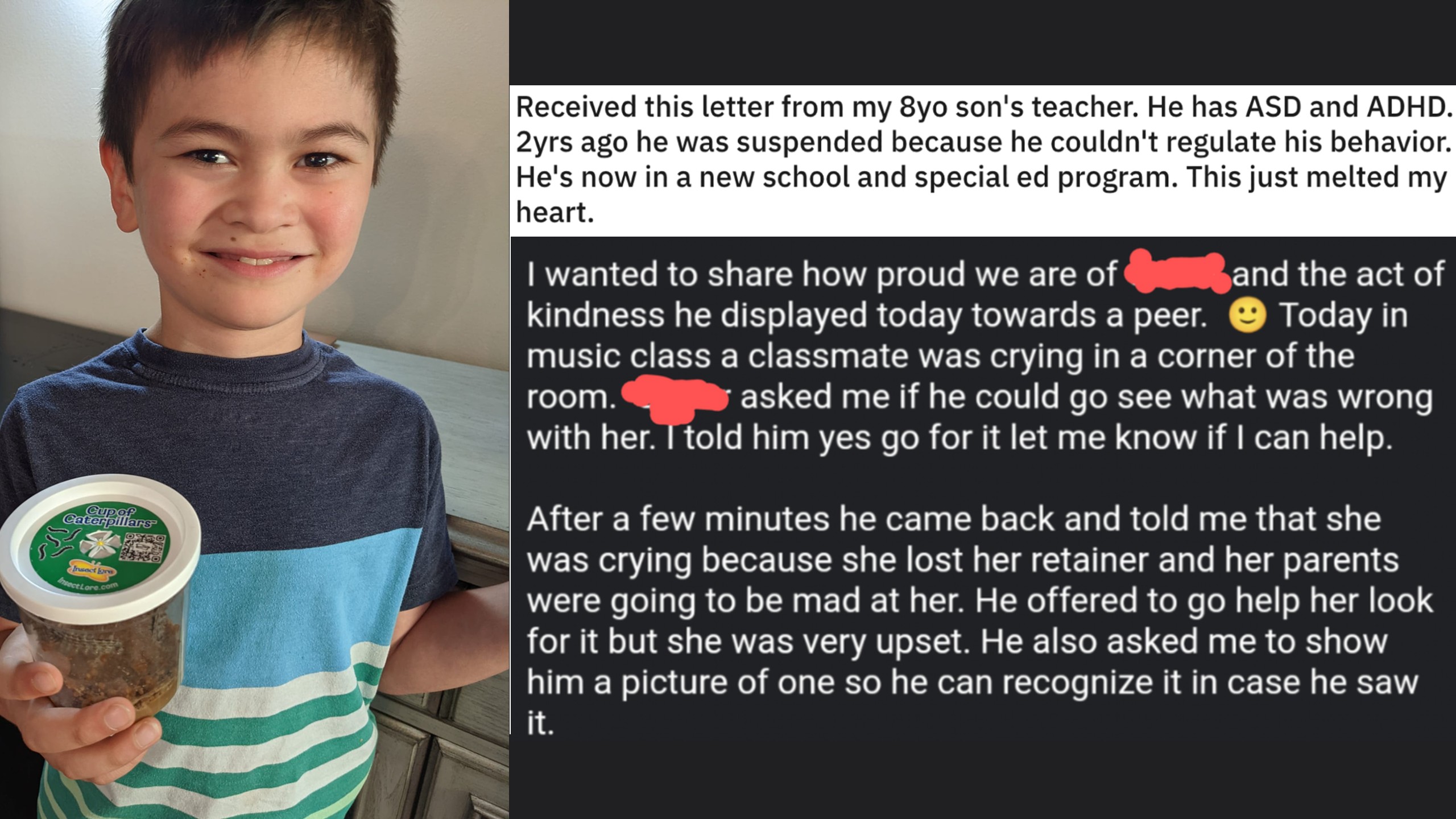 Credit: Reddit/icy_trees, Courtesy of Carter's Mom, Loan
Adult or child, it's easy to write someone off for behavior you don't quite understand. In every social situation, there are unspoken expectations that make or break the way the world sees us. While understanding social norms comes naturally to many, for people with autism, socializing can feel like playing Minesweeper blindfolded. When Loan, mom of 8-year-old Carter shared a note from his teacher on Reddit, it reminded us all that a little patience and understanding can go a long way.
From a young age, Carter's parents realized he was developmentally different from his older sister. He had speech delays, and once he started preschool, his hyperactivity became evident. Rather than sitting with his class, he would run from the classroom at any opportunity. He struggled to sit still, and an evaluation revealed he had ADHD. With a 504 supporting his needs in kindergarten, Carter's parents breathed a sigh of relief. In first grade, however, Carter's struggles became impossible to ignore.
"I received calls almost everyday from his teacher or principal," Loan told The Dad. "His impulsivity was getting worse. ​​He would take papers in class and tear them up. He would flip the chairs and throw pencils around the room. He could not calm down at all."
Teachers were unable to help Carter regulate his behavior, and as a result, he was suspended.
"I can't even imagine how painful it was for him," Loan recalled. "He had a million emotions going through his head and he wasn't able to control them. Kids saw this and just thought he was a bad kid and that something was wrong with him."
Carter struggled, but his family knew his intention was not to hurt others. After further evaluations, Carter was diagnosed with ASD, or Autism Spectrum Disorder. Unwilling to let the world paint him in an unfair light, Carter's parents hired an advocate. They had an IEP (Individualized Education Program) put in place, and transferred Carter to a school that could meet his needs. Before long, Carter began to thrive.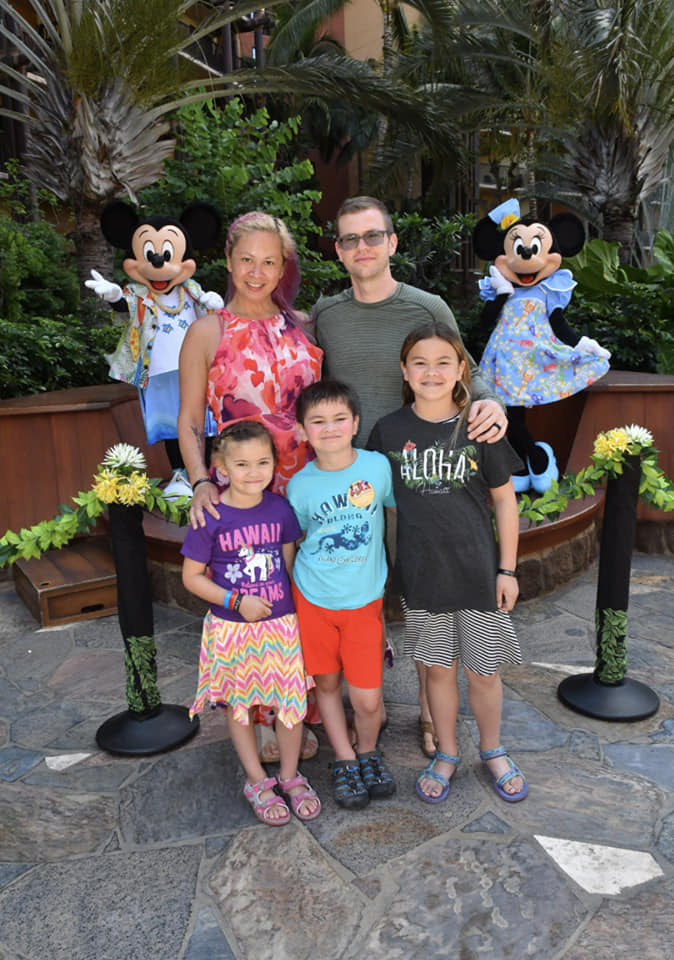 The now second grader's frustration was met with understanding, his outbursts met with patience. Without constant fear that emotions outside of his control would lead to punishment, Carter's kindness and empathy were free to shine through. Teachers at his new school shared countless stories of Carter's generosity, but one letter in particular stood out.
In the now viral note Loan shared on Reddit, Carter's teacher wrote about an incident where another student was upset. Carter learned that his classmate lost her retainer, and she was inconsolable at the thought of getting in trouble. Carter offered to help look, and asked to see a picture to help him find it.
He asked his teacher how much retainers cost, and then responded, "oh man, if I hadn't spent my money I would have enough to buy her one so her parents are not mad."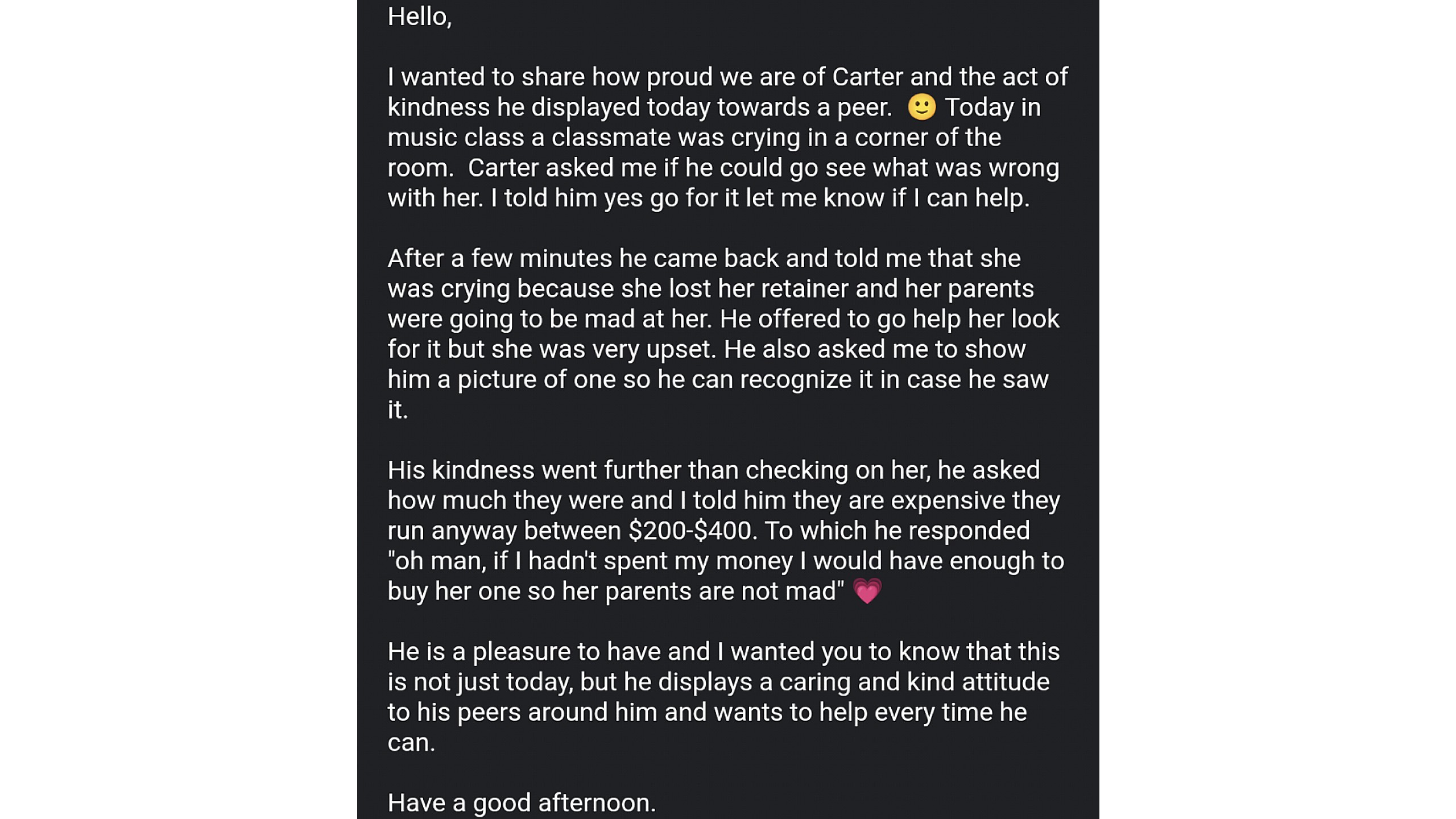 Carter's teacher went on to say that the 8-year-old cared deeply for his classmates, regularly displaying acts of kindness. The same second grader who was suspended for his behavior is now "a pleasure to have" in class, thanks to compassion and support from his teachers and family.
"When kids with ASD/ADHD act out, it's not out of malice. It's that their brains are not wired the same as other people," Loan explains, a reminder that we can all stand to have a little more compassion. "They want to focus and not be impulsive, but they can't sometimes. They are misjudged because they don't act like everyone else."