It's always a proud moment when our kids learn new skills. Whether they become master drummers or budding entrepreneurs, seeing our kids carve out their own impressive paths in life is all we want as parents. But when our kids face obstacles in life, milestones and successes become even sweeter. And for dad Eddie Gomez, sharing a hobby with his son became a source of pride that warmed hearts and resonated with people around the world.
Eddie's 18-year-old son Tristen is on the autism spectrum, but when he was younger, his school thought he may be hearing impaired. Eddie Told The Dad, "After a month of tests they came back and told me it was not a hearing issue. My response was 'I told you, that boy can hear an ice cream truck at 3 miles.'"
Tristen's autism doesn't get in the way of his adventurous nature, and with his supportive dad by his side, Tristen eagerly experiences everything life has to offer. "Tristen has always liked to be in the middle of things and stay active and involved," Eddie explained. "No matter what we are doing he likes to be my partner. We do everything from yard work to cooking as a team."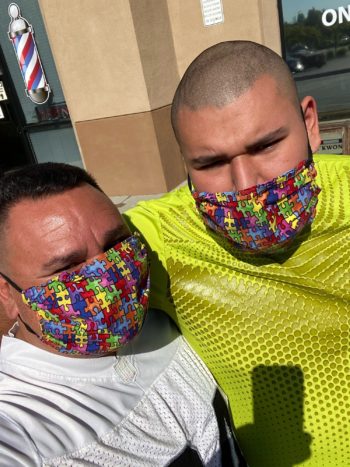 With COVID shut-downs, many of the father-son team's favorite activities were no longer available. Before COVID, Tristen and Eddie could be found at the zoo, the aquarium, Disneyland, and swimming at their local pool (sometimes for hours a day). Eddie encourages Tristen to be independent, so when Eddie purchased a new Oklahoma Barrel Smoker, he wanted Tristen to take the lead on a fairly simple recipe.
"To my surprise he took to it like a duck to water," Eddie recalled. "It was great, while we waited for the smoking to do its thing we would play catch, kick ball, fly his kite, or play with water balloons on really hot days."
Excited about Tristen's new hobby and endlessly proud of his son, Eddie took to Facebook to share some pictures of Tristen grilling. Eddie posted the photos to a group dedicated to owners of Oklahoma Joe smokers, and before long, the post had been shared thousands of times. Looking at the photos, it's easy to see why Eddie's pride in his son made people around the world smile and take notice.
The caption read, "Autism be damned my boy can work a grill." Each photo shows a smiling Tristen, clearly proud of himself as well (as he should be, I mean, look at those wings).
"I was amazed at the response this post got!" said Eddie. "I was sharing a post of Tristen and I doing something we loved to do together. I got responses from around the world. People from Scotland, Australia, Europe, as well as across the USA were IMing me to tell me what an inspiration he was and to thank me for making their day."
Eddie even received offers of care packages from several companies. Some sent sauces, some sent rubs, and one generous company even sent the father-son duo a massive amount of Wagyu meat. One group member asked to set up a GoFundMe so Tristen could buy a new pellet smoker, and incredibly, the page surpassed its goal in just four hours. After much deliberation, Tristen selected his new smoker, and Eddie donated the remainder of the money to an Autism awareness charity in Tristen's name.
"Something I would like all people to understand about Tristen and all children like him is that they are different but want the same thing we all do. To be accepted, have fun, and to be involved," said Eddie. "With a little patience and a little more guidance I think people would be amazed and how well they do. I have to say I have learned way more from my son than I have ever taught him. I think we could all take a lesson from my boy and just try to enjoy every moment in every day to its fullest potential."