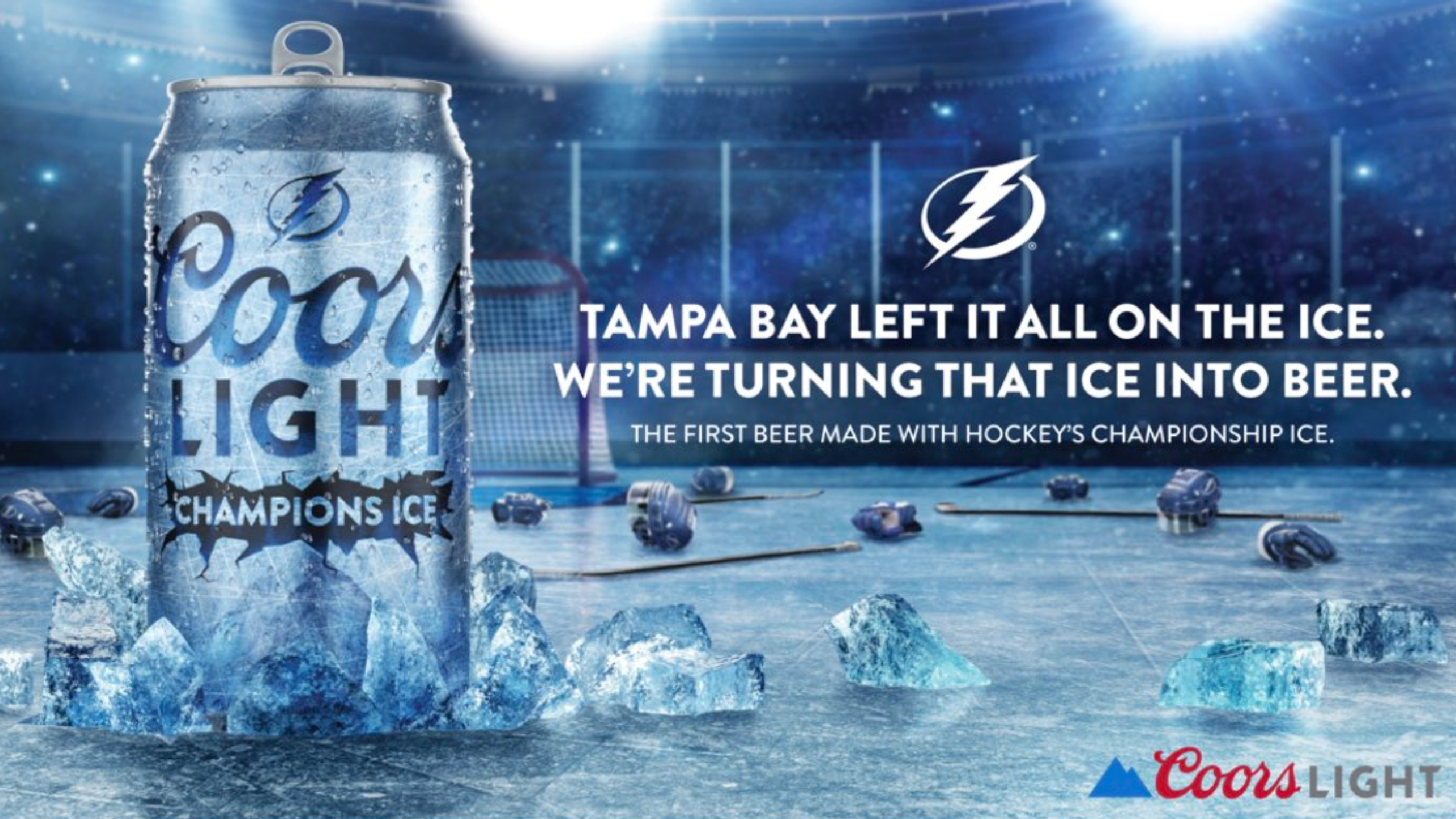 Credit: Coors Light
The Tampa Bay Lightning cruised to their second straight Stanley Cup, beating Montreal in five games to win the greatest trophy in all of sports. But the win got them perhaps the second greatest trophy in sports; their own beer. Coors Light announced they were making a special batch of beer using THE ACTUAL ICE the Stanley Cup-clinching game was played on.
Like, they literally turned the playing surface into beer commemorating their title. How cool is that? "Coors Light Champions Ice" is brewed with actual rink shavings from Amalie Arena. The shavings were taken after the game and transported back to the Coors brewery in Colorado. The beer was then used in the Lightning championship parade and served in bars throughout the city.
Fans also get the chance to buy a commemorative 32 oz growler featuring the Champions Ice beer.
We heard @CoorsLight was brewing up something special…now we get to share it with you, #Bolts Nation!

Get your taste of victory starting tomorrow in select Tampa locations while supplies last. ⚡️ (21+)

🍻https://t.co/nrVIrtwSnN pic.twitter.com/1edYlARjMg

— Tampa Bay Lightning (@TBLightning) July 11, 2021
"We thought it'd be awesome to celebrate with the people in Tampa by creating a special batch of Coors Light for them to enjoy, created from the ice where the Lightning put all of their blood, sweat and tears into winning the championship," a Coors Light spokesman told ESPN.
OK, so maybe don't put blood and sweat in my beer, but otherwise, this sounds like a really cool idea. Obviously, there's a lot of grossness that happens on an ice rink, and theoretically the amount of ice shavings they likely added to the beer has no discernible change to the taste or quality, but it still feels cool.
A victory beer like no other. Cheers to the champs @TBLightning https://t.co/H20iaItNsv

— Coors Light (@CoorsLight) July 8, 2021
It's one of those things that only works in hockey. You can't celebrate Tampa Bay's Super Bowl win with a beer full of grass clippings from the field. No one wants to celebrate a Cincinnati Reds World Series title (we can dream) with a beer full of infield dirt. You can't celebrate Phoenix's soon-to-be-won NBA title with a beer full of strings from the net.
Hockey is unique in its ability to turn the playing surface into beer, and this may be one of the coolest ways to celebrate a Stanley Cup championship.