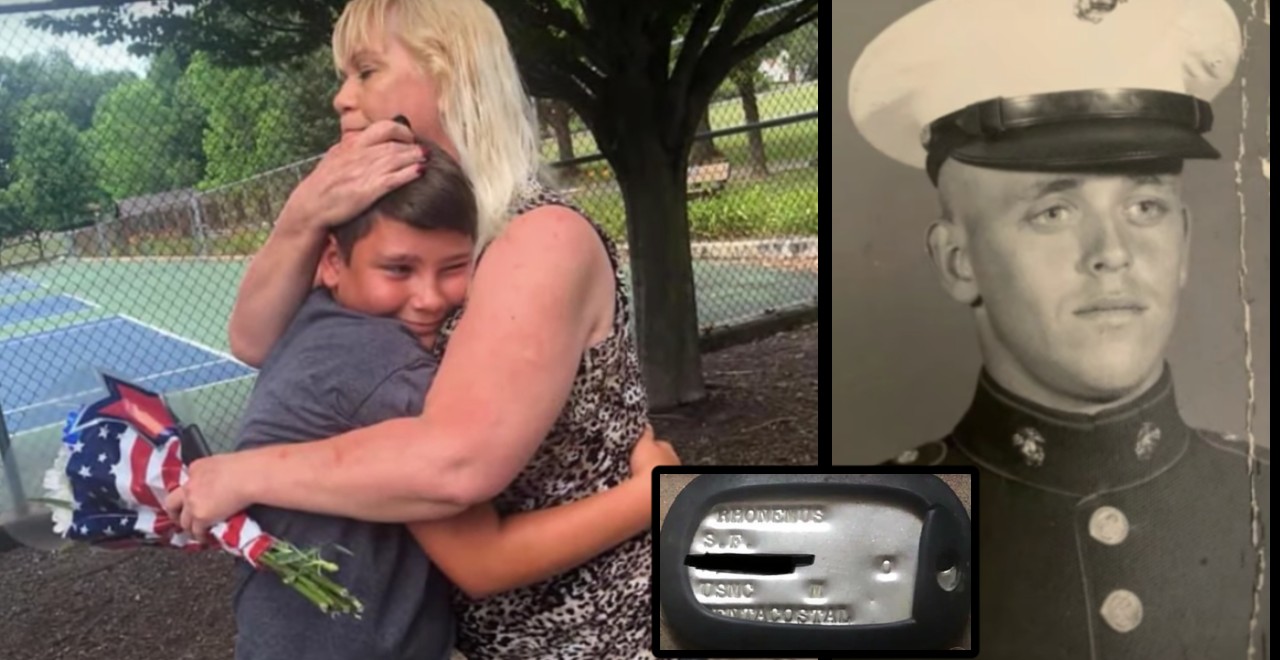 Credit: YouTube/CBS Evening News
Finding buried treasure is every kid's dream. Whether it's a pile of gold coins, precious gems, an entire sunken ship – we've all fantasized about what we would do if we stumbled upon some valuable loot. Twelve-year-old Kolton Conrad always kept his eyes peeled when kayaking with his family in the hopes of stumbling upon some sort of treasure, and on the 4th of July, Kolton's attentiveness paid off.
As Kolton and his family paddled down Ohio's Hocking River, they stopped to pick up some trash. Near a sandbar, Kolton noticed something sparkling in the shallow water and immediately pulled it out. It wasn't treasure, exactly – at least not the treasure Kolton expected. The 12-year-old held in his hand an old dog tag, and written on it was the name "Rhonemus".
Because the name was so uncommon, Kolton's mom figured that posting the dog tag on Facebook might be the easiest way to track its owner down. Fewer than six hours after the fateful post, Kolton's mom got a message from a woman named Crystal Potts. Potts explained that her friend Kimberly Greenlee had a brother, a Marine veteran named Steven Rhonemus. Rhonemus unfortunately passed away at age 24 in a motorcycle accident, just months before his wife gave birth to their first daughter. The tag in Kolton's possession was a piece of the Rhonemus family's history, one that they had assumed was lost forever.
The two families arranged a meeting so the dog tag could be reunited with the people who so dearly missed its owner. Though Kolton was nervous before the meeting, his mom reassured him just how enormously impactful his good deed would be.
Upon meeting Greenlee and giving her back a small piece of her beloved brother, Kolton's fears were replaced with joy. Greenlee recalled the incredible moment to CNN, "I just threw my arms around him and wanted to cry. I was just amazed that little boy knew the deep meaning of those tags and knew what it would mean to our family. I just hugged and hugged him."
Greenlee plans on giving the dog tag to her niece Jewell, who is Steven's daughter. Jewell never met her father, and due to a fire, she only had five pictures of him. Upon hearing the news, Jewell was moved to tears. "I'm not sure why now, 46 years later this came about," she told CNN, "I've always felt like maybe he was watching over me and I felt like maybe this is a sign that he is with me still."
A much-needed sign from her dad was life-changing for Jewell, as well as Steven Rhonemus's entire family. Kolton Conrad may not have found the buried treasure he'd been dreaming about on that 4th of July outing, but he did find someone else's treasure – a treasure that was absolutely priceless.