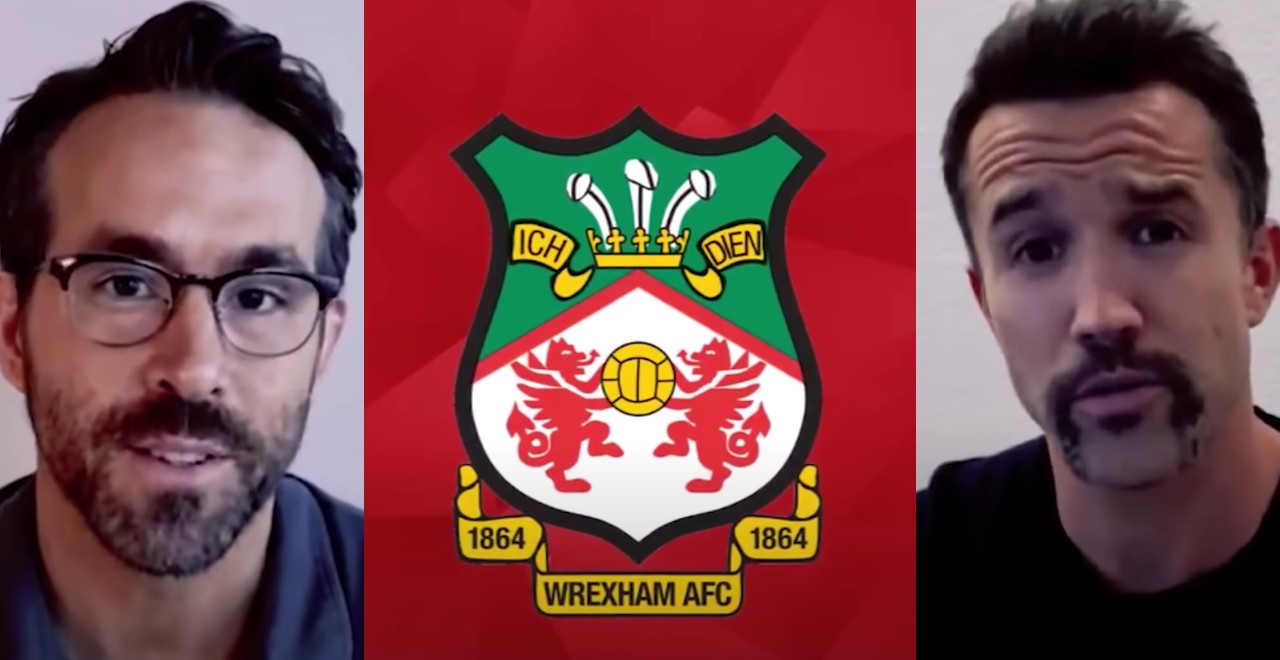 Credit: Twitter/WrexhamAFC
"The Gang Buys A Welsh Football Club." It's the Always Sunny in Philadelphia episode you never knew you needed, now that actor (and Sunny co-creator) Rob McElhenney and movie star Ryan Reynolds have teamed up to buy a Welsh soccer team. It's one of those stories that only make sense in 2020.
Reynolds, aka Deadpool and home school gin connoisseur, can seemingly do no wrong, so we'll get to see if his magic touch can extend to Wrexham AFC, one of the oldest professional soccer teams and one that's currently entrenched in the fifth tier of English soccer. But the two are serious about turning the team around and plan to make it a "global force" around the soccer universe.
"This is really happening," Reynolds said in a video released by the team. The club is fan-owned and approved the takeover by the two celebrities. Apparently, the duo did a lot of research after deciding they wanted to buy a soccer team and thought Wrexham AFC had the most potential.
Wrexham Is The Name. @Wrexham_AFC pic.twitter.com/V2ary5X41D

— Ryan Reynolds (@VancityReynolds) November 16, 2020
A message from our owners-elect…

Welcome to Wrexham AFC, @RMcElhenney and @VancityReynolds 🥳

🔴⚪️ #WxmAFC pic.twitter.com/ho1vV8cvry

— Wrexham AFC (@Wrexham_AFC) November 16, 2020
Reynolds said he and McElhenney want to be at as many games as possible (once fans are allowed, post-pandemic) and 'want to have a pint with the fans.' They also plan to be 'great ambassadors for the club' and want to introduce them to the world.
The Wrexham Supporters Trust Board voted overwhelmingly to sell to the two celebs, as they have serious plans for community engagement and plans to improve their standing in the soccer world. Chief among them is a behind-the-scenes documentary to help bring more fans into the fold.
"You may never have heard of Wrexham, but you will. So to the Wrexham Supporters Trust, thank you for your faith and trust in us," McElhenney said.
Reynolds added: "We are humbled and we are already getting to work."
So now that two of our coolest and funniest celebrities have bought a soccer team, we all have a Cinderella squad to root for as Wrexham AFC works its way out of the cellar of the soccer world.