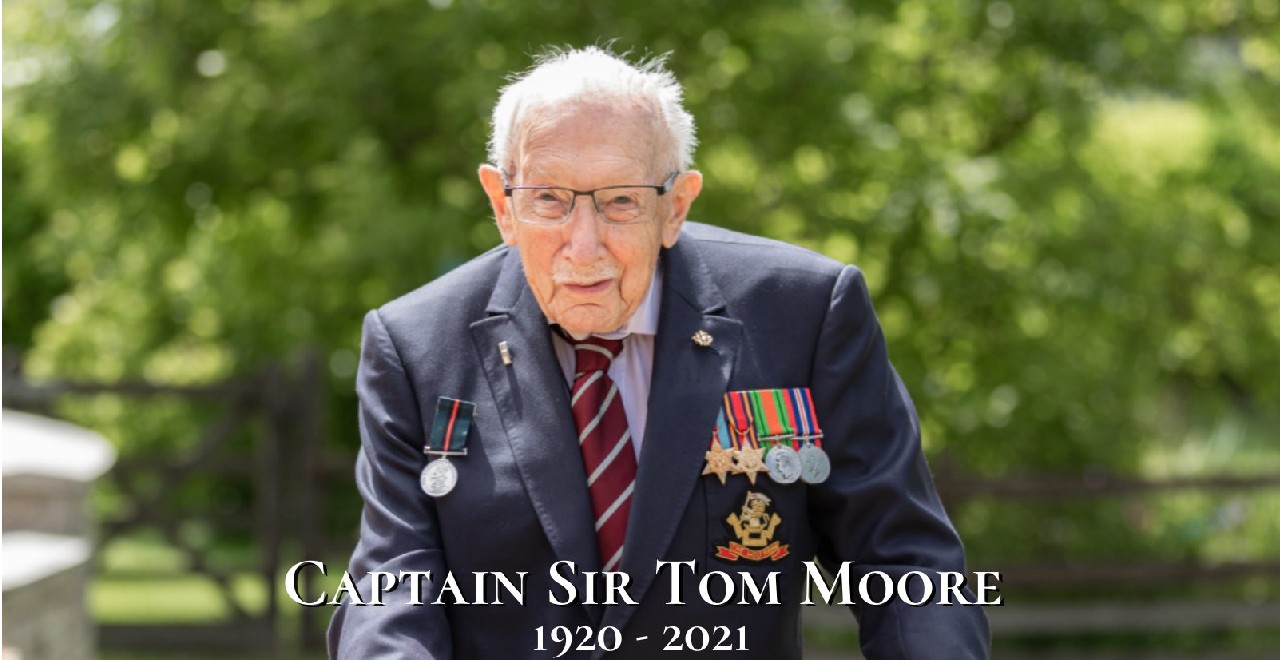 Credit: Twitter/CaptainTomMoore
When COVID struck, one WWII vet wanted to help any way he could, so he started walking in his garden. Like, a lot. So much that it inspired a nation, millions around the globe, and raised a ton of money for healthcare workers. Captain Tom became a legend for his overwhelming fundraising efforts earlier in the pandemic (those four words feel weird to string together, but here we are), and now he has tragically passed away at the age of 100 from Covid-related complications.
Captain Tom fought the Nazis in WWII, and he fought COVID in his garden, becoming a hero all over again. He was even knighted for his heroic fundraising for healthcare workers, so he leaves us as Sir Thomas Moore. When news the icon had passed away hit social media, the tributes came pouring in.
— Captain Tom Moore (@captaintommoore) February 2, 2021
Thanks for everything Sir Tom 💙

— NHS (@NHSuk) February 2, 2021
The Queen will send a private message of condolence to the family of Captain Sir Tom Moore who has died at the age of 100 after contracting coronavirus.

Captain Tom raised £33m for the NHS last year after completing 100 laps of his garden to mark his centenary. pic.twitter.com/jTSaDpOIk6
— Royal Central (@RoyalCentral) February 2, 2021
Captain Sir Tom Moore achieved so much throughout his life and particularly towards the end. What an incredible man. He set an example for us all. My thoughts are with his family and friends. Rest in peace Captain Sir Tom Moore. pic.twitter.com/fyBUYKBAaa

— Ross Kemp (@RossKemp) February 2, 2021
A shining light during a national crisis… Rest In Peace Captain Sir Tom Moore 🙏🏾❤️ #CaptainTom #inspiration pic.twitter.com/cgFlN73A98

— Tony Daley MSc (@TonyDaley7) February 2, 2021
Saddened to hear of Captain Sir Tom Moore's passing. He has been an inspiration for us all during this tough year. @captaintommoore #CaptainTom

— First Sea Lord (@AdmTonyRadakin) February 2, 2021
RIP Captain Sir Tom Moore. A true hero of our times. pic.twitter.com/I1z8IOkrUi

— Handsome Frank (@Handsome_Frank) February 2, 2021
Capt. Tom Moore — the 100-year-old WWII veteran who raised millions to support health workers in the fight against COVID-19 — has died after being hospitalized with COVID, his family has announced.https://t.co/Lo37f3KFcv

— NPR (@NPR) February 2, 2021
A Captain, a Sir, a gentleman and a Yorkshireman. @captaintommoore you inspired a generation by transcending generations with your humility & selfless act of kindness through your record-breaking fundraising.

Our thoughts are with your family & friends#Yorkshire salutes you pic.twitter.com/GmNTRcqJp5

— Welcome to Yorkshire (@Welcome2Yorks) February 2, 2021

A true one of a kind, and an inspirational figure until the end. Rest easy, Sir Captain Tom.