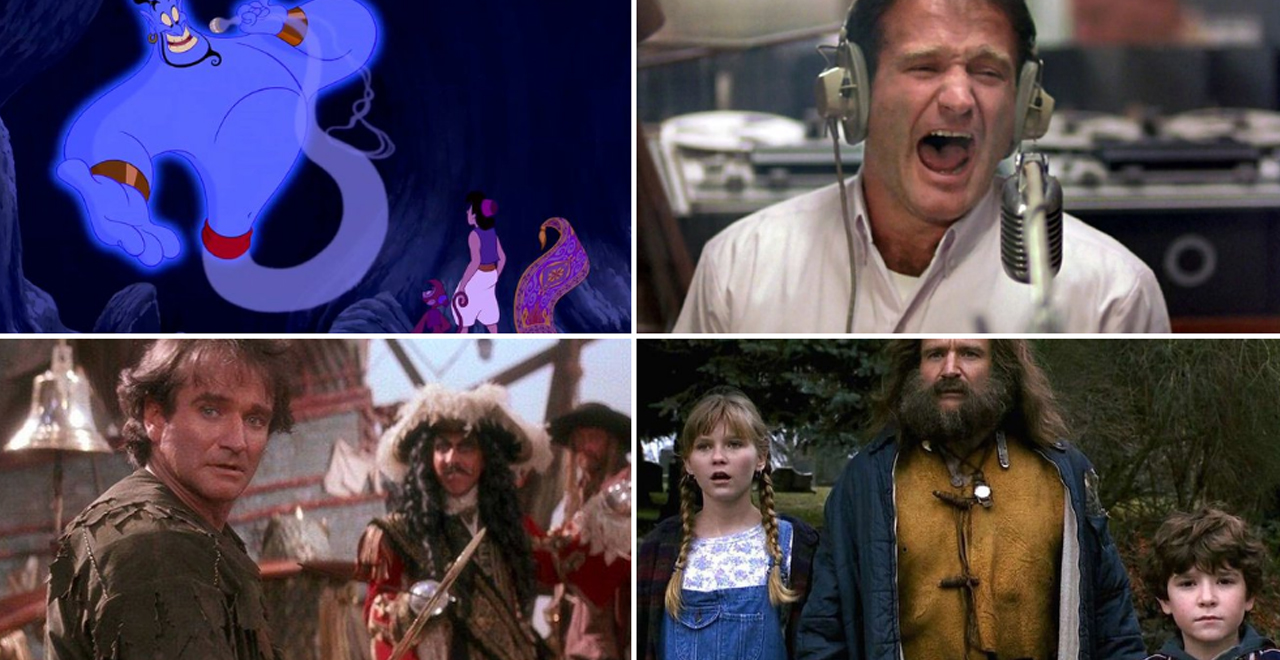 Credit: Twitter/DiscussingFilm
Everyone has a favorite Robin Williams performance.
Maybe you loved the genie in Aladdin before you even knew who Robin Williams was. Maybe you grew up watching Mork and Mindy and cheered as he transitioned into movie roles. Maybe you have a soft spot for the inspiring teacher in Dead Poets Society, or for the caring shrink in Good Will Hunting. Maybe, like my mom, you couldn't get enough of his manic stand-up performances, where his impressions and improvisations flew almost as fast as his sweat.
Everyone has a favorite Robin Williams performance because everyone loves Robin Williams. Twitter is sharing their love for the legendary comic and Oscar-winning actor today, because if the world hadn't lost the beloved actor nearly six years ago, he'd be celebrating his 69th birthday, probably with his family.
Today would have been the 69th birthday of Robin Williams, the iconic actor who starred in 'Aladdin', 'Good Will Hunting', 'Hook', 'Good Morning, Vietnam' and 'Jumanji'.

"Everyone you meet is fighting a battle you know nothing about. Be kind. Always." – Robin Williams pic.twitter.com/rJdJ3MTQ7L

— DiscussingFilm (@DiscussingFilm) July 21, 2020
Fans are sharing images from their favorite performances, artwork they've created, and clips from his stand-up. Many are using his birthday as an occasion to remind others that mental illness is an insidious thing and one that is not always easily noticed. And that sometimes the kindest, funniest, seemingly happiest people are suffering on the inside.
Robin Williams would be 69 today, such an amazing talent but tortured soul!

"I think the saddest people always try their hardest to make people happy because they know what it's like to feel absolutely worthless and they don't want anyone else to feel like that" – #RobinWilliams pic.twitter.com/EYoBa01rZi

— Keith Mahon (@MrKeithMahon) July 21, 2020
Despite battling depression, Williams still managed to make millions laugh.
#RobinWilliams would have been 69 today. Fmr. DoD Sec. Hagel said in part back in 2014: "From entertaining thousands of service men and women in war zones, to his philanthropy that helped veterans struggling with hidden wounds of war, he was a loyal and compassionate advocate." pic.twitter.com/OmvxNGu6sY

— James LaPorta (@JimLaPorta) July 21, 2020
His audience included one of the most famous and accomplished directors of all time.
While working on 'Aladdin,' Robin Williams would call Steven Spielberg to help cheer the director up while he was filming 'Schindler's List'

'He'd do 15 min of stand-up on the phone. He'd never say goodbye … just hang up on the biggest laugh he got from me. Mic drop' pic.twitter.com/Yla7hJx4nm

— Film Facts 🎬 (@factsonfiIm) July 16, 2020
Everyone has a favorite Robin Williams performance. Most of us just wish he was still around to give us more of them.