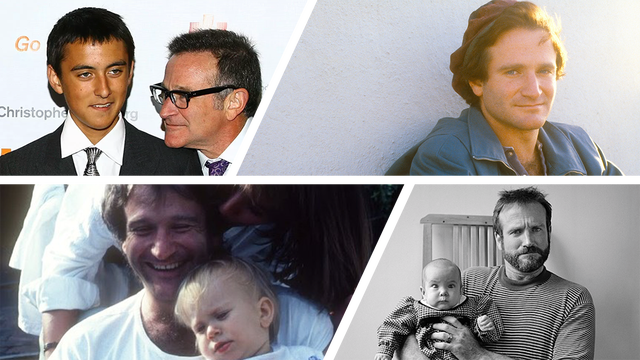 Credit: HBO/Sonya Sones;Sonya Sones;Instagram/Zelda Williams
August 11, 2014, was a devastating day. In fact, many of us probably remember where we were when we found out Robin Williams had died. He was a comedy legend, a world-class actor, and a father and friend with an intense love for others. Of course, these famous characteristics were not enough to overcome the intense physical and emotional distress that plagued him later in life.
Now, seven years after his passing, Robin's kids are reflecting on precious interactions with their father and doing their best to honor his legacy while combating the stigma surrounding mental illness.
"Being Robin Williams' son was wonderful in so many ways [but] having to share him with the world was hard at times," Zachary Williams said in a recent interview with Good Morning Britain. "When he was having challenges and going through certain things it was heartbreaking because he still went out and wanted to share his feelings of laughter and humor with the world."
In 2013, Robin began experiencing a wide variety of serious physical ailments that were seemingly unconnected. He had trouble seeing and sleeping, constantly suffered indigestion and cramps, and had symptoms of cogwheel rigidity, where a limb would randomly stop itself at certain fixed points in its range of motion.
"It was like this endless parade of symptoms, and not all of them would raise their head at once," Robin's wife, Susan, said. "It was like playing whack-a-mole. Which symptom is it this month? I thought, is my husband a hypochondriac? We're chasing it and there's no answers, and by now we'd tried everything."
For nearly a year, his health continued to deteriorate, worsening his already substantial levels of anxiety and depression. Finally, on May 28, 2014, Robin and Susan received the first of two explanations as to his strange combination of varying symptoms: Parkinson's disease, a degenerative disorder that attacks the central nervous system, impairing motor functions and cognition until it eventually takes the victim's life.
Devastated and terrified, Robin shared the news with his children and others who were closest to him
"I never heard him afraid like that before," recalled long-time friend and fellow comedian, Billy Crystal. "This was the boldest comedian I ever met—the boldest artist I ever met. But this was just a scared man."
Robin's kids began reaching out more often to provide all the love and support they could, in whichever ways possible. Zak still remembers his sense of helplessness trying to diminish his father's suffering during this time.
"It was really difficult to see someone suffering so silently," Zak said. "But I think that there were a series of things that stacked, that led to an environment that he felt was one of pain, internal anguish, and one that he couldn't get out of. And the challenge in engaging with him when he was in that mindset was that he could be soothed, but it's really hard when you then go back into an environment of isolation. Isolation is not good for Dad and people like him. It's actually terrible."
As the disease ran its course, Robin became more and more reclusive. The work and creative outlets that used to bring him so much joy—acting and stand-up comedy—seemed unattainable now. Robin simply didn't think he was capable of being funny anymore.
On an evening in early August, when Susan was away, Robin visited Zak in San Francisco. He acted as a stranger in his son's home, walking on eggshells the entire time as if he was somehow intruding. When he eventually got up to leave, Zak asked what it would take to make him stay overnight—would he have to tie him up and throw a bag over him?
"Well, that was a joke," Zak said in an interview with Vanity Fair with a bittersweet laugh. "To be clear, that was a joke. But we didn't want someone who seemed like he was in so much anguish to leave. We wanted him to stay with us. We wanted to take care of him."
Mere days later after returning home, on July 11, 2014, Robin was found dead in his bedroom.
Robin Williams' eldest son Zak reflects on his father's struggles, as the fifth anniversary of the actor's death approaches ???? pic.twitter.com/krlYkTAh3r

— Good Morning Britain (@GMB) July 21, 2019
"Sharing the grieving process with the world was hard. At times it was hard to differentiate what involved private grieving, and experiencing that loss, versus public grieving and experiencing that type of community interaction and communicating. I wasn't prepared," Zak said. "It was challenging. But I'm very grateful for the outpouring of love and support that continued… Here we are almost five years later. I feel the massive impact and difference he made."
Zak now serves as a board member for Bring Change To Mind, an organization with the goal of fighting the stigma and discrimination that surrounds mental illness.
According to the Bring Change To Mind website, they "create multimedia campaigns, curate storytelling movements, and develop youth programs to encourage a diverse cultural conversation around mental health."
Robin's daughter, Zelda, wrote an Instagram post in 2018 detailing the whirlwind of emotion and grief that surrounds the anniversary of her father's death every year:
It's that time of year again. Everyone who has dealt with loss knows the pain of certain anniversaries, moments full of memory that come round like clockwork and usurp all others, no matter how hard you may try to prepare for or avoid them. These weeks are the hardest for me, and thus, you'll see me a lot less, if at all.
For all the internet's good intentions in expressing to me their fondness for dad, it's very overwhelming to have strangers need me to know how much they cared for him right now. It's harder still to be expected to reach back.
So while I've got the strength, consider this my one open armed response, before I go take my yearly me time to celebrate his and my birthdays in peace. Thank you for loving him. Thank you for supporting him and his life's work. Thank you for missing him. I do too.
She went on, encouraging fans to celebrate her father by giving back to their community in tangible ways, just as he preferred to do:
If you'd like to do something in his honor, volunteer at your local homeless shelter, or look up how to make homeless aid backpacks. Give one in his name. He'd have loved that. Otherwise some great orgs he loved include @cafoundation, @dswt, and @reevefoundation. Mostly, try to spread some laughter and kindness around.
And creatively swear a lot. Everytime you do, somewhere out there in our vast weird universe, he's giggling with you… or giving a particularly fat bumblebee its wings. Happy early birthday, Poppo.
Miss you every day, but especially these ones.
She continues to pay tribute to his sense of humor and kindness, most recently honoring what would have been his 69th birthday.
Robin's youngest son, Cody, even went as far as to schedule his own wedding on his father's birthday this year as a way to honor his memory.
Robin Williams is the prime example of one's external life not necessarily reflecting the internal. Despite being one of the most beloved actors, comedians, and fathers, he eventually succumbed to the pain and anguish he was suffering with privately.
Shortly after his passing, an autopsy revealed that Robin had an advanced form of Lewy Body Dementia, a deadly neurodegenerative disorder, that finally explained the series of symptoms he was dealing with. It also shed light on how strong Robin actually was given the full scope of what he coping with. This is the focus of a new documentary titled, "Robin's Wish" set to debut this September.
Robin's legacy lives on through his kids and even his grandchildren. On May 22, 2019, Zak and his fiancee, Olivia June, welcomed his first child into the world, paying tribute to Zak's father by naming their son McLaurin Clement Williams—McLaurin being Robin's middle name.
And of course, his legacy lives on through his comedy. Earlier this year his estate launched a Robin Wiliams YouTube channel which was well-received amid a pandemic.
If you or someone you know has been affected by any of these issues, and want to speak to someone in confidence, please don't suffer alone. Call the National Suicide Prevention Lifeline at 1-800-273-TALK (8255).