"RockyNoHands" Becomes First Quadriplegic Signed by Pro Esports Organization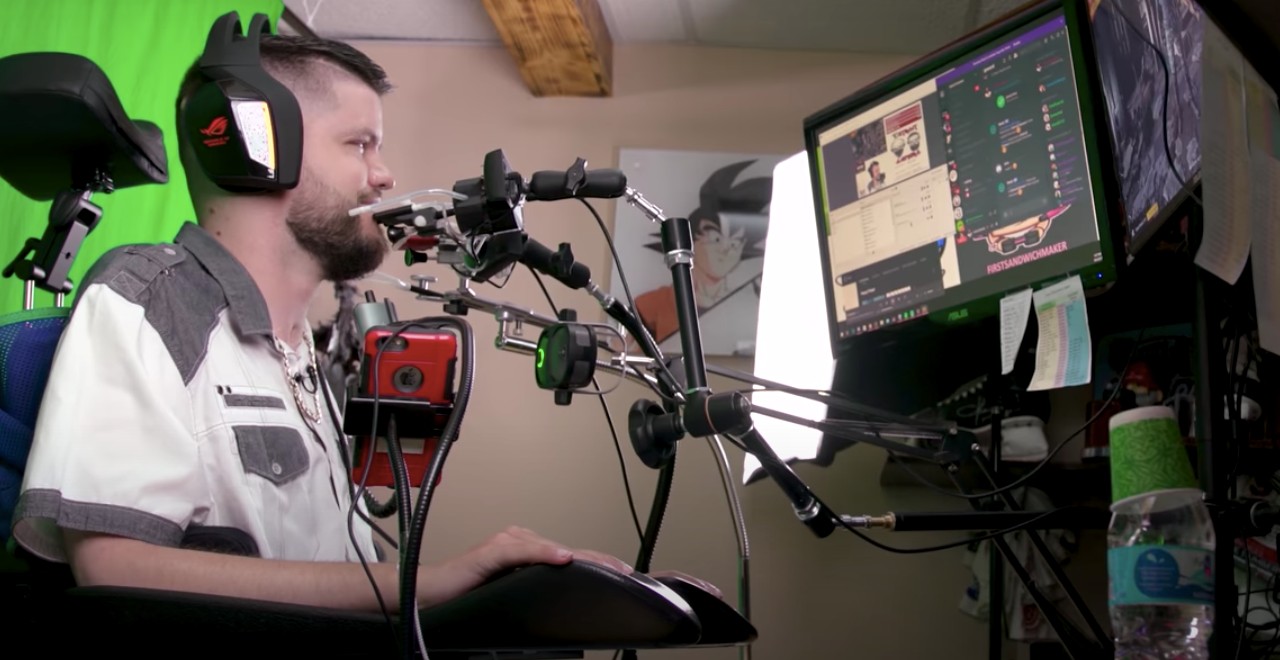 Before age 19, Rocky Stoutenburgh was just your average teen. He played sports in high school, and after graduation, he began working full-time. In 2006, while wrestling and messing around with his friends, Rocky was dropped on his head. Shocked and confused, the 19-year-old realized he was unable to move. Rocky was rushed to the hospital, and through the whirlwind of doctors and scans, the truth began to sink in. Rocky had a broken C3 vertebrae in his neck, and though at first, he maintained hope that life could return to normal, Rocky soon faced the reality that he would never walk again.
Rocky pushed through months of physical therapy, but the paralysis remained. He had to figure out a way to move forward somehow, completely restructuring the way he envisioned his life to align with his new reality. Unsure of what else to do, Rocky began to watch his brother Andrew play video games, reminding him of the games he played as a kid. Andrew didn't want his brother on the sidelines though, he wanted Rocky to play. Andrew did some digging and found a modified controller called a quad stick, allowing Rocky to play using his mouth.
Following his accident, Rocky was severely depressed. Throughout his life, he had been extremely active – playing sports and going out whenever he had the opportunity. The things that filled his time and gave him joy before the accident were no longer options. But Rocky began to pour his energy into video games, competing and building up skills in an activity where his quadriplegia didn't limit him.
Rocky began to stream, going by the username RockyNoHands, and immediately the Twitch community was captivated – not only because of his admittedly unique playing style, but because he was good. Really freaking good.
"I started streaming. I got really popular, started playing games like Club G and Fortnite that are very competitive and I started getting good at them and I got a couple Guiness World Records," Rocky told FOX2.
Over the summer, Rocky entered a competition called "So You Think You Can Stream?" which aimed to discover little-known but highly talented streamers. Stoutenburgh, now 33, had gained popularity on Twitch and other social media platforms, but knew the other streamers were likely talented as well. Rocky amazed the judges, and ended up winning the competition.
Rocky not only won a cash prize and the knowledge that he more than held his own among his non-disabled peers, but the competition also landed him a contract with Luminosity Gaming. Now, he is the world's first quadriplegic to be signed by a professional Esports organization. Can we get a W in the chat?
According to Forbes, Adrian Montgomery, chief executive of Enthusiast Gaming marveled, "Irrespective of anything else, he's a high-quality gamer. He's just flat-out good. Plus, he's got this inspirational story. I think he is a trailblazer, and I think he is going to inspire other people to become gamers."