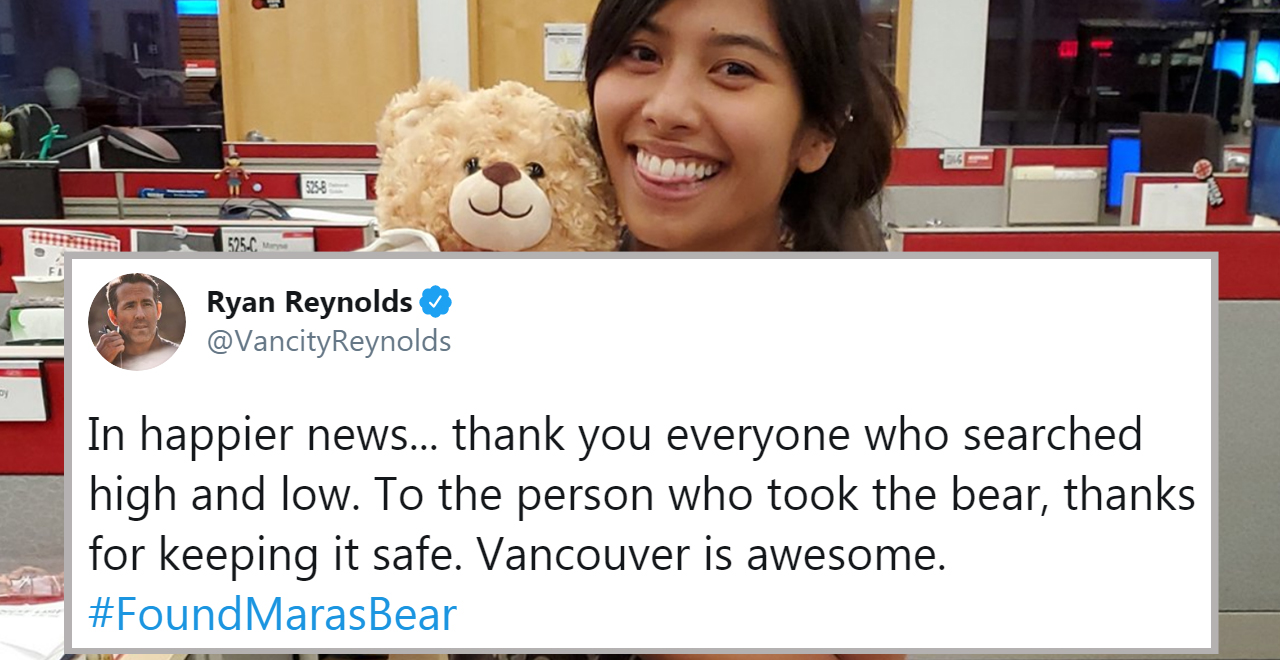 Credit: Twitter/drawmaradraw/VancityReynolds
A collective sigh of relief can be heard around the world as Mara is reunited with her priceless teddy bear, thanks in no small part to our favorite smart-ass hero, Ryan Reynolds. Earlier this week, we shared a heartbreaking story about Mara, whose teddy bear was stolen in Vancouver. This was no ordinary teddy bear – inside this adorable stuffed animal was a voice recording of Mara's mom saying, "I love you, I'm proud of you, I'll always be with you." After Mara's mom passed away last year, the bear served as a deeply important reminder of her mother's love. Mara's backpack was stolen recently, and inside was both her iPad and her beloved bear.
Ryan Reynolds stepped up, offering a zero-questions-asked $5,000 reward for the bear's safe return. Other celebrities showed their support on twitter, gaining Mara and her bear a team of cheerleaders rooting for them to be reunited. The search continued, with Mara posting video surveillance footage of a man walking off with her all-important backpack and word continuing to spread through social media. We held our breath, desperately needing this bear to make its way home.
Vancouver: $5,000 to anyone who returns this bear to Mara. Zero questions asked. I think we all need this bear to come home. https://t.co/L4teoxoY50

— Ryan Reynolds (@VancityReynolds) July 25, 2020
Late Tuesday night, we finally got some good news in the form of a Twitter update. Mara shared a picture of her holding her stuffed bear, grinning from ear to ear. "BREAK OUT THE @AviationGin, @VancityReynolds!!! MAMABEAR IS HOME!!! #FOUNDMARASBEAR," The caption read, and we collectively lost it. Reynolds retweeted Mara's post, thanking everyone for their help in ensuring Mara's bear made its way home safely.
In happier news… thank you everyone who searched high and low. To the person who took the bear, thanks for keeping it safe. Vancouver is awesome. #FoundMarasBear https://t.co/X7FlyiR89P

— Ryan Reynolds (@VancityReynolds) July 29, 2020
Mara's mom had been admitted to hospice before she passed away, and during that time, her voice noticeably changed. The custom-made bear contained the last voice recording Mara's mom made before that change occurred, and Mara feared she would never hear it again. Thanks to Reynolds's promotion of Mara's story along with his offer of a reward for the bear's safe return, Mara can hear those all-important words again. "I love you, I'm proud of you, I'll always be with you." Mara seems to have a team of guardian angels on her side, and if we had to choose, I guess Ryan Reynolds is a pretty dang good one.