Ryan Reynolds Offers $5,000 Reward for Missing Teddy Bear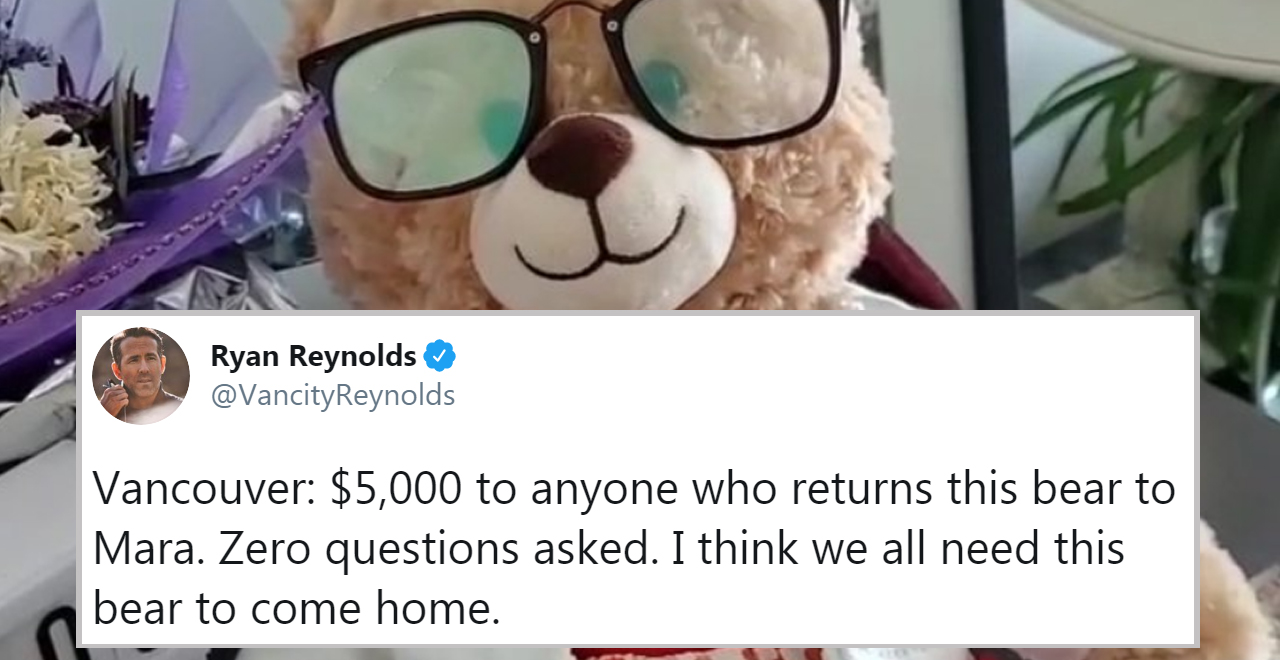 A viral tweet calling for the return of a beloved teddy bear got the attention of on-screen and real-life hero, Ryan Reynolds. This is no ordinary teddy bear – this bear belongs to someone named Mara, and while it has an adorable exterior, what's inside is much more important. The one-of-a-kind bear contains a voice recording made by Mara's mom, saying "I love you, I'm proud of you, I'll always be with you." Mara's mom, unfortunately, passed away last year, and this bear was an important reminder of her mother's unwavering love.
If you see this missing bear in the west end please email [email protected]
It was in a herschel back pack when stolen along with an iPad.
Mara, the owner says it has her mom's voice inside saying, 'I love you I'm proud of you, I'll always be with you. Her mom died last year pic.twitter.com/ipfrzqKXsf

— Deborah Goble (@CBCDeborahGoble) July 25, 2020
The original tweet asking for the bear's safe return was posted by a Canadian Broadcasting Company reporter named Deborah Goble on July 25th. The post stated that a stolen backpack contained both the irreplaceable bear and an iPad, but the plea only asked that the bear be returned to Mara. On that very same day, Good Guy Ryan Reynolds kicked the search up a notch by adding a "Zero Questions Asked" $5,000 reward if the bear made its way safely back to Mara. Reynolds, like many of his on-screen characters, is a smartass with a heart of gold – he gives generously, and uses his platform for good.
Vancouver: $5,000 to anyone who returns this bear to Mara. Zero questions asked. I think we all need this bear to come home. https://t.co/L4teoxoY50

— Ryan Reynolds (@VancityReynolds) July 25, 2020
Reynolds got the ball rolling, and now support is pouring in for this special bear to be reunited with its rightful owner. George Stroumboulopoulos, a Canadian media personality, offered to match Reynolds's reward price.
I'll add 5g to that. https://t.co/o7qwUnO8Np

— Prime Mixister StroumPHÒulopoulos🍲🍿🏍 (@strombo) July 26, 2020
Even Zach Braff is deeply invested in this saga.
I NEED THIS BEAR TO COME HOME!!!!!! https://t.co/UGHlJJPOwE

— Zach Braff (@zachbraff) July 26, 2020
We'll echo that sentiment – BRING THE BEAR HOME!