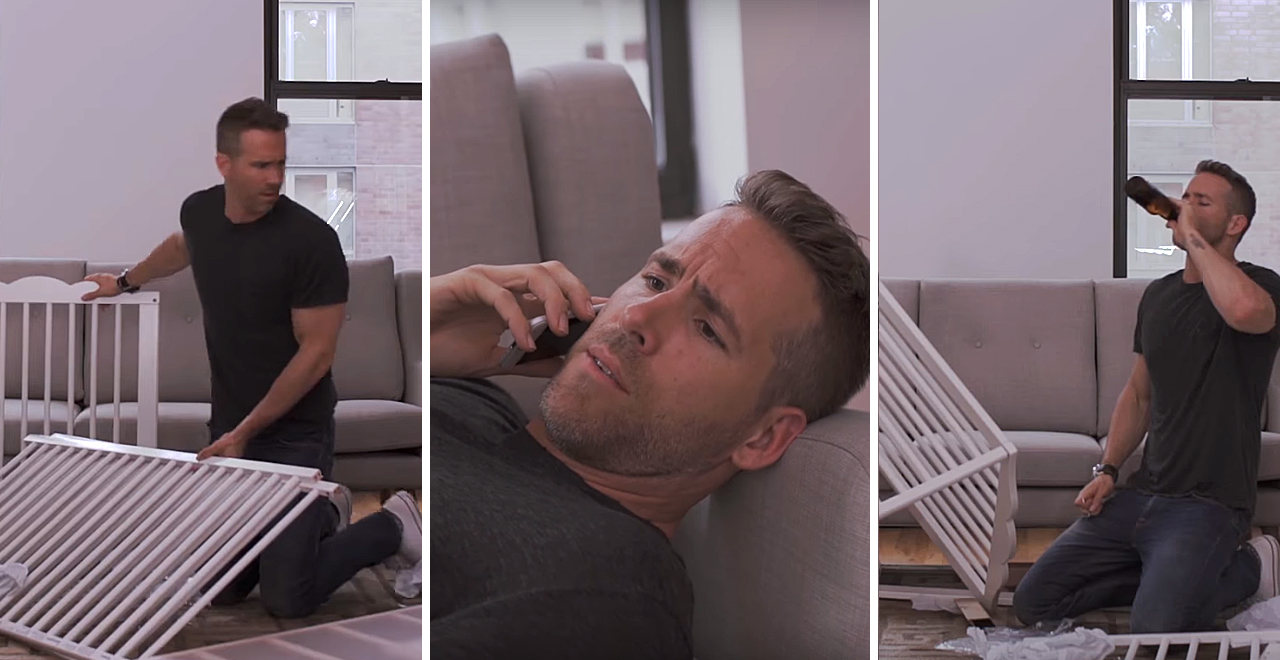 Credit: YouTube/GQ
It can be extremely reassuring to know celebrities struggle with seemingly simple tasks just like the rest of us common folk. Whether it's getting a parking ticket or just shopping for groceries, it's nice to have occasional reminders that famous people are just… well… people.
Never has that been demonstrated quite so relatablly as in a recent video posted by GQ featuring actor and all around decent dude, Ryan Reynolds.
The new father shows that even rich, handsome and seemingly smart actors can still be knocked down a peg or two when it comes to assembling furniture from IKEA. After confidently dumping out the pieces to his brand new Hensvik baby crib, the Deadpool star takes inventory of what we all know will be the next several hours of his life. Don't worry though, as with every product they sell, IKEA includes a toll-free support line in case you have any issues.
Reynolds made the call. "I think the biggest issue I'm having right now is that the crib didn't come assembled."
He tried elaborating to help the support tech troubleshoot his specific issues. "Besides a slow decent into alcoholism, I'm just really having trouble finding all the screws and the pieces that go with it. I mean there's gotta be over 100,000 pieces that came with it," Reynolds confessed to the operator.
"Just wondering if there's a representative or five that could come by and make this happen for me."
After inevitably falling short on that request, Reynolds did what any red-blooded, American dad would do in the same situation: he cracked a beer and grabbed the duct tape.
After carefully securing each corner with the magical, silver gift from god, Reynolds tossed a few couch cushions in the bottom and called it a day. As someone who has put together his fair share of modular furniture, I can honestly say I've ended up with much worse.
Although many pieces were left on the floor, chances are IKEA just accidentally put those in the box because this bad boy looks both safe and secure.
So next time you're having problems securing a couple 101351's into your side rails, just remember that even famous people feel dumber after a little DIY.