Adam Sandler Recreates Happy Gilmore Swing on Movie's 25th Anniversary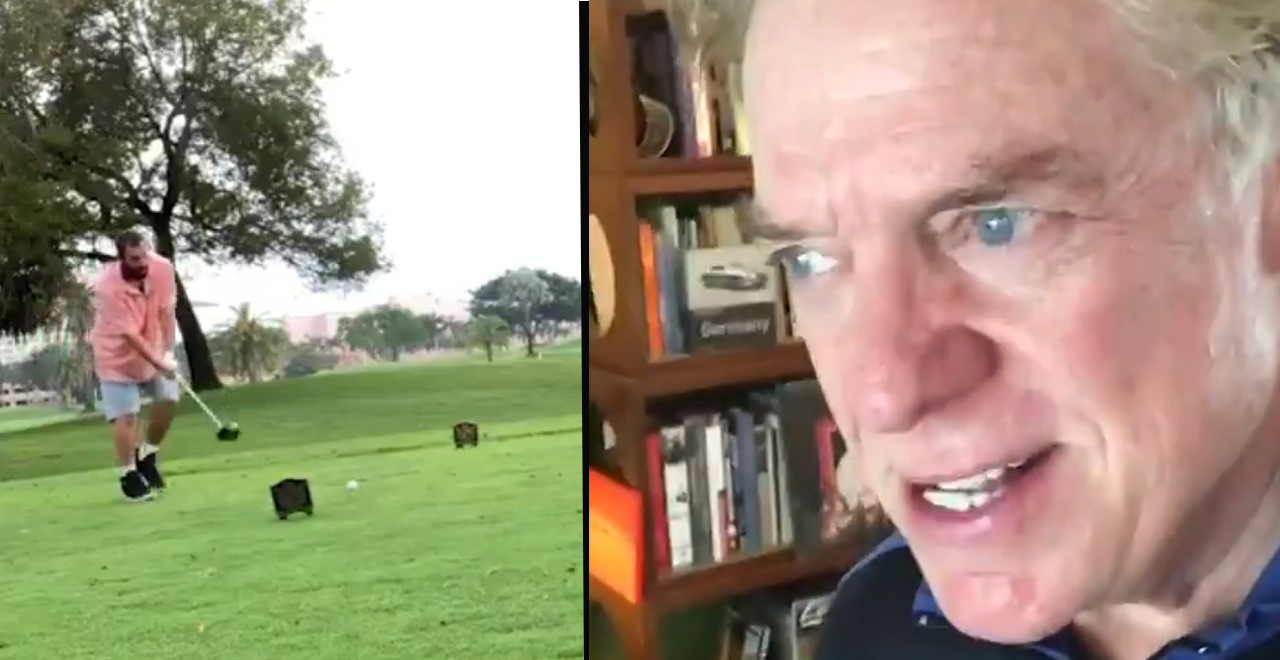 Adam Sandler returned to one of his iconic roles, picking up Happy Gilmore's golf club once again. Albeit, it was only for a 30-second clip on social media, as the comedy giant celebrated the 25th anniversary (don't you feel old?) of "Happy Gilmore" in a way only he could; by recreating Happy's iconic swing.
Anyone who has ever played golf has tried it, at least once. It was the unorthodox step-and-swing used by Gilmore to power through the golf world after failing to make a dent in his ice hockey "career."
Sandler said he hadn't tried that swing since filming the movie. "I'm scared," he said in the clip. Then, before stepping up to the ball, he said "this is for you, Shooter McGavin."
And I'll be damned, Sandler has still got it.
Happy loves you all! Thanks for everything! pic.twitter.com/p1aY9JcFWh

— Adam Sandler (@AdamSandler) February 16, 2021
You might have expected him to whiff, fall down, or even slice the ball terribly. It's not the easiest golf swing to pull off. But he doesn't, in true form, he SMASHES the ball, which he claims went straight down the fairway. It definitely sounds like he made great contact, and for a brief 20 seconds, he was Happy Gilmore again.
"Happy loves you all, thanks for everything!" he wrote in the post. Ben Stiller replied, referencing his memorable cameo in the film.
That's a beautiful swing Mr. Gilmore. Congrats on your anniversary, and being such a loving grandson. So happy to be a small part of taking good care of her during her "golden years". 😉

— Ben Stiller (@RedHourBen) February 16, 2021
And even the PGA threw in some praise for Sandler, saying he "inspired a generation."
Harness. Energy. Block. Bad.

You inspired a generation, Happy.

— PGA TOUR (@PGATOUR) February 16, 2021
Happy anniversary, Happy Gilmore.

The movie was released 25 years ago today.

The golf legend forever lives on. pic.twitter.com/i2CFrKpaYh

— PGA TOUR (@PGATOUR) February 16, 2021
And it even evoked a response from his nemesis.
My response @AdamSandler pic.twitter.com/Wa4Y8lh6rJ

— Shooter McGavin (@ShooterMcGavin_) February 16, 2021
It's hard to believe it's been 25 years(!) since the movie came out, but it hits differently for dads of a certain age and is definitely up there in the Sandler pantheon.