School Bus Driver Makes a Big Difference, One Child at a Time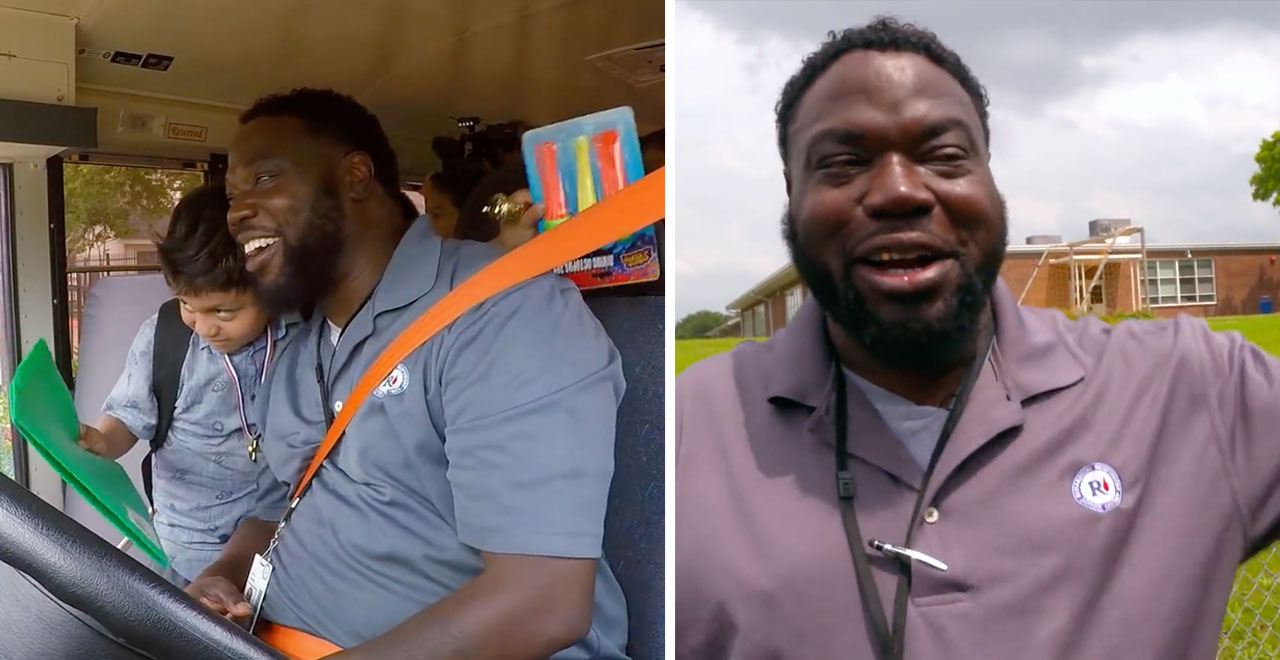 It's easy to recognize the importance of some professions. Doctors who save lives. Police officers and firefighters who keep us safe. But all too often it's the unsung among us that can have the biggest impact on our communities.
School bus drivers are one such occupation that is easily overlooked. Beyond transporting our children to and from school, bus drivers, along with educators, are some of the few adults we willingly entrust with our kids on a daily basis.
Beyond their physical safety, being trusted with young, impressionable minds comes with great responsibility – something Curtis Jenkins of Dallas, Texas, is all too aware of after driving his bus for the past 15 years.
Jenkins knows every child's name on his route and even their interests and hobbies. He gets to know their families and home lives. It's that personal attention that has set him apart. Some children even saying the morning bus ride is the highlight of their day.
So how does Jenkins turn such a seemingly mundane occurrence into a bright spot? Each day, the veteran driver assigns every child a job for their daily commute to school. It's a small ritual he believes keeps his kids in line and teaches them about responsibility and respect. From president to police officer, the kids all have a role to play. As they take their seats, a message from Jenkins.
"We're going to care about each other and we're going to love everybody, right?" The students responding "yes" in unison.
It's the sort of thing you wish every bus driver would do, but Jenkins doesn't stop when the route has finished. Spending thousands of dollars of his own money and countless hours of his free-time, Jenkins has purchased his kids everything from bikes and toys to turkeys for their families at Thanksgiving. He even gave one girl a custom t-shirt with a picture she had drawn just to encourage her creative pursuits.
"I'm hoping this T-shirt inspires her to keep on writing books," he said. "I put time, effort, love and care – understanding each and every one of those kids." Jenkins shared with CBS Sunday Morning.
School principal Emily Gruninger says Jenkins makes a big difference in the lives of his students. "He goes way beyond the outline responsibilities and duties of a bus driver. I mean, that bus is like a family," she said.
From birthday presents to backpacks, Jenkins has given out many gifts, but to the kids, it's his time and attention that means the most to them.
Ethan Ingle, a fifth grader on Jenkins route has had a difficult few years. However, Jenkins has been a continued source of positivity for the young boy – something he's very thankful for. "My mom got divorced when I was only 4. He's the father that I always wanted. In some ways, I wish my dad could have been like that."
For Jenkins, it's stories and comments like Ethan's that make it all worthwhile. "That's the paycheck right there. If I can get that, you can keep the money."
It's a reminder that while massive acts of generosity can be few and far between, small gestures of kindness can be found each and every day.