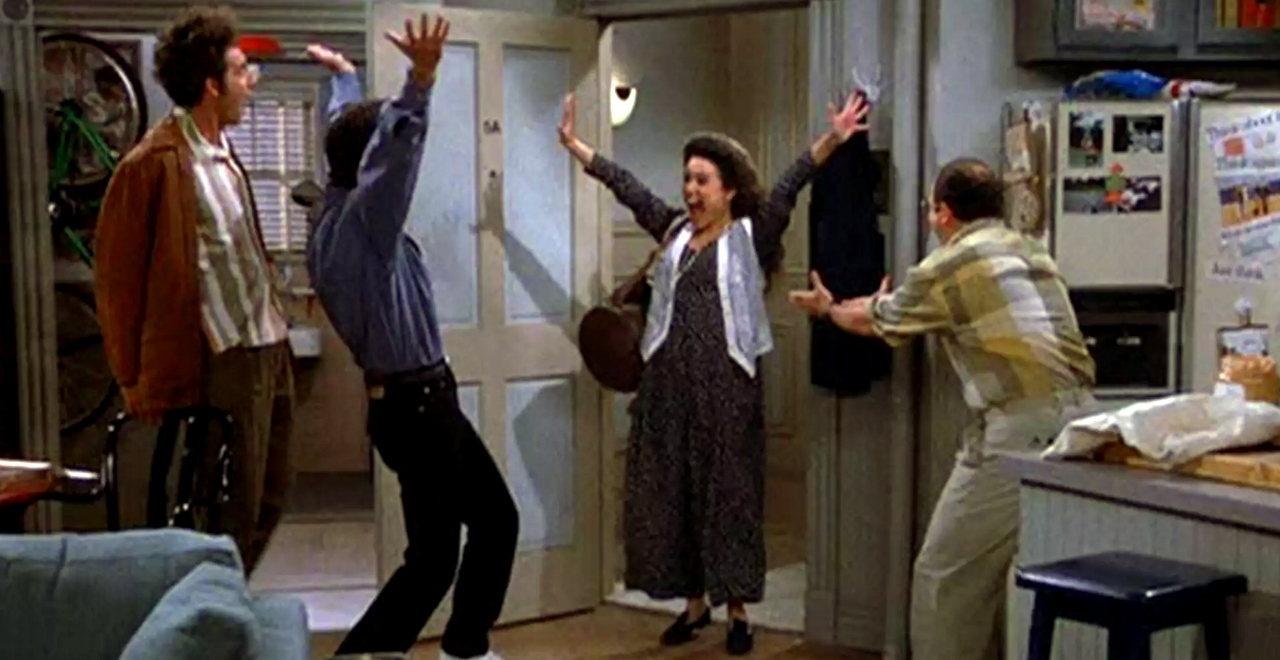 Credit: Twitter/netflix
Fresh off the heels of a debate over whether it was a better show than Friends, and still warm from a conversation about which classic episode is the best classic episode, Seinfeld is back in the news that should have everyone talking about nothing once again.
The best sitcom of the modern era is coming to Netflix in 2021.
On Monday, the streaming giant tweeted out the announcement that in less than two years from now, the entire library of Seinfeld episodes, all 9 seasons, will be available on its platform.
Jerry &
Elaine &
George &
Kramer &
Netflix

All 180 episodes of the Emmy-Award winning Seinfeld are coming to Netflix — worldwide! — starting in 2021 pic.twitter.com/tLvcCKH4vl

— Netflix US (@netflix) September 16, 2019
This is a huge victory, both for viewers, who will be able to watch the absurd exploits of Jerry, George, Elaine, and Kramer at will, in chunks large or small, but also for Netflix itself. Not only is the company facing increasing competition from rival streaming services, including the forthcoming HBOMax, Disney+, and Apple services, they'd also lost the rights to Friends and The Office.
Netflix will be stealing Seinfeld from Hulu, where it currently resides, and have exclusive global rights for the next five years. Needless to say, they are thrilled.
"Seinfeld is the television comedy that all television comedy is measured against. It is as fresh and funny as ever and will be available to the world in 4K for the first time," Ted Sarandos, Chief Content Officer for Netflix, said. "We can't wait to welcome Jerry, Elaine, George and Kramer to their new global home on Netflix."
Pretty sure no one has even said that about Friends. And if they have, they were wrong. (Not that there's anything wrong with that.) If you're wondering, the Central Perk gang will be on HBO Max, where many expected Seinfeld to land, but the service recently inked The Big Bang Theory and yada yada yada couldn't afford didn't have enough left in its coffers to snag Jerry and friends.
Which is good news for everyone who doesn't want to have to subscribe to yet another streaming service. Odds are you already have Netflix, which means in 2021, you'll have Seinfeld too!