The Seinfeld Twitter Account Starts Debate With Top Episode Contest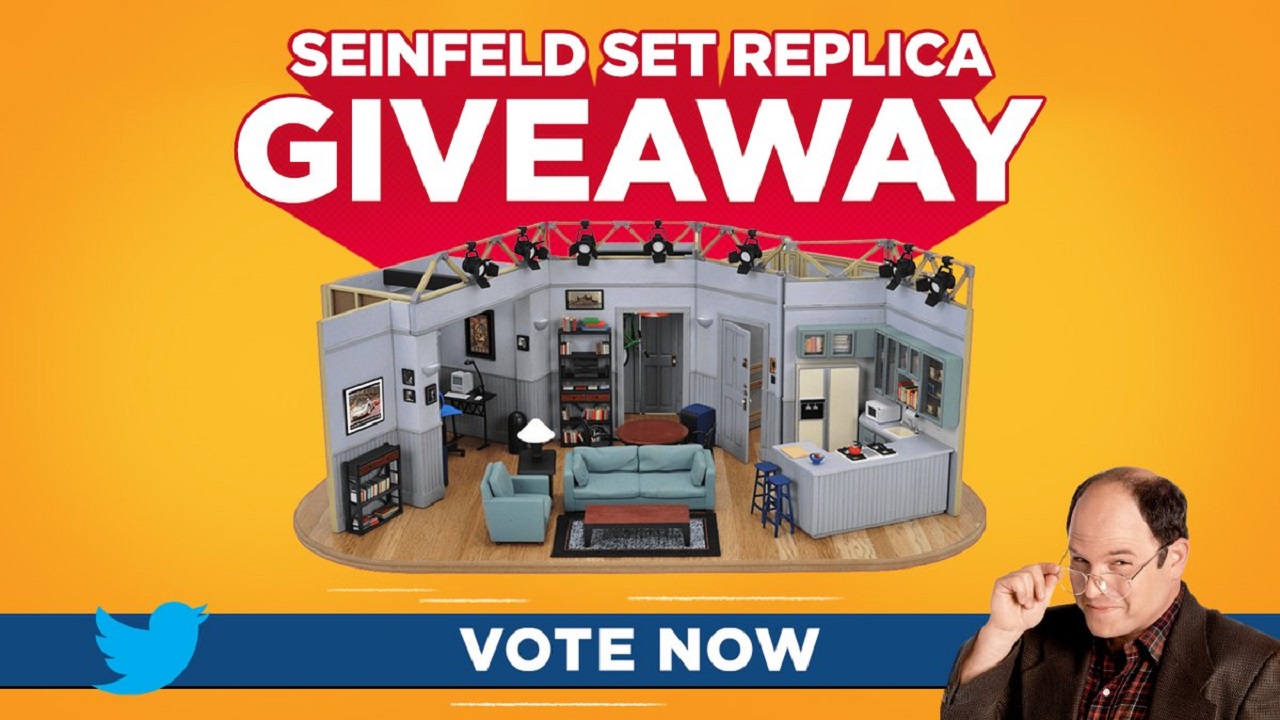 Twitter loves a good debate.
Whether it's over the best chicken sandwich, a football player's unexpected retirement, or the funniest 90s sitcom.
The "Friends" vs. "Seinfeld" debate has been raging for years now, online and off, thanks to both popular sitcoms thriving around the same time in the 90s and living on via reruns and Netflix. It was recently reignited by the Australian news site, but let's be honest, there's no real debate here. "Friends" is a frothy, fun rewatch, for sure, but "Seinfeld" was a game-changer. The real debate isn't between six twenty-somethings living in improbably-sized apartments and four petty, narcissistic adults discussing minutiae and sabotaging relationships.
The real debate is between which "Seinfeld" episode is the best one.
That was the question posed by the show's official Twitter account last week, in the form of a contest (not that kind, pervert!).
Do you think you know the top Seinfeld episode? Tweet #TopSeinfeldEP and the episode name to vote and if you guess the top episode correctly, you could win an official mini set replica! pic.twitter.com/65XT3HUykF

— Seinfeld (@SeinfeldTV) August 27, 2019
Needless to say, fans of what many consider one of the best TV shows of all time had a lot of opinions. The sheer variety of answers is a testament to how original and hilarious the show was, and may have you binge-watching it all over again. Not that there's anything wrong with that.
There's the one with George's infamous photoshoot:
The one that most certainly inspired James Cameron while he was making Titanic. #TopSeinfeldEp pic.twitter.com/LzmuGrwCJY

— Amazon Prime Video US (@PrimeVideo) August 27, 2019
The one with Fusilli Jerry:
We talking #TopSeinfeldEP? I'm clocking in with Fusilli Jerry. Estelle gets eye surgery, Kramer's the Assman, Puddy steals Jerry's move, Kramer steals Frank's move, AND they find out who the Assman is. The ????. pic.twitter.com/riVCbmXSps

— Glenny Balls (@Glenny_balls) August 27, 2019
My brother's favorite, in which George goes against his instincts:
The Opposite.

this screenshot from that episode has been my phone lock screen for years. #TopSeinfeldEP pic.twitter.com/NL2q9NpgRK

— maurice (@tallmaurice) August 27, 2019
The one with Lloyd Braun's gum:
gotta be THE GUM! #TopSeinfeldEP pic.twitter.com/qnmfpPWJsU

— john (@johnsemley3000) August 28, 2019
The groundbreaking Contest episode:
The Contest – brilliant writing. #TopSeinfeldEp pic.twitter.com/J40mRnhGRb

— Jeremy Jojola (@jeremyjojola) August 28, 2019
I am particularly partial to The Race, in which Superman-fanatic Jerry relishes the chance to date a girl named Lois and then wins a rematch race against an old high-school foe, while the Superman theme plays.
But let's be honest, give or take a mere handful, nearly every Seinfeld episode has a classic moment or two.
We all have our favourites, but the truth is that every Seinfeld episode is 10/10 #TopSeinfeldEP pic.twitter.com/8sjXBetKFP

— Jono ℙ???????????? (@JonoHimself) August 28, 2019
Which one is your favorite?