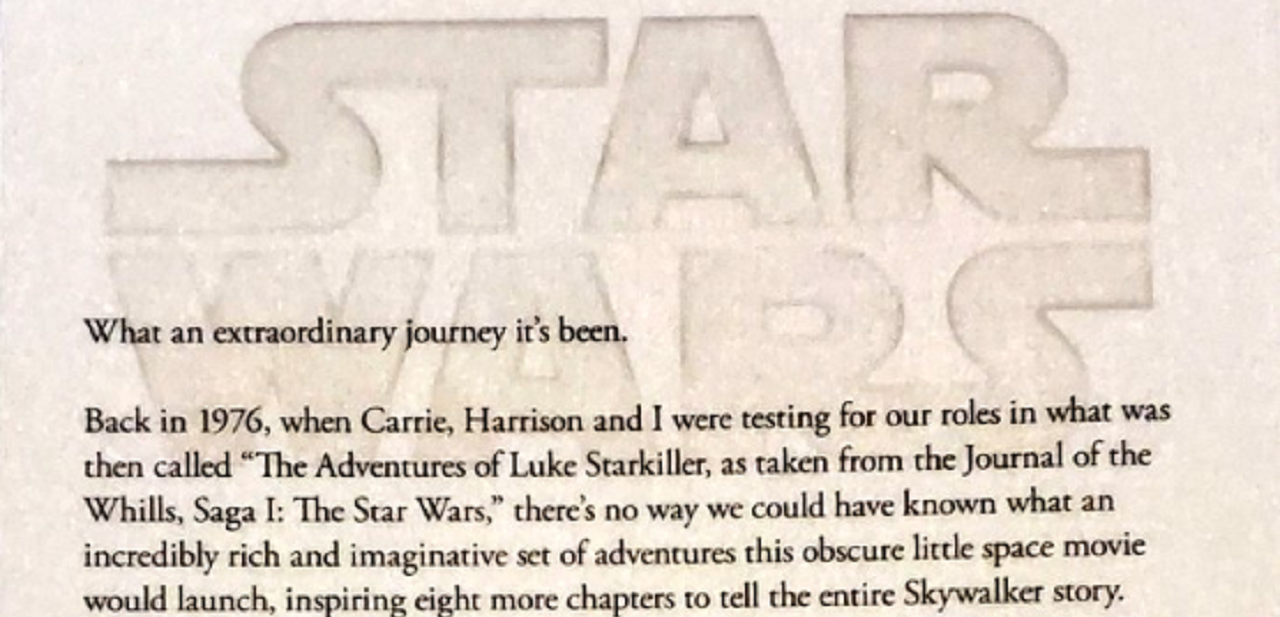 Credit: Twitter/HamillHimself
Star Wars has been around for over 40 years.
It started in 1977 and is still going strong. Regardless of how you feel about The Rise of Skywalker or The Mandalorian or even Galaxy's Edge, there's no disputing the fact that the universe George Lucas created as a young man is one of the mainstays of popular culture. Now that Disney owns it, it's not going away anytime soon, even after some recent speed bumps.
The franchise will continue, even if the Skywalker saga is over. Whether we'll see further adventures with Rey is uncertain, but it seems clear that the old guard is finally finished. Han Solo, Princess Leia, and Luke Skywalker have been laid to rest, and while it seems unlikely that we'll never hear the word "skywalker" uttered in future outings, it's safe to say the original cast won't be back.
And Mark Hamill is at peace with the decision. Much like his beloved character was at the end of The Last Jedi.
The accomplished voice actor is best known for his role as the farmboy turned intergalactic hero, Luke Skywalker, and over the past few decades, he has grown into a gracious, good-natured presence in public and online.
Hamill wrote a letter of farewell to the franchise he helped launch and posted the letter to Twitter. It begins much like one of the crawls at the start of one of the films might:
"What an extraordinary journey it's been. A few thoughts as one era ends and another begins…"
A few thoughts as one era ends and another begins…#StarWars pic.twitter.com/ZucNHEPtaS

— Mark Hamill (@HamillHimself) April 3, 2020
He reminiscences about the beginning of the journey, testing for a space movie called "The Adventures of Luke Starkiller, as taken from the Journal of the Whills, Saga 1: The Star Wars," without an inkling of what the project would become: a phenomenon that changed his life.
He goes on to praise the community the films created.
"As Carrie once said, Star Wars is about family, and that is what we all have become – one giant community that shares the experience of these stories and the fundamental value they instill in us."
He acknowledges the breadth of the films and the fans that may have joined at different points along the way and closes the touching letter by thanking the fans for their devotion while making way for future stories in the Star Wars universe.
"I am deeply thankful for all your continued enthusiasm and dedication to George's faraway galaxy, which will continue to grow with new storytellers building an even bigger gallery, filled with heroes, villains, action, romance, and, of course, The Force."
Before signing his name, he says goodbye the way that only a true Jedi can: May the Force be with you… always.