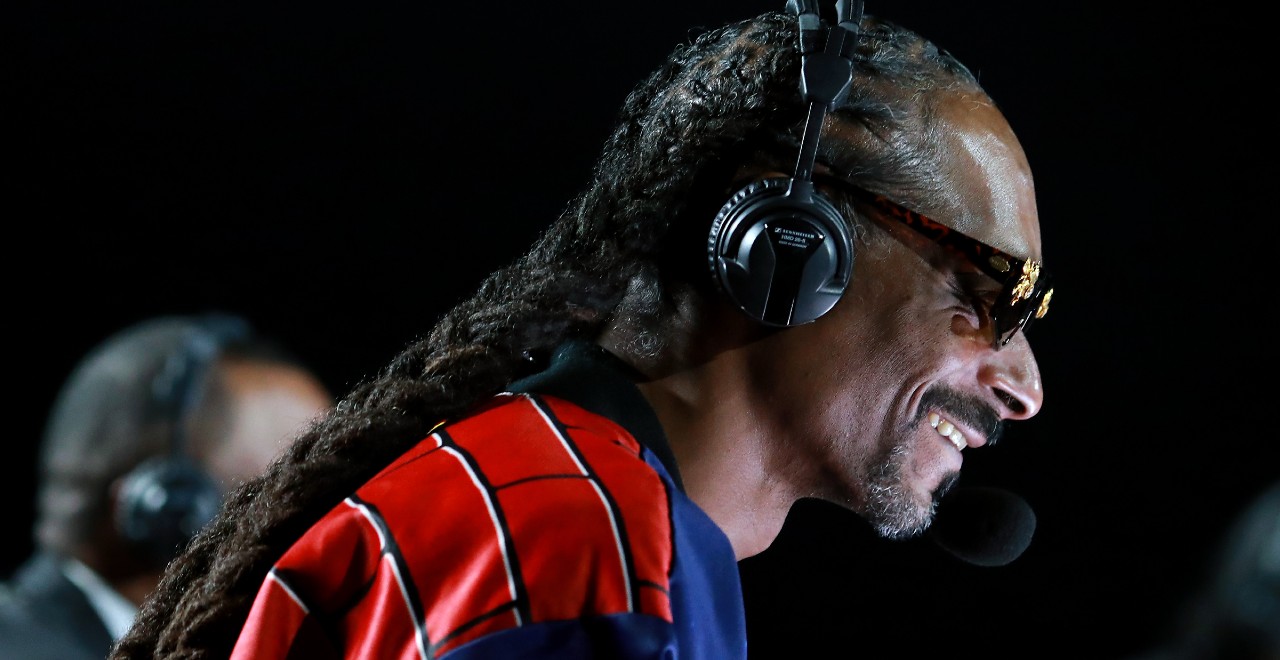 Credit: Getty/Joe Scarnici
We finally got the much-awaited return to the boxing ring of Mike Tyson, who had his anticipated bout with Roy Jones Jr. over the weekend. And it was fun! The fight? Oh, no, not that. The rules took a lot of the heat out of the bout, and it ended as a draw (the worst possible outcome for a fight). Tyson definitely looked better and probably won, but the reason it was a fun show? Snoop Dogg, who KILLED IT on the commentary.
Snoop did color commentary the way it should be done for ALL sports broadcasts, but he did it in a way only he can. One of the most publicized fights on the undercard, and the one that riveted social media, was YouTube guy Jake Paul knocking out tiny former NBA player Nate Robinson (former dunk contest champion!). After Robinson was put to sleep, Snoop yelled "Oh my God, lord have mercy! Oh Jesus!" and then hilariously broke out into a gospel hymn.
Snoop Dogg singing church hymns over Nate Robinsons dead body is hands down my favorite sports commentating moment of 2020
pic.twitter.com/SH2BMfCmz8

— Pat (@BarstoolPAT) November 29, 2020
Truly one of the best sports moments of the year. But that's not all he brought to the table, he was hilarious all night. During the main event between Tyson and Jones Jr., he joked that it was like "two of my uncles fighting at the family BBQ"
"My uncles is getting it in! Hey grandma! They fightin' again!"
Social media crowned him the clear winner of the night.
I had fun 2nite yall 🥊🥊🥊

Snoop Dogg emerged as the winner of the Mike Tyson vs Roy Jones Jr fight for many viewers https://t.co/bsNC15srYX

— Snoop Dogg (@SnoopDogg) November 29, 2020
Snoop Dogg performed his classics last night 🔥 at Mike Tyson vs Roy Jones Jr #SilverSports #RoyalSports pic.twitter.com/4ObFxz1Hem

— AllRoundSports (@SilverSportsGh_) November 29, 2020
"Side order of short ribs with Mike Tyson sauce on it " – @SnoopDogg 😂 🏆 #tysonvsjones

— Michael B. Jordan (@michaelb4jordan) November 29, 2020
YESSSSSSSSSS!! @SnoopDogg wit the………….. pic.twitter.com/lTPvqksjGL

— Gerald McCoy (@Geraldini93) November 29, 2020
Lebron summed it up better than anyone, calling Snoop a 'swiss army knife' who is simply the greatest at whatever he does.
My Unk @SnoopDogg is simply the greatest at whatever he does man!! Swiss Army Knife++++++

— LeBron James (@KingJames) November 29, 2020
Snoop the best announcer ever🤣🤣🤣

— Trae Young (@TheTraeYoung) November 29, 2020
Snoop gotta do an NBA game 😂😂

— Donovan Mitchell (@spidadmitchell) November 29, 2020
Legendary night needs legendary commentary by @SnoopDogg #TysonJones @MikeTyson @RealRoyJonesJr pic.twitter.com/WqsvwHPmLG

— TRILLER (@triller) November 29, 2020
He's sat in for a bit of an NHL broadcast and it's clearer than ever that what the sports world needs is more Snoop behind the mic for every big game. Super Bowl, World Series, all of it. Put it on an alternate channel if you have to, like they do for different language broadcasts, and have the Snoop Cast of the big games, and it will be a guaranteed hit.