Window Washer Dons Spider-Man Costume to Cheer up Children's Hospital Patients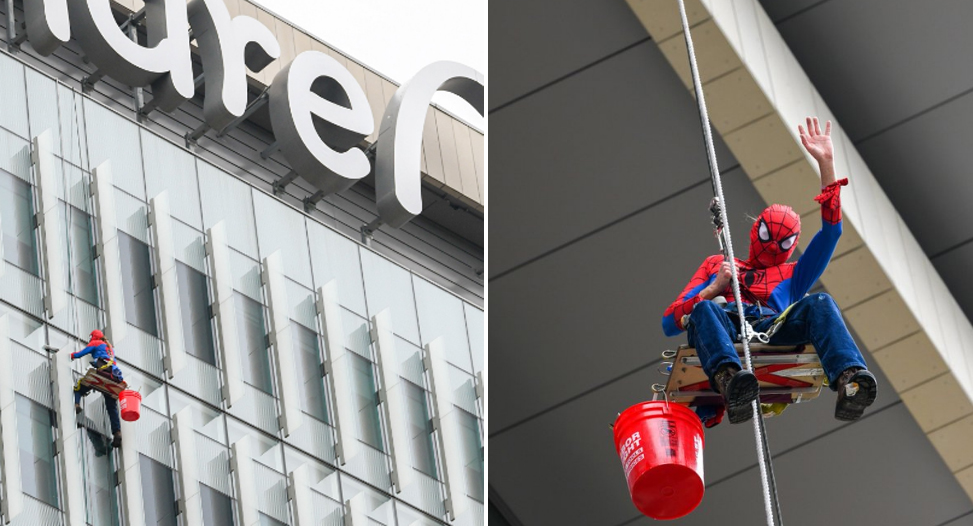 The restrictions surrounding everyone's least favorite virus has upended the way things are done across the board. For example, Children's Hospitals frequently bring in special guests to cheer up the kids. You might see an Iron Man or an Elsa in the hospital lobby, bringing a smile to the face of a kid who really needs one. But with the restrictions on visitors and interactions, these experiences have mostly been postponed.
So, as they've done in other areas, people have gotten creative with cosplay during COVID-19. At the Children's Hospital in St. Louis, they've taken to having their heroes rappelling down the outside of the building, so kids can wave to them through the glass.
OK, that is probably a dressed-up version of the truth, which is their window cleaners have started dressing in superhero costumes. Still, it's a cool way for a kid to have a special moment in their day when they look out their window and see Spiderman.
Today, our Friendly Neighborhood (window washing) Spider-Man repelled down St. Louis Children's Hospital bringing smiles to the kids, parents and staff inside. #GuardiansofChildhood #SomeGoodNews #UpliftTODAY pic.twitter.com/M5pkcE8Ygu

— STLChildrensHospital (@STLChildrens) April 6, 2020
Of course, it may also be confusing to the kid that Spiderman is washing windows, instead of fighting crime or chasing down some supervillain. Maybe it can teach them about the economy, and how bad it must be that Spiderman has had to pick up some part-time work to make ends meet.