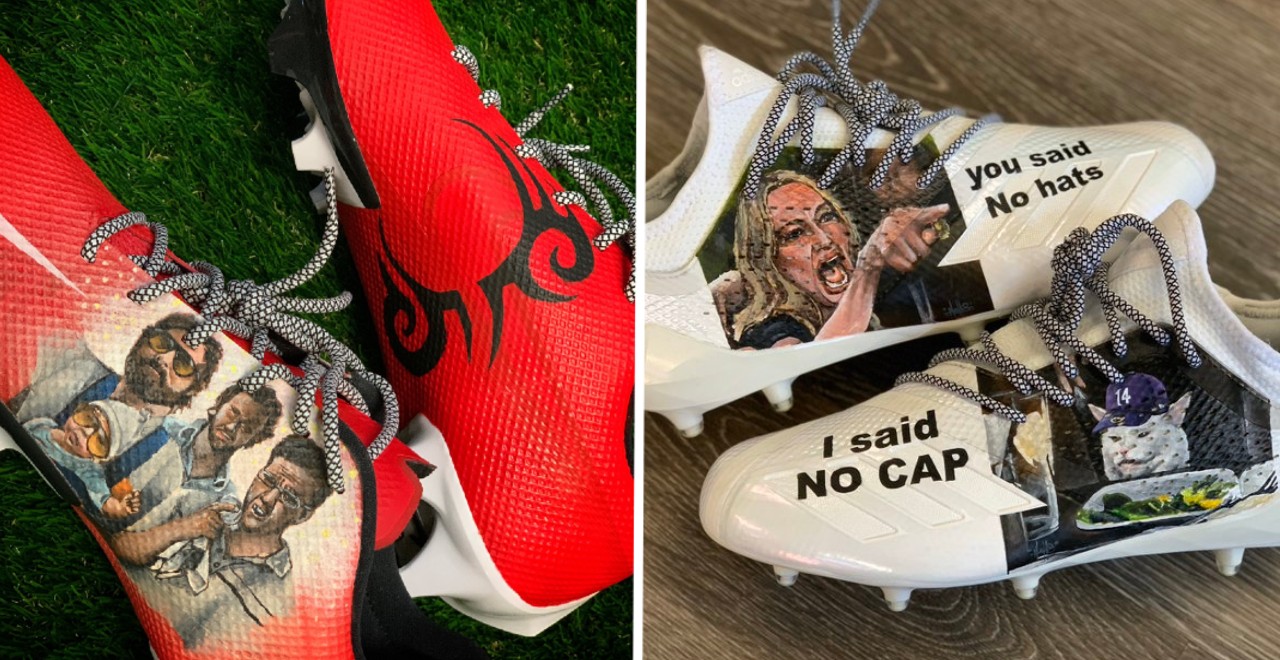 Credit: Twitter/MACHE275
The Buffalo Bills have been one of the bigger surprises of the young NFL season. The Bills are atop the AFC East, especially with Tom Brady out of New England and Pats QB Cam Newton on the COVID-list. And it's no fluke, Josh Allen has continued to deliver in a huge way and offseason acquisition Stefon Diggs has been THRIVING. As good as he is on the field, though, he's even better in the cleats department.
Custom shoes are just fun. You should either go full cheap and full comfort, i.e. a classic dad shoe (Nike Air Monarch guy myself) or go with something cool and fun, like Toy Story sneakers or Chewbacca shoes.
Diggs knows kicks. For instance, how can you not love him rocking the Hangover-inspired cleats for the Bills game against Vegas?
Stefon Diggs rocking "The Hangover" cleats for Bills vs. Raiders 🔥 @stefondiggs

(via @MACHE275) pic.twitter.com/fYD2hNzCF0

— NFL on ESPN (@ESPNNFL) October 4, 2020
Answer: you cannot hate, because the cleats are beyond reproach. And the shoes worked their magic on the field too, as Diggs had more than 100 yards receiving in the Bills 30-23 win over the Raiders.
And Diggs has set the bar high for the custom cleat game in the past, like when he rocked Toy Story cleats.
Not trash. pic.twitter.com/FXF3Wc6gDd

— Minnesota Vikings (@Vikings) August 18, 2019
He even went the distance and broke out meme cleats. It is hilarious (ok, it was hilarious at the time, before the meme became uncool again), and a trend that more NFL players need to embrace fully, instead of wearing the most boring shoes they can find.
🚫🧢😂 @stefondiggs @MACHE275 pic.twitter.com/ZzK0WvINlc

— B/R Kicks (@brkicks) November 17, 2019
If you're not gonna be scoring touchdowns in some badass dad shoe-inspired cleats, these are a nice alternative.