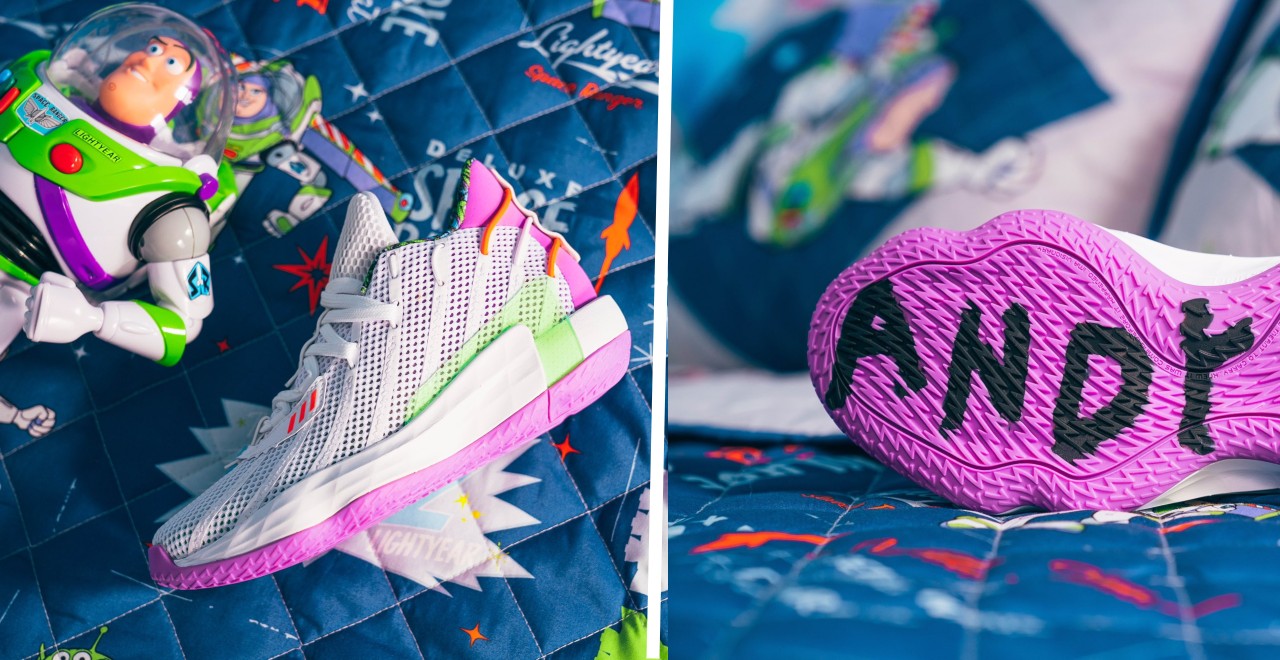 Credit: Adidas/Pixar
To the hoop…and beyond! NBA superstar Damian Lillard has announced the first colorway of his DAME 7 sneakers and they will appeal to the kid in all of us, given they're Buzz Lightyear inspired. Of course, unlike the movies, the sneaks are for kids only. They feature colors from the Toy Story character's spacesuit and will only be available in kid sizes. In a perfect touch for the Pixar/Adidas collab, Andy's name is on the bottom of one of the shoes.
To infinity…and beyond!

The first colorway of my new #Dame7 is just for the kids (yes, kids sizes only). The Buzz Lightyear colorway of my #Dame7 drops October 1.

More details on the @adidas x @toystory collab here: https://t.co/Xk0tPRV70G pic.twitter.com/mUQI6SoXVu

— Damian Lillard (@Dame_Lillard) September 28, 2020
Oh, and they glow in the dark. When it comes to shoes, we've never had cooler choices than we have today. Especially when you can literally rock a part of your childhood on your kicks, like with Puma's Super Mario sneakers or the many different Adidas x Star Wars shoes.
And these Toy Story Buzz Lightyear DAME 7s, from the NBA bubble MVP, take things to the next level. They even glow in the dark!
And yes, they glow in the dark. Let me know if you're getting a pair for your kids 🚀 🛸 https://t.co/Xk0tPRV70G pic.twitter.com/4v9Q8xeCev

— Damian Lillard (@Dame_Lillard) September 28, 2020

Lillard's shoe is just the beginning of the Pixar x Adidas collab, which also features shoes dedicated to Woody, Ham, Rex, and Jessie.
Hog-tie the mailman! The new Adidas collection inspired by Toy Story is available October 1st. #PixarFest pic.twitter.com/ZywKOkqcTa

— Pixar (@Pixar) September 23, 2020

You can get the DAME 7s and all of the different designs in the "Toy Story Friendship Collection" (even a Pixar ball!) starting October 1st. They are so awesome it almost makes me mad to be an adult.