There is no bond quite as sacred as the bond between a dad and his lawnmower. Lawnmowers are there, no questions asked, during the bad times and the good. Not only do they flawlessly do the job for which they are so aptly named, but they help us connect to our communities, and bring unexpected excitement to an everyday task. Gordon Blakeslee, an 85-year-old from Harpursville, New York loved his lawnmower. I'm not positive about the science behind this, but I'm fairly sure that the man-lawnmower bond is strengthened with every turn of the blade. Blakeslee has used the same mower, his treasured 2009 red Craftsman riding lawnmower, for several years – that is, until it was stolen.
Blakeslee recalled using his trusty red mower when his wife was still alive, and the routine of sitting in its comforting saddle remained a constant after she passed away. Blakeslee, like many others who live alone, moved in with family at the start of the COVID pandemic. When he returned several months later, he made a terrible discovery – his clipping companion was nowhere to be found.
Brokenhearted by the theft, Blakeslee refused to get a new lawnmower. Like a man holding onto the hope that his lost dog would one day return, Blakeslee would not replace his mower. He refused donations, and in a Facebook post, his daughter-in-law Candace insisted that there be no GoFundMe. She stated, "He is not seeking donations, just wants his 2009 red Craftsman from Harpursville, NY to be returned safely. We will continue to take care of him. He just wants that mower back!"
Blakeslee hand-wrote a simple cardboard sign to display in his front yard, hoping the thief was capable of compassion. "Bring back my mower," the sign read, "I am 85 years old! I can't push." Ok, this man deserves all the lawnmowers. Please, just give him all the lawnmowers.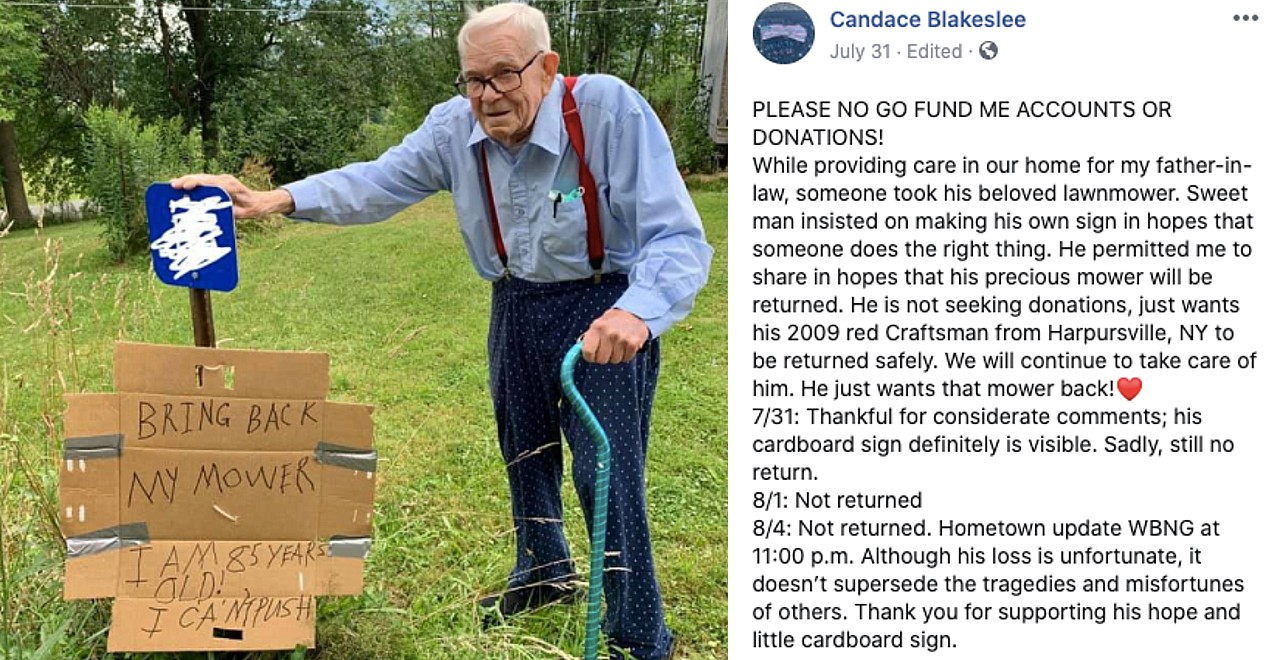 After a week of waiting for the mower's safe return, the family began to lose hope. That is until the Broome County Sheriff's Department showed up at Blakeslee's house with an incredible surprise. It wasn't his stolen mower, but a brand new bright red Craftsman riding lawn mower, and it was all his. An anonymous donor heard about Blakeslee's devastating loss, and out of the kindness of this person's enormous heart, bought the 85-year-old a brand new lawnmower.
A message to The Masked Mower: I don't know who you are, but I hope that as long as you live, not a single dandelion touches your yard. May your grass never brown, and may your own mower have just enough gas to finish the job every single time. Thank you for your service.