Student Donates His Half-Time 3-Point Food Prize to Homeless Shelter [WATCH]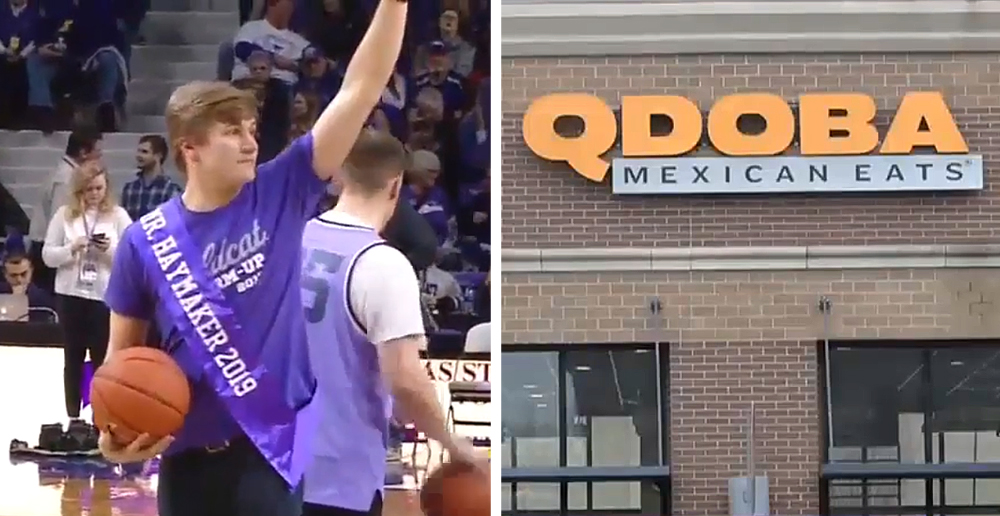 If there's one thing in this world that I care about most it's burritos. Sorry family, but until you cover yourselves in guacamole you're going to remain in a distant second place. So when I heard that Kansas State freshman Cameron Koger won a year's supply of burritos I was incredibly envious.
But it was what happened after winning the prize that proved Cameron is a better person than I am. Heck, if I were lucky enough to win 52 burritos they would probably be gone and in my stomach in a matter of 52 hours, let alone 52 weeks. But not Cameron, who decided it was more important to donate his delicious prize to charity rather than consume it all himself, and rightfully so.
At a recent Kansas State basketball game, Cameron won a 3-point competition sponsored by Qdoba and took home a voucher for 52 entrees. But after multiple days of being begged by friends to split the prize, Cameron posted this selfless message on social media:
Ok guys, this's what I decided to do with the "free Qdoba for a year" thank you to everyone who interacted with me!! pic.twitter.com/OQzIfqHEXT

— Cameron Koger (@cameron45koger) March 12, 2019
Having studied food insecurity, Cameron knew that his city of Manhattan, Kansas had the highest rate of food insecurity in the entire state, thus making his charitable decision to help out an obvious one.
What's even more incredible is that Qdoba took note of Cameron's generosity and doubled down on his pledge:
???? @cameron45koger! What a great gesture to donate your prize to a good cause.

We want to do our part and DOUBLE the amount of food to provide even more meals to the Manhattan homeless shelter!

DM us so we can work out the details with @QdobaTopeka! https://t.co/US6gEUkMzm

— QDOBA (@qdoba) March 12, 2019
"We'll be able to feed up to 120 people," said Jessica Wilkus, Volunteer and Donations Coordinator at the Manhattan Emergency Shelter. 120 people is no small number, so if you too win a 3-point competition for dozens of free burritos then consider donating them to your local homeless shelter, as tempting as it may be to eat them all.
To learn more about Cameron, Qdoba, and the Manhattan Emergency Shelter feel free to check out the video below:
And for more amazing acts of edible generosity, check out this story about a famous rapper who let his generosity run rampant at a Miami supermarket.