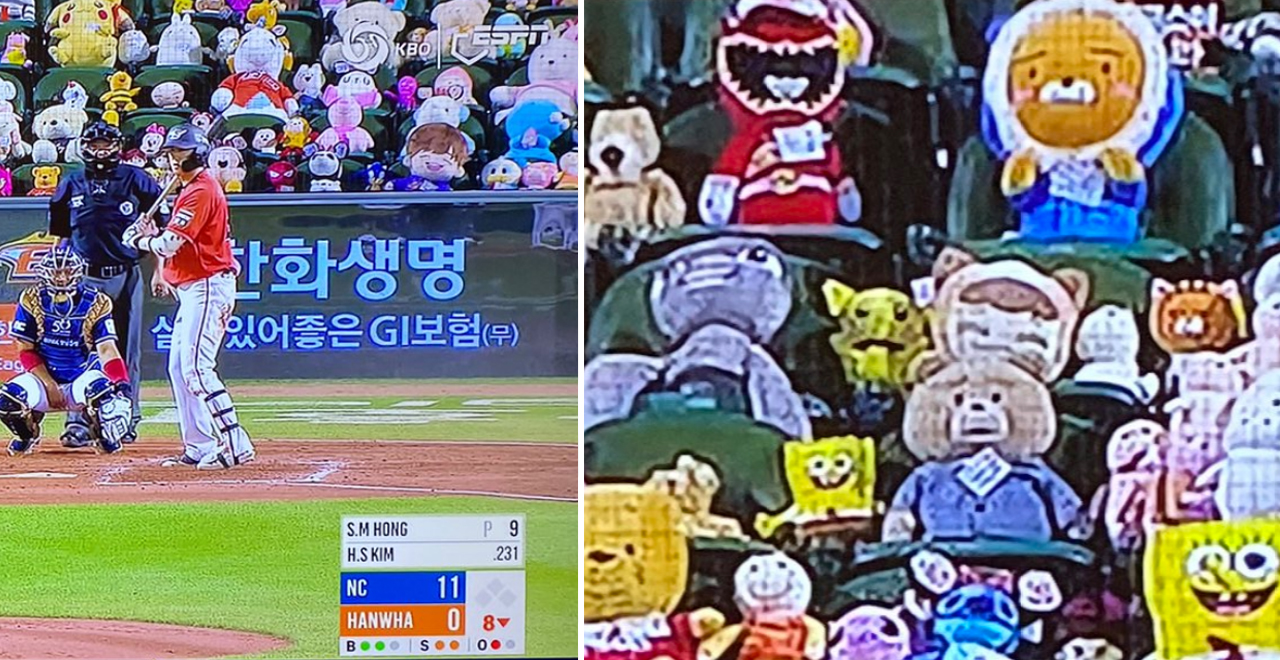 Credit: Twitter/eshynes ESPN
Sports are starting to come back. The NBA has announced its plans for a 22-team finish to their season at DisneyWorld. The NHL is circling plans for a kick-ass 24-team Stanley Cup playoffs. The UFC is back to staging fights, and even NASCAR is racing again. The one thing they all lack? Fans. Sports are back, but they haven't reached the point where fans are allowed in seats.
For broadcast purposes, the NFL is looking into piping in crowd noise. But if they were really smart, they would follow the lead of one Korean baseball team, which is changing the dang game when it comes to sports in the social distancing era. Their stands are filled, but not with fans. With stuffed animals.
They're playing professional baseball in Korea in front of stuffed animals. This should be a permanent change. pic.twitter.com/zWaE9fj3Uo

— Eric Hynes, in the view of some experts (@eshynes) June 7, 2020
It helps it seem more normal with the seats filled, but still not normal enough that you forget what's going on. And it's kind of cool to feel like Spongebob, Sonic, and a host of other plush fanatics are locked into the action. Spongebob looks like he's the biggest KBO fan on the planet. It's like a weird toy story-esque baseball knock-off.
Until fans are going to be back in the seats, leagues will have to do something to make it a little less eery like teams are playing in deserted gyms and stadiums (which, to be fair, they totally are). Let Spongebob and Sonic go on tour, and watch some UFC fights, NASCAR races, and NBA games.
We fully endorse turning the stadiums into a toddler's bed and filling them to the brim with stuffed animals. If they need any extra, dads across America have a surplus they'd be happy to donate.