Super Nintendo World Theme Park Will Bring Video Game Mechanics to Life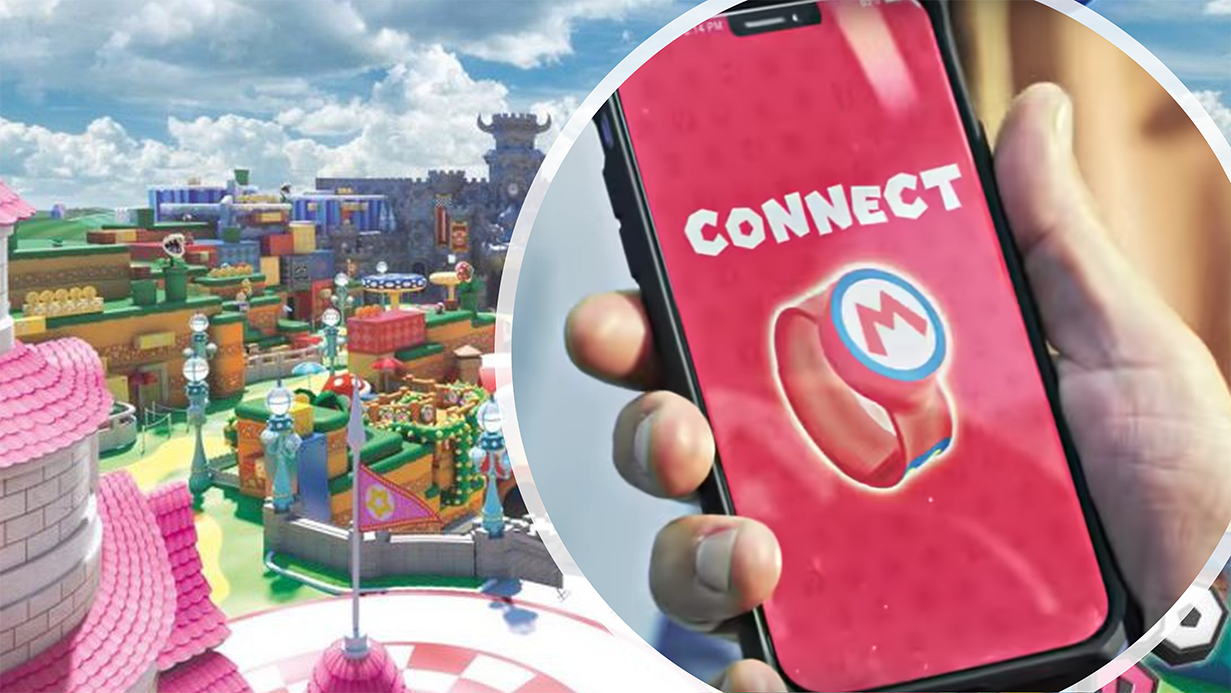 Universal Studios in Japan is remarkably close to opening Super Nintendo World to the masses and it's shaping up to be a huge attraction for video game fanatics and casuals alike. The park is expected to open Spring 2020, just ahead of the Summer Olympics in Tokyo.
Nintendo released a promotional music video trailer for the park at a press event in Japan, which provided a sneak peek of the unique park features and appearance.
While obviously not a literal overview of the park (considering everyone is basically avoiding instant death the entire time), the video provides us with a good look at the Mario-themed smart wristbands and accompanying phone app which make the park truly special.
Tokyo-based Bloomberg reporter Kurumi Mori was in attendance at the live press event, during which she tweeted about the 'Power Up Bands', which will 'make you feel like you're part of the game world'.
Super Nintendo World will use tech + smartphone app⚡ Wearable wrist bands called the "Power Up Band" will make you feel like you're part of the game world 🎮 You can collect digital coins and compete with others #SuperNintendoWorld #MarioKart pic.twitter.com/ltloaNqCCE

— Kurumi Mori (@rumireports) January 14, 2020
The bands are the primary method for "gamifying" the park, allowing visitors to collect digital coins and compete against other park-goers for high scores.
Chief creative officer of Universal Creative, Thierry Coup, described Super Nintendo World as a 'life-size, living video game'. Hopefully, that doesn't include risking our lives at every possible moment like our favorite overalled plumber.
Construction on the park began in Fall 2018 but it wasn't until late 2019 that people began to see signs of life in the upcoming area.
USJの任天堂エリア、ハテナブロックとマリオの旗が設置されました。2020年春にジョーズ裏にオープン!

マリオカートに乗れる‼︎

SUPER NINTENDO WORLD ™ is under construction behind JAWS Ride and will open in the spring of 2020!#USJ #マリオカート pic.twitter.com/vfuMiOa8p3

— USJ情報局 L.C.A.STUDIOS (@LCASTUDIOS_USJ) September 28, 2019
As previously stated by Universal Parks & Resorts CEO Tom Williams, the park will include two rides at launch: a Mario Kart ride and a Yoshi's Adventure ride. These will accompany the castle areas belonging to Bowser and Peach respectively as part of the 'first phase of the park.'
"It's the best, and we've tested them all, and they're killers. It's a great lineup," Williams commented, excitedly. "It takes it to the whole next level. It's gonna redefine what a park experience is like. It really is special."
"You will be able to go up and keep score and play with the various games and that also translates to a score-keeping capability, if you choose to do so within the rides and it actually interfaces back with your game console."
Super Nintendo World is clearly going to be unlike other theme park attractions, and while there are no definitive plans for expanding to other Universal parks yet, its success will most likely lead to some Super additions elsewhere.