Teacher Breaks It to Deaf Student That Everyone Can Hear His Farts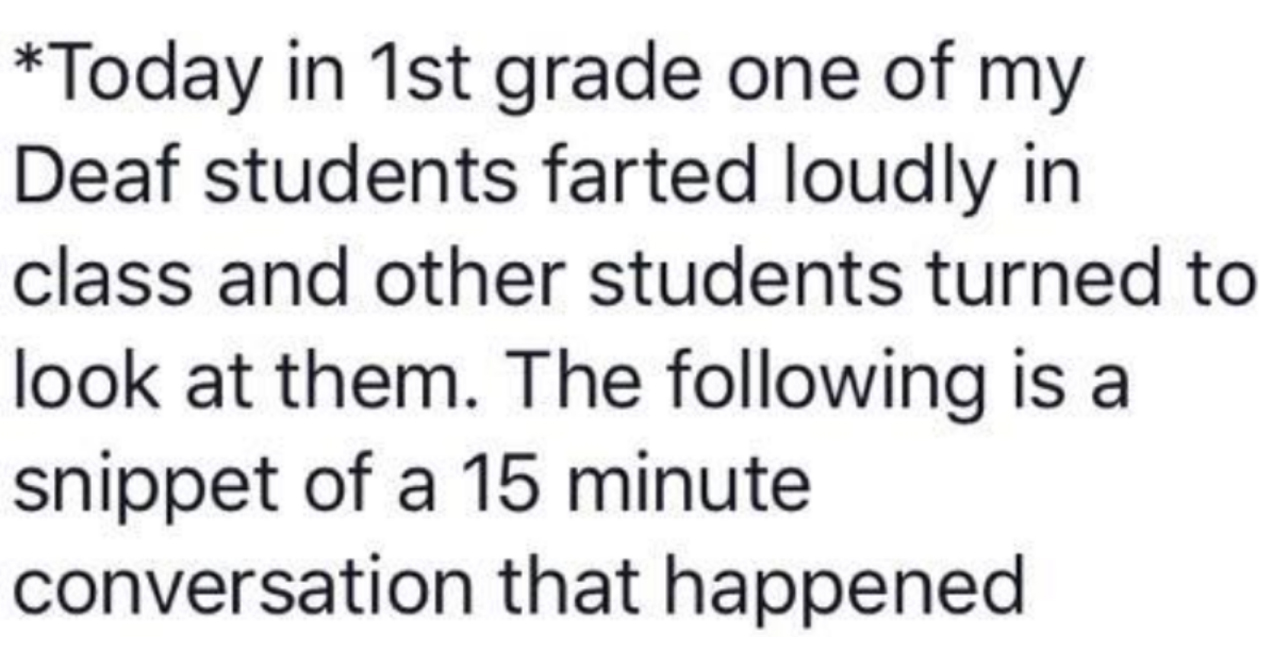 No matter your age, gender, or nationality, there's one thing that remains universally funny: farts. Even when one interrupts a professional Billards match or a fart is used to reveal a baby's gender, they're always good for a laugh. But can anyone truly appreciate these hilarious gaseous expulsions if they can't hear them?
Anna Trupiano is a first-grade teacher who works with deaf, hard of hearing and hearing students. This means teaching not only standard grade school curriculum but also vital life skills for living in a society that doesn't exactly cater to the hard of hearing.
And while farting isn't exactly a life-threating bodily function, it definitely has societal repercussions, and Trupiano recently had the unique pleasure of explaining the audible quality of farts to a deaf 6-year-old after he heedlessly ripped a huge one in the middle of class.
Trupiano elaborated on her enlightening fart conversation on Facebook:
"I know it started with farts, but the real issue is that many of my students aren't able to learn about these things at home or from their peers because they don't have the same linguistic access," Trupiano told GOOD. "So many of my students don't have families who can sign well enough to explain so many things it's incredibly isolating for these kids."
Trupiano hopes her story, while objectively cute and funny, highlights the unique needs in deaf culture. If more hearing people knew sign language, there would be more opportunities for deaf and hard of hearing kids to be taught in their communities rather than being isolated in them.
"I would love to see a world where my students can learn about anything from anyone they interact with during their day," Trupiano emphasized. "Whether that means learning about the solar system, the candy options at a store, or even farts, it would be so great for them to have that language access anywhere they go."