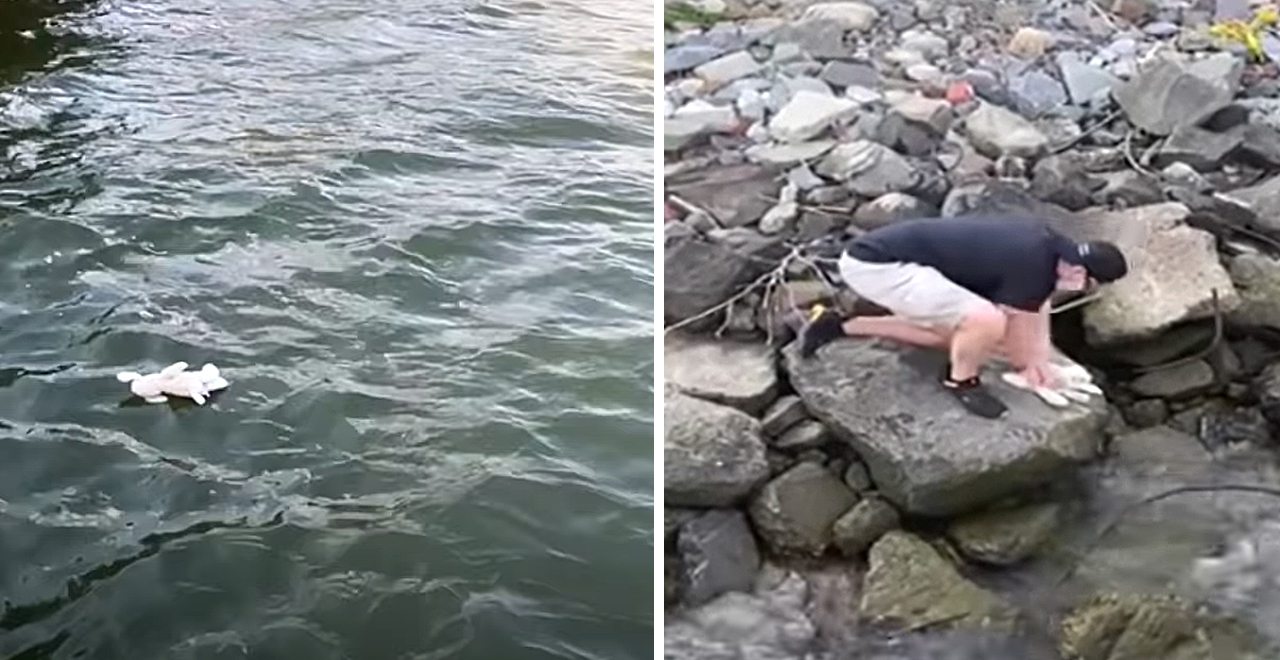 Credit: Youtube/Inside Edition
As an adult, there are a lot of "worst" things to lose. Misplacing your keys, wallet, the last ounce of energy you were going to use to get from the couch to your bed – all extremely inconvenient things to lose track of. As a kid though, there are only a few things that feel like a truly devastating loss: the bag of Cheez-Its with a single cracker left, your pants, and sometimes if it's a really bad day, your beloved teddy bear.
Almost 3-year-old Thomas Levi was taking a walk with his family in Hoboken, New Jersey a few weeks ago. As they walked along the Hudson River, Thomas clung to his favorite stuffed bear, Teddy. Though Thomas has dozens of stuffed animals at home, Teddy has always been his favorite. Hand in paw, the two enjoyed the scenery and fresh air, a nice change of pace after being quarantined for the majority of the time.
In a split second, disaster struck. Thomas lost his grip on Teddy, and his fuzzy friend went tumbling into the water. Thomas was panic-stricken.
As Thomas's parents tried to console him, a masked passerby saw the situation unfold and rescued the bear from the river. Upon pulling Teddy to dry land, the veiled hero began to administer CPR on the damp bear. Fortunately, all of his efforts paid off. Teddy was thoroughly sanitised and then reunited with his best friend. Amidst the commotion of the emotional reunion, the knight in PPE slipped away before Thomas's parents could properly thank him.
Thomas's dad, Ron Levi, expressed his gratitude to Inside Edition: "He's our superman. Seriously, I don't know who you are, we're looking for you, we want to thank you, and we want Thomas to meet you and Teddy specifically and to thank you for that." Ron continued, "We're hoping that we can thank you in person and meet you and maybe have ice cream together? I don't know if it's open yet, but we owe you one, man."
Practicing proper social distancing, wearing a mask, AND successfully completing a daring teddy bear rescue? Heck, we'd all like to buy you ice cream.