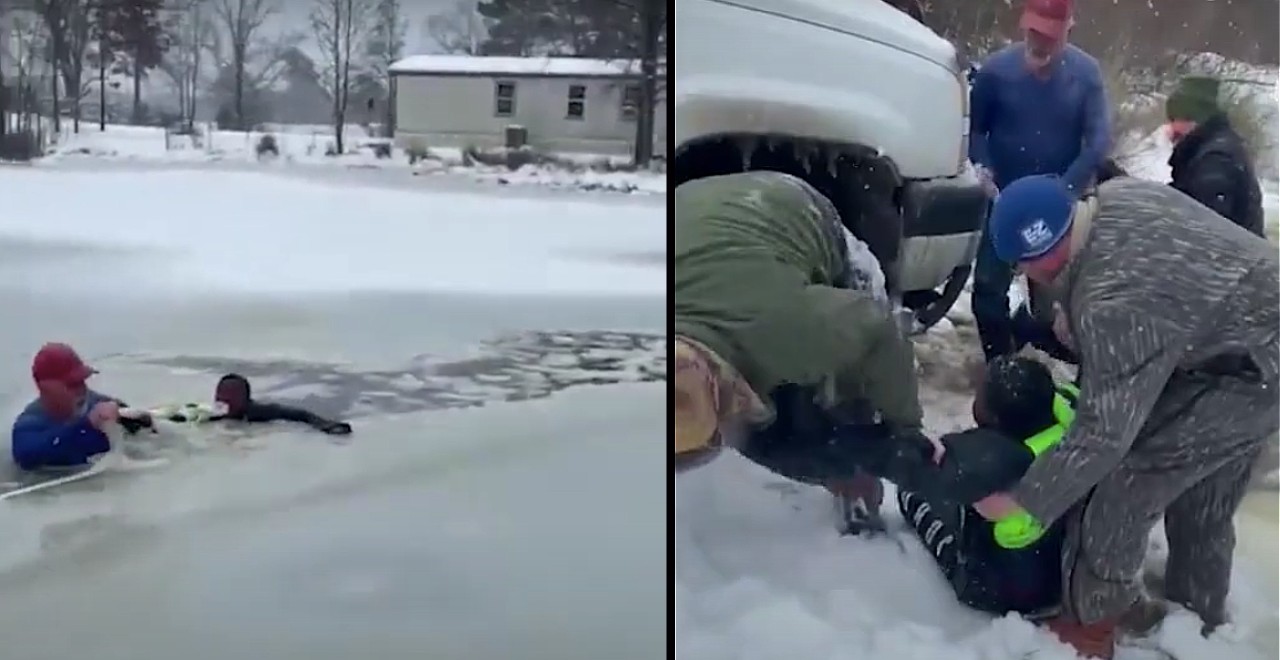 Sometimes being in the right place at the right time means the difference between life and death. During a winter that seems as full of surprises as the baffling phenomenon that was 2020, much of the U.S. can't seem to catch a break. Texas was hit particularly hard by the abnormal weather, with freezing temperatures and snow that left the entire state in shock. Aside from the impact the weather had on necessities like electricity and water, many Texas residents themselves were unsure how to cope with the cold.
18-Year-old Caitlyn Thomas, like many Texans, was not a fan of the snow. Her dog needed a walk, but the cold made the generally enjoyable task completely unappealing. Unbothered by the snow and ice caking the ground, Caitlyn's dog persisted – and like any good dog owner, Caitlyn relented. She bundled up, leashed her eager dog, and the pair headed out for a walk.
Caitlyn held the leash in one hand and her phone in the other, likely distracting herself from the frost crunching beneath her feet. In a stroke of incredible luck, Caitlyn's attention returned sharply to her surroundings in the precise place and time it was needed.
"I was playing on my phone and then I look up and I see this little image in the water and I walk up to it and realize it a little boy," Caitlyn told ArkLaTex Homepage. "It instantly clicked in my brain like, 'Oh my gosh, I have to help him!'"
The panicked teen was unsure of how to describe the boy's location to an emergency dispatcher, so she began pounding on nearby doors to no avail. The quick-thinking teen called her grandfather, Randy Thomas, who lived only a block away. Minutes later, Thomas arrived at the scene, not even taking the time to put on a coat.
Caitlyn dialed 9-1-1, but not wanting to wait any longer, Randy Thomas jumped in the water next to the boy. Fueled by adrenaline and the knowledge that time was running out, Thomas was able to pull the young boy from the frigid water with the help of a few good samaritans and even the boy's dog. Though he was too cold to speak and missing his shoes, the boy was conscious and otherwise unharmed.
If one thing had gone differently for Caitlyn on that life-changing day, the story may have ended differently. An awe-stricken Caitlyn explained, "I'm just so thankful that God sent me out on a walk in that direction because I was debating on going a different way."
The Dad Staff is donating to a collection of food and warming centers throughout Texas to help families in need. Impact Your World allows us to contribute to 14 organizations, including The Red Cross, Mercy Chefs, Austin Pets Alive, as well as local food banks in Dallas, Houston, and Austin. If you are able, please consider donating any amount here.