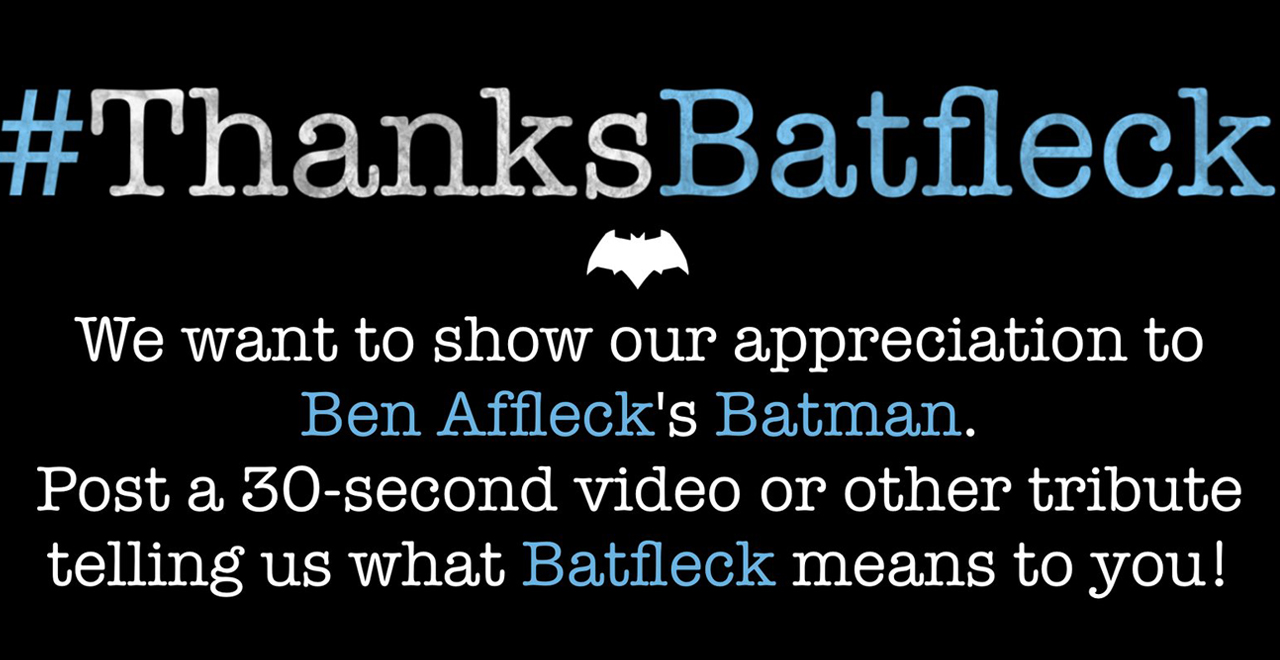 Credit: Twitter/SupesBatsy
The Snyderhive is real.
Not only did fans of Zack Snyder's movies, in particular his DC superhero movies, manage to irritate Warner Brothers and HBO Max into paying $20 million in order for the director to finish his version of Justice League, they've also seemingly resurrected Batfleck.
A few weeks ago, hot off the news that Michael Keaton would be reprising his role as Batman in the long-delayed Flash movie, rumors emerged that Ben Affleck would be back as Bats too, within the Snyderverse.
Fans are very happy about that potentiality because apparently there is a large contingent if fans that love Affleck's turn as an older, grizzled Bruce Wayne. So much so that yesterday they mobilized on Twitter and other social media platforms – as they do – do pay tribute to Batfleck.
It was Batfleck Day(?), and fans were called upon to share video tributes to the Good Will Hunting screenwriter's performance as the Dark Knight, using the hashtag #ThanksBatfleck.
TODAY IS THE DAY

Let's show @BenAffleck how much we love his Batman, how much that role meant to us and how much we look forward to seeing him back in the cowl 🦇#ThanksBatfleck pic.twitter.com/GhAA7MRlET

— •Zack Snyder's BatMax🦇• #GBTZ (@SupesBatsy) July 24, 2020
Fans responded with praise.
Three words. Best. Batman. Ever.

Can't wait to see more of him in #ZackSnydersJusticeLeague and beyond!🦇🦇🦇#ThanksBatfleck

— Victor Tolstik 🇧🇾 #ZSJL (@FuzzyW0lf) July 24, 2020
For the best Bat and Bruce. #ThanksBatfleck pic.twitter.com/Tc3x3qHfE4

— Earnest #BatfleckForever (@elevatorjim214) July 25, 2020
I can't wait to see all these scenes of Batman in #ZackSnydersJusticeLeague – the TRUE sequel to BvS.#ThanksBatfleck pic.twitter.com/ulUW4h848r

— Dario Jugovic #ReleaseTheSnyderCut (@JugovicDario) July 25, 2020
Of course, not everyone feels the same way.
Lol really? He was trash. When that film came out, people were literally walking out of the movie theater in the middle of it.

— ❤❤ (@xoxosisi_) July 24, 2020
And some people want similar efforts for other Snyderverse stars.
I Really like this, Now can y'all show this same Love for Henry Cavill's Superman

— Jeremy smith (@Jeremys543221) July 24, 2020
Agree or disagree, one thing is for sure: there's no accounting for taste.
Just imagine what social media could do if these people carried about something real!