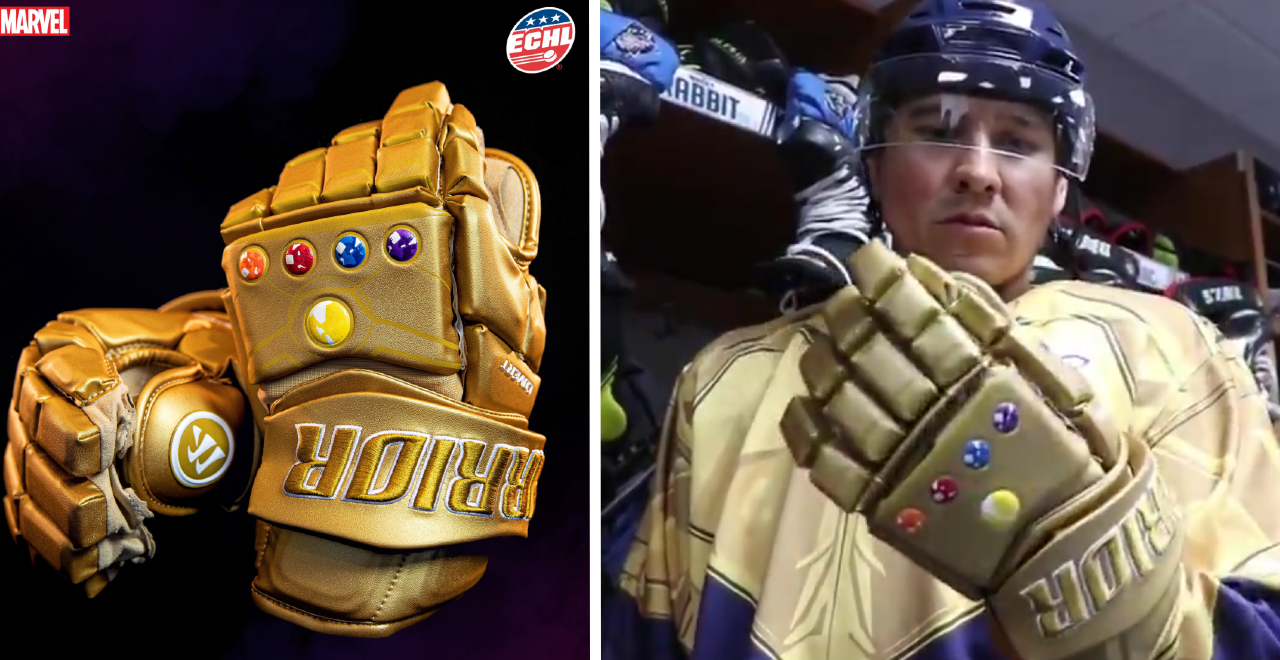 Credit: Twitter/JacksonvilleIcemen
Minor league sports teams are infamous for special promotions, but few are as badass as what the Jacksonville Icemen of the ECHL have planned for their Marvel Superhero Night. The team is making a bold choice by playing dressed as one of the biggest villains of all time; Thanos.
Not only will the ice hockey team be flying around the rink looking like Thanos, but they will be rocking the illest (I was told this means cool now) Infinity Gauntlet hockey gloves ever created. It is the perfect movie costume/sports equipment crossover, and those gloves are straight-fire emojis.
For the first time ever you can own a matching themed jersey and glove set – Thanos style! Marvel Super Hero™ Night feat. Thanos is this Friday and you'll have a chance to bid on the Thanos jersey AND gloves starting tonight. pic.twitter.com/F9nwdj6A9s

— Jacksonville Icemen (@JaxIcemen) March 22, 2021
The only thing that would make the gloves better is if you could get an automatic power play by snapping your fingers and thus removing two of your opponents. Hopefully, at least one Iceman will make that dad joke and snap the first time a Greenville player is sent to the penalty box.
It's actually a really fun idea because you know the crowd will be FULL of little guys and gals donning their favorite Marvel Superhero outfits, so it's cool to have an arena full of Avengers surrounding a rink of Thanoses.
Tomorrow night the @JaxIcemen of the @ECHL put the hockey world on notice with these Infinity Gauntlet themed gloves. #WarriorHockey #ECHL #Marvel pic.twitter.com/UCHfImLMQT

— Warrior Hockey (@WarriorHockey) March 25, 2021
And if you love these gloves as much as we do, you can actually buy them, as the team is auctioning off the game-worn gear to raise money.
You can feel near-invincible wearing hockey equipment and flying down the ice, and I can only imagine you'd feel that even more dressed as the Mad Titan and taking slap shots fueled by the Infinity Gauntlet.