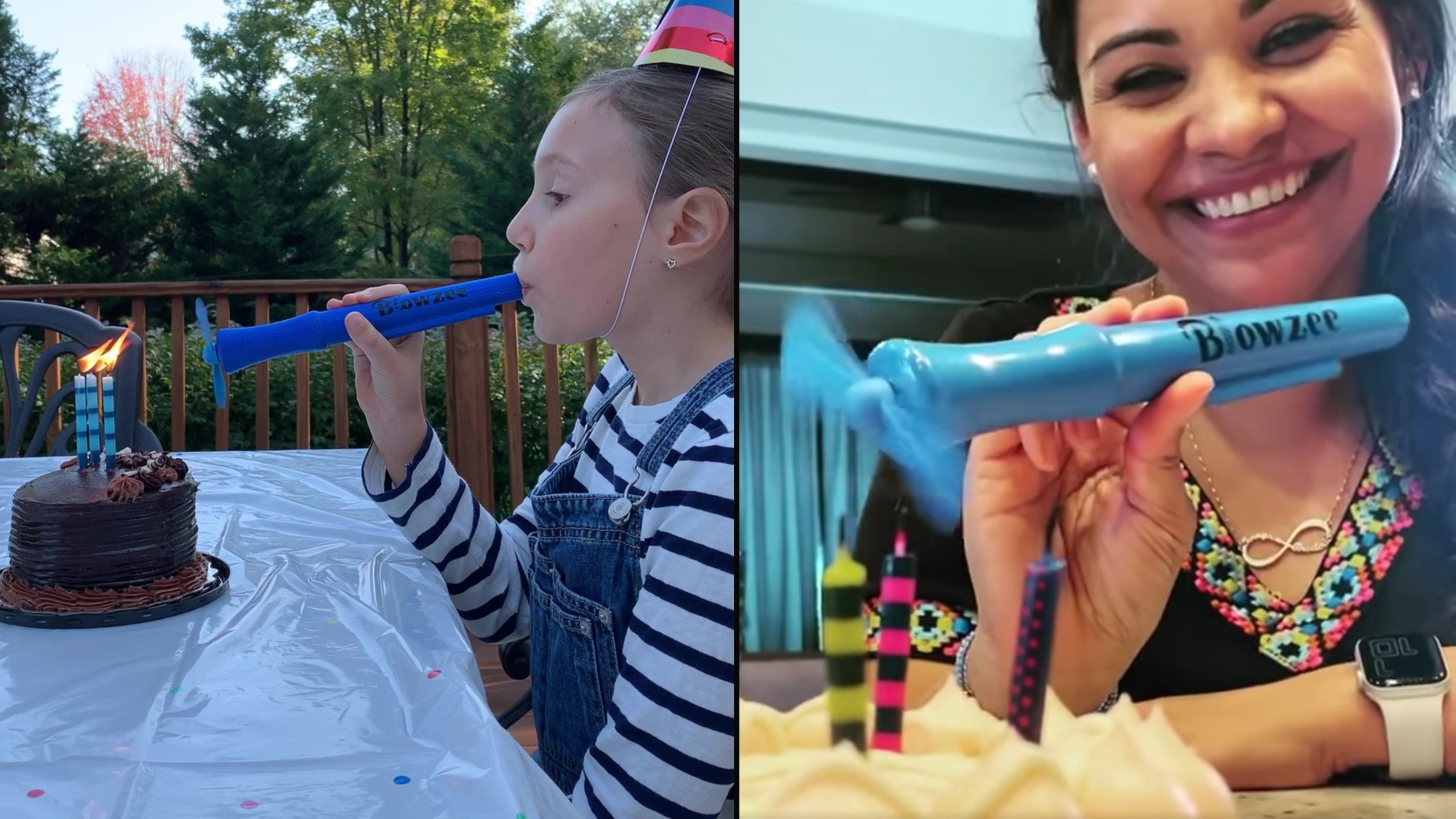 Credit: Facebook/TheBlowzee
Everyone has been to a kid's birthday party but had second thoughts about taking a slice of cake after the kid rains spit over it blowing out the candles. One dad is trying to change up the birthday party game with his new invention, the Blowzee. It sounds like second-rate Willy Wonka merch, but it's actually a clever little invention.
Blowzee is a fan, powered by the kid blowing into a tube.  Kid spit is contained, but the effort still result in enough of a breeze to extinguish a few candles.
Who wants a Blowzee?https://t.co/0YYQvHqGc9

— The BOB & TOM Show (@bobandtom) May 26, 2021
"We've always thought it was a little gross to have kids blow their germs all over a birthday cake," the founders wrote on their website. They note how the pandemic increased attention on this icky tradition, but the alternatives to candle blowing can "steal the magic and fun."
So, Mark Apelt, a dad himself, came up with the Blowzee with a friend over some beers (the origin story of all great inventions, tbh). There were 17 different prototypes of the battery-powered flute-looking fan before they landed on the current Blowzee. They also went through 40 cakes, although R & D could have been done without actual cake…but what's the fun in that?
Yes, it does sound weird to suggest someone give a kid a "Blowzee." It sounds more like a failed circus clown. But, according to the company, "Blowzee keeps your cake clean, while bringing back the birthday joy, safety, and wishes. Kids love it, parents love it, and guests will appreciate it."
Kids blowing on a cake DOES increase the germs on it about 1400%, according to a very scientific study I just conducted at my own kid's party. If you thought birthday cake was delicious before, just wait until there's one less toddler-provided topping on it.