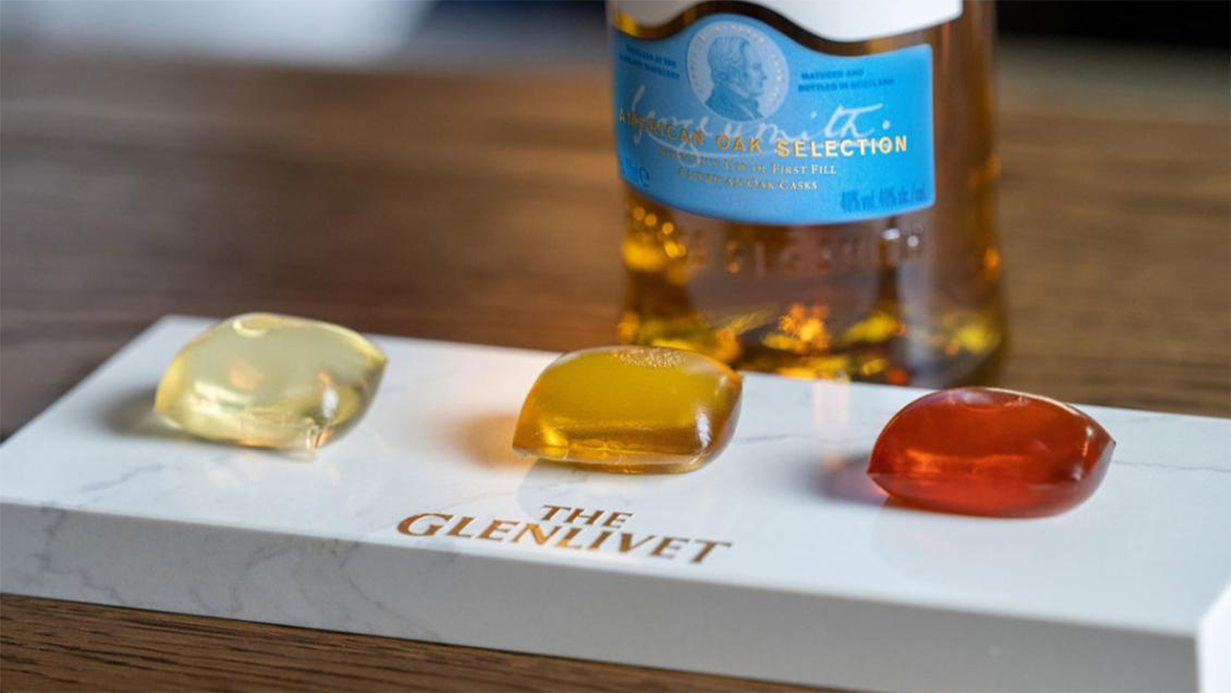 Credit: Twitter/The Glenlivet
Remember that weird, toxic trend of people snacking on Tide Pods? What if they ditched the detergent for whisky?
In what is either a major grab for the millennial market or just a delicious publicity stunt, The Glenlivet is rolling out its brand new "Capsule Collection," bite-sized cocktails for those who find drinking from glasses a bit antiquated.
The famed single-malt Scotch whisky maker unveiled the poppable new product line via tweet during London's Cocktail Week. "No ice. No stirrer. No glass. We're redefining how whisky can be enjoyed," they wrote.
No ice. No stirrer. No glass. We're redefining how whisky can be enjoyed. Introducing The Glenlivet Capsule Collection #noglassrequired pic.twitter.com/F4MGErsfZM

— The Glenlivet (@TheGlenlivet) October 2, 2019
Contained in an edible seaweed exterior, these "cocktails" from the new Capsule Collection are simply "popped in the mouth for an instant burst of flavor, and the capsule is simply swallowed." Each contains 23 milliliters (about 3/4 ounce) of whisky cocktail and comes in one of three flavors: citrus, wood, and spice.
"Our founder, George Smith, always went against the grain, bucking tradition and doing things differently," commented Glenlivet about the product. "The Glenlivet Capsule Collection continues his pioneering spirit today."
Smith, who died in the late 1800s, was far too busy rolling around in his grave to comment but whiskey-lovers on Twitter had plenty to say about the new boozy capsules.
I don't understand. It's not April Fools but this still exists. Did someone hit publish early? https://t.co/77LXb7MhMI

— wolfewylie (@wolfewylie) October 5, 2019
An entire generation were told not to eat tide pods and you just set them all back https://t.co/eWzGasaQcl

— Spooky Goth Energy (@praxxxxxis) October 5, 2019
Whisky capsules. Don't understand this – as a Scottish person who drinks whisky. Has the need for a glass (a fairly standard and widely available device) really been a substantial barrier to the enjoyment of whisky? https://t.co/TbChGc4wrf

— Iain Martin (@iainmartin1) October 5, 2019
At last! An end to the tiresome drudge of holding a glass of a fine single malt, warming it in your hand, watching the light play on its deep amber and mahogany depths, enjoying the warm winter aroma rise up as you swirl it in your hand, savouring the taste on your lips. No more! https://t.co/nu59ap1FGj

— Dan Rebellato (@DanRebellato) October 5, 2019
Other folks, however, seem to already be on board. In addition to being a delightfully portable and convenient vehicle for alcohol, it can also make you feel like a drunk astronaut—a dream I never even knew I had.
Edible cocktail capsules. Holding aside all the jokes, this is fascinating – the sustainable bio-degradable 'packaging' of the capsule itself – & the fact that they're marketing cocktails rather than whisky.

We can now drink in space, folks! I approve! https://t.co/fNX7u7Padq

— Sidra Vitale (@sidravitale) October 5, 2019
People who are intolerant to cold bottles too! I have fibro (and possibly arthritis), I'm still fine to hold and open bottles…that aren't freezing cold,because cold hurts. 🥶

— Jammy (@jamlamlaser) October 5, 2019
This owns I'm for it, give me all the whiskey dumplings https://t.co/qbAYHMlvHT

— dylan matthews (@dylanmatt) October 5, 2019
So are you down to try The Glenlivet's new Capsule Collection? Or are you keeping your whisky in a glass where it belongs?
OR, a secret third option: Are you planning to drop the little Scotch pillows into your glass of whisky like little boozy buoys?
What? I don't have a problem. You have a problem.