The Rock Sends Message of Support to Ashley Cain During Daughter's Cancer Battle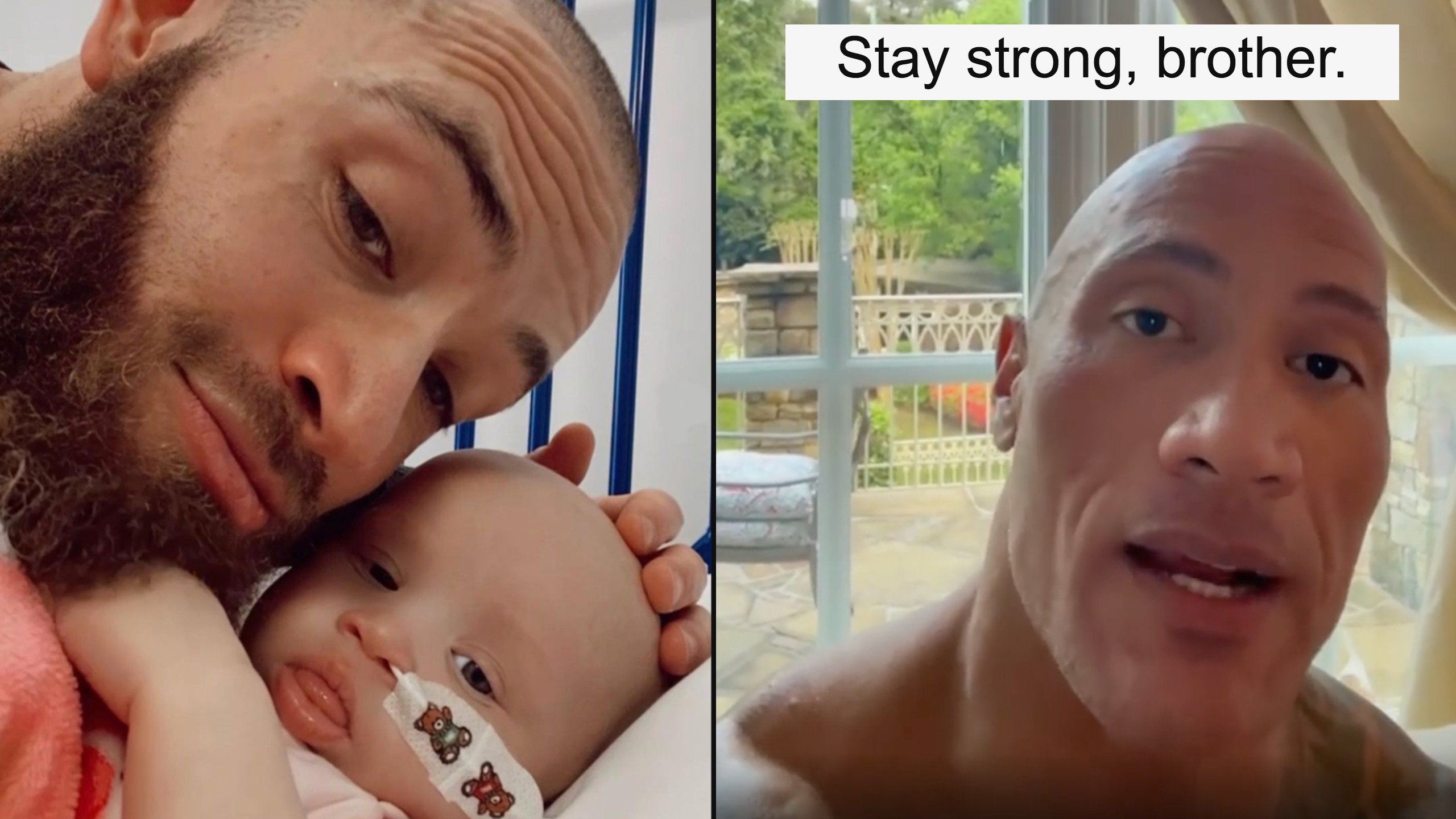 Dwayne Johnson is known for many things, but even with his growing list of impressive accomplishments, The Rock's enormous heart stands out. The wrestler turned actor frequently takes time out of his packed schedule to send words of encouragement to those who need them, taking a few minutes to make an enormous impact on others.
The Rock is vocal about how much he loves being a dad, so he was hit particularly hard by the news of a fellow dad struggling with something no parent should ever face. "The Challenge: War of the Worlds" star Ashley Cain and his girlfriend Safiyya Vorajee have been coping with their 8-month-old daughter's leukemia, and tragically, doctors have informed them that their baby girl doesn't have much time left.
"Right now I feel broken, scared and worried all of the time," Cain shared on Instagram. "But I am finding strength in trying to be the best father I can be, no matter the situation, for her. That is the least she deserves and the most I can give her, the best me I can be."
View this post on Instagram
After learning about Cain and Vorajee's heartbreaking situation, Johnson sent his fellow dad some words of encouragement in the form of a video.
"I want you tell you, first of all, I'm sorry to hear about your beautiful daughter Azaylia. I hope I pronounced her name right," The Rock begins.
"You tell that little lion that I said, 'Let's go champ! Stay strong.' And brother, I'm so sorry to hear this news but I don't have to tell you that your daughter's strength is what strengthens you and all her loved ones around her and in that, she's already had this incredible impact on the world already. Stay strong, brother," he said.
View this post on Instagram
Cain shared the touching video on his own Instagram page, humbled that his openness has had such a widespread impact. Cain previously referred to Johnson as one of his biggest heroes, making the actor's kind gesture even more meaningful.
At just 8 months old, Azaylia has endured more than a person should have to endure in a lifetime. And yet she persists, surrounded by the love of her family. Her unbreakable spirit combined with her parents' constant attentiveness and strength has resonated deeply with complete strangers – some filled with deep empathy for the family, and others feeling less alone with their own heartbreaking battles.
"I'm so proud of my little girl and so humbled by the impact she's had on so many people around the world," Cain captioned The Rock's video. "From one of my hero's to another… Let's Go Champ!"